Famous Sambo Athlete Maria Guedez Can Become Face of Venezuelan Adidas
Personalities
25 July 2014
Sergei Grishin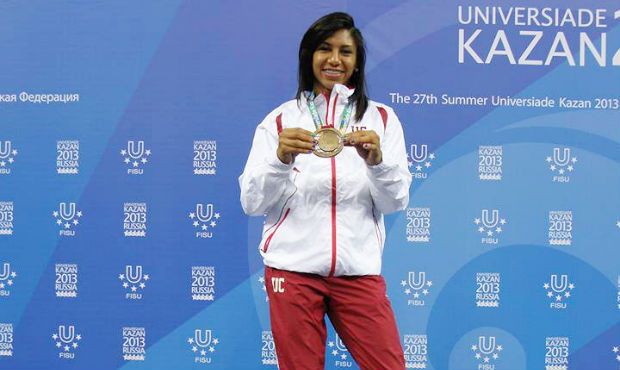 Good news from Venezuela! During the active period of the preparation for the Pan-American Sambo Championship to be held in late August in Trinidad and Tobago, MMA head and promoter in Venezuela Amanda Herrera should meet with the representative office management of "Adidas" in Venezuela. The key topic of the encounter will be the possibility of appointing a Venezuelan and worldwide sambo star as a new company's image. There is a good chance for Sambo star, winner of the 2013 Universiade in Kazan and bronze winner at the 2013 World Championship in St. Petersburg, Maria Guedez to become the face of the brand. Our today's reportage is about the way of Adidas and Maria to each other.
Official opinion of Luis Adrianza, Secretary General of the Sambo Federation of Venezuela:
"Recently we met with the only woman in our country Amanda Herrera, who is engaged in promoting MMA. We have been discussing the candidacy of Maria Guedes as an "Adidas" face as well as seeking the opportunity to bring this idea to life. The decision of "Adidas" is wonderful news for us! We hope it will soon be officially made.
And I want to say that Maria has deserved it. This is not only about her excellent results and beautiful appearance, but also about her sunny attitude towards life, openness and positiveness. This is also about her efforts as her figure that will look fine in Adidas clothes is not only the result of genes and nature, but great work and commitment as well."
Opinion of Maria Guedez, the hero of the day:
"Honestly, this news was quite unexpected for me. If everything goes well, it will be a great honour for me and a great success for Sambo. Of course, I understand that this is not just my achievement. This is success of our sport. And God willing that this project should help to further promote Sambo in Venezuela and in the Americas as well. I hope so!
And of course, it has a certain effect on the way I will have to look now. I will look after myself more carefully. By the way, I am going to have a new manicure in the near future. What sort of manicure? (Smiling) Of course, this will be Adidas black and white stripes."