5 reasons why sports journalists like to cover SAMBO
Mass media
2 July 2013
Sergei Grishin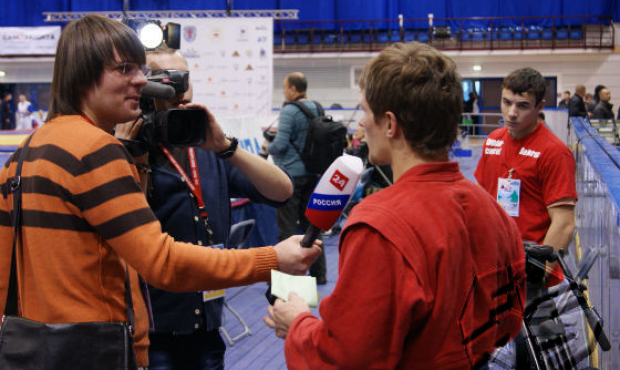 Today, on July 2, Sports Journalists Day is celebrated. In 1924 on this day in Paris, the International Sports Press Association (AIPS) was founded, which combines nearly one hundred and fifty national unions today. Many SAMBO fans know that FIAS and AIPS have signed an agreement on partnership and cooperate at the highest level. Media and journalists all over the world report about the competitions under the auspices of the International SAMBO Federation. Congratulating them on their professional holiday, the FIAS website decided to find out why sports journalists like to write and talk about SAMBO.
The first reason. Friends among SAMBO athletes
The journalists, who cover SAMBO, communicate a lot with SAMBO athletes, especially with the winners of tournaments. It is not infrequent that a good interview develops into friendly relations. And to keep company with SAMBO athletes is not only interesting, but also advantageous from the point of view of your own security. If anything crops up a journalist with such useful contacts can mention his friendship with a champion. So it is unlikely that anyone will want to mess with SAMBO athlete, who is not in word stronger than all other SAMBO athletes in his weight category. In other words, to cover SAMBO is not only interesting but also useful from the point of view of your own security.
The second reason. Free entry to the competitions
Many sports journalists, who have dreamed about this profession since childhood, have always wished to get a right of free entry to the high-class tournaments. Surely boys and girls have often watched SAMBO competitions on TV and thought of getting there – in the gym of another city or even another country, in close proximity to athletes. As Grandpa Freud said, everything comes from childhood. Many journalists have desired to get a right of free entry to the competitions and to be, if not in the focus, than close to the focus of attention, from the school age. Time has passed – and dreams begin to come true.
The third reason. You can say that you practice SAMBO
Having said so, you'd be about right in every word. An athlete who trains and performs at tournaments – practices SAMBO. A teacher or a scientist who studies the techniques and methodology of the sport – practices SAMBO. A journalist who is keen to tell the most interesting facts to readers, viewers and listeners about this combat sport – also practices SAMBO. And what is the most pleasant is that all these people make a significant contribution to the development and popularization of SAMBO.
The forth reason. Vanity gratification
First, it is much easier for a journalist than an ordinary fan to get an autograph or make a photo with a star,. After all sports journalists for accreditation have access to such zones at the competitions, where sideliners are refused a passage. That is why some journalists combine their core business with the role of professional hunters for autographs and photos with celebrities. Second, due to the fact that journalists are always in the thick of things, other journalists often capture them on video and photos, so you can see them in the pieces and reports from tournaments. Of course, no one apart from the journalists themselves and their families notices their presence in picture, but it can't spoil their festive feeling.
The fifth reason. FIAS awards the best
The tradition to mark the best journalists of the year was started up at the International SAMBO Federation. In March, at the A. Kharlampiev Memorial World Cup we honored the most distinguished journalists in several categories, on the basis of 2012. The FIAS First Vice-President Andrey Klyamko honored those who bring SAMBO to readers and viewers,. This tradition will be also go on in the future. Today we congratulate all the sports journalists of the world and extend our gratitude to you, dear, for your love and understanding of this kind of sport – SAMBO.
Alexander Solomakhin
www.sambo.sport