Alice SCHLESINGER: "I will fight as long as I have drive inside me"
Personalities
21 December 2021
Aleksandr Solomahin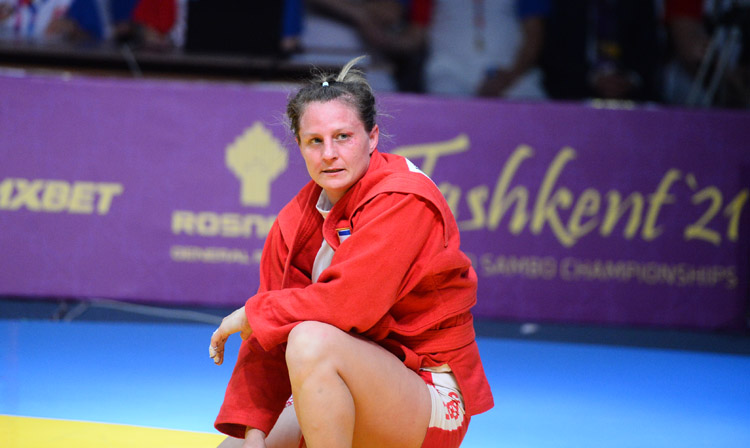 Israeli sambist Alice Schlesinger won a gold medal in the up to 72 kg weight category among women at the 2021 World SAMBO Championships. The athlete returned to SAMBO after a long break, becoming a three-time world champion. In an interview for the FIAS website, she told why she decided to resume her sports career, what has changed in SAMBO during her absence, how long she plans to compete, and also talked about her coaching successes.
Alice, was the final fight at the World Championships challenging for you?
– This time the victory was really difficult for me, because I competed in a "heavier" weight category than before. Physically, I felt that my rivals were much stronger and more powerful than me.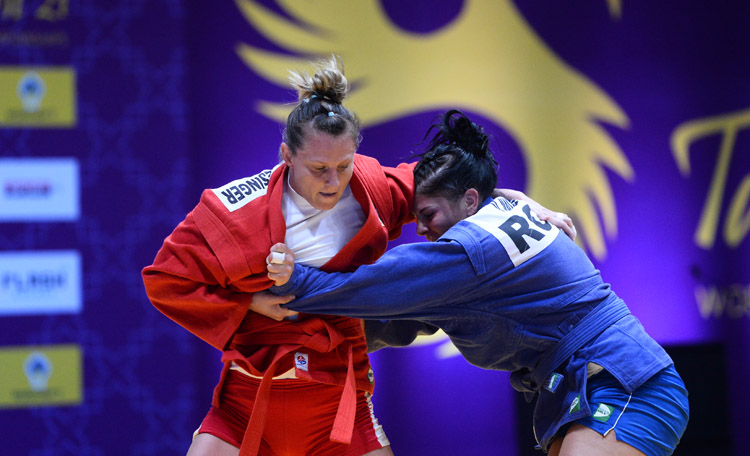 What was the hardest fight for the gold?
– Final. I was very tired by the end of the day, besides, in one of the fights I got a hip injury, so it was not easy to fight in the final.
Many people just wanted to see your signature throw across the hip in the decisive fight…
– I used this technique several times in preliminary fights throughout the day, but after the injury it became difficult and dangerous to perform. Therefore, for the final match, the coach and I chose a calmer tactic, focusing not on throws, but on making the opponent make mistakes.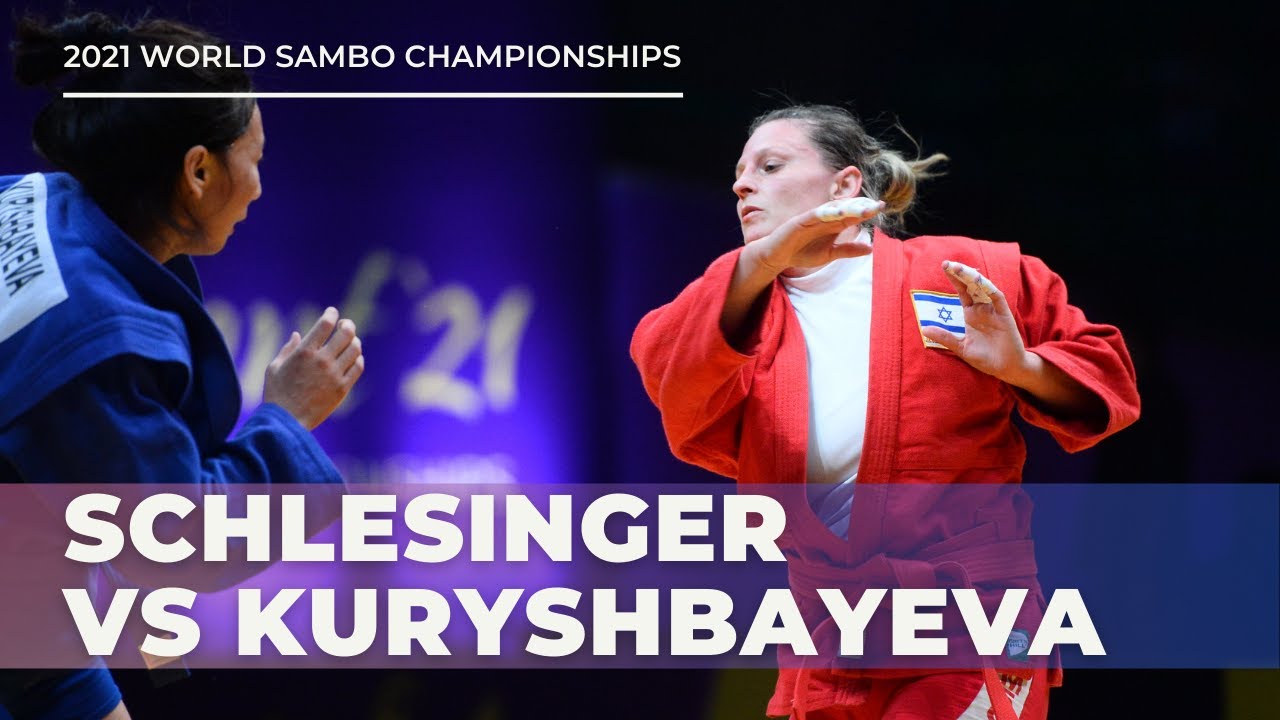 You haven't performed in SAMBO for a long time, but you returned this year. How did it happen?
– First I came to SAMBO for a while, after which I focused on judo. However, I finished my judo career almost 2 years ago, and at some point I just got bored of sitting at home. I began to go to the gym and train a little. At some point, this was not enough for me, and I decided to try myself again at international competitions. Now, performing at SAMBO tournaments for me is not some kind of challenge to myself, but an exciting activity that I really enjoy.
Can you compare the level of organization of the World SAMBO Championships before and now – after your return?
– Yes, I have already told my coach and my husband as well that I did not expect such a high level of organization, which we saw in Tashkent. It's even hard for me to compare this with something that happened before. The level of international SAMBO today is much higher than that which I have seen before. This applies to absolutely all components of the competition.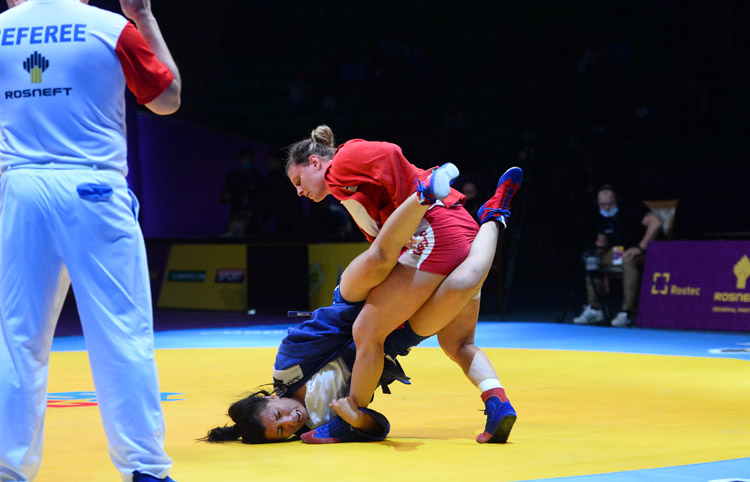 In Israel, the level of SAMBO is also growing. What role do you see yourself in in a few years in SAMBO?
– I can confirm that many new girls are coming in Israel to SAMBO now, this is really so. And some of them became my students. For example, the winner of this year's Youth and Junior Championships among youth Elizabeth Kovalev, as well as several very strong girls who compete among the cadets – these are my pupils. I think they will continue to develop and progress.
Next year, the World Beach SAMBO Championships will be held in Israel. How do you feel about Beach SAMBO?
– I've only seen the tournaments a few times, but I think it's great! You have no right to make a mistake, and you must build tactics in order to make the throw yourself and not let your opponent do it. Beach SAMBO is interesting and understandable to absolutely all spectators, and I think it has a great future.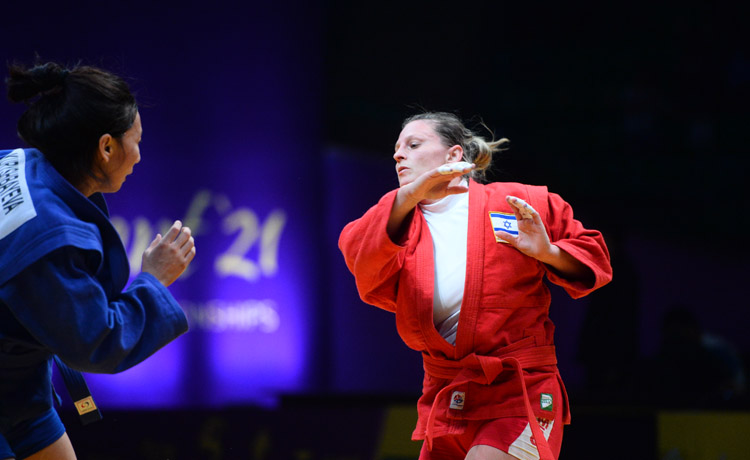 Can we be sure that the World Championships in Tashkent will not be the last for you?
– I will fight as long as I have drive inside me, and as long as my age allows me to do it. In addition, I plan to help young Israeli athletes who come to SAMBO develop. Because it is a truly amazing sport.