American MMA fighters are adopting SAMBO
Federations
10 June 2014
Sergei Grishin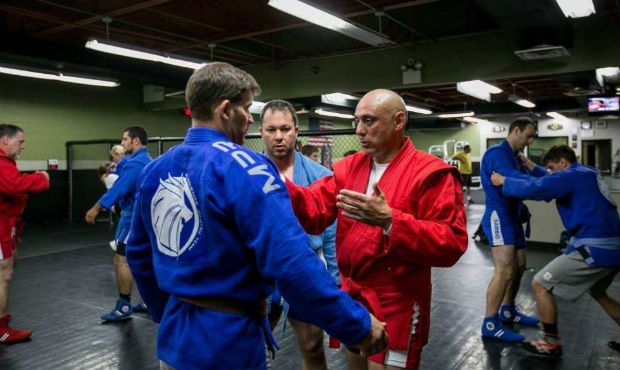 It is no secret that many athletes who achieved success in SAMBO, try their hand at various kinds of mixed martial arts then. It isn't also a secret that it is SAMBO athletes who often come off victorious at the MMA Tournaments. SAMBO icon Fedor Emelianenko is a vivid example of that. Therefore it is not surprising that representatives of the world of mixed martial arts are interested in SAMBO and seek to apply it in their practice. The confirmation of this fact once again took place in the USA, where the MPR Endurance MMA Sports Club invited Mikhail Kozitsky, Vice President of the USA SAMBO Inc., as a mentor at SAMBO seminar.
The event was held on Sunday, June 8. The MMA Club owner Eric Parcel explained his desire to tell his students about SAMBO. According to him it is this sport that is able to expand and strengthen their wrestling and combat skills. Mikhail Kozitsky, one of the best SAMBO coaches in the USA, was chosen as a mentor, who accepted the invitation to hold the seminar gladly.
– I was pleased to participate in this event, because thanks to this seminar I not only made the MMA Club members stronger, but also told them about SAMBO, having shown its effectiveness alive, – says Mikhail Kozitsky. – There were men, women, adults and children among the students – and all of them expressed sincere interest in SAMBO. It's nice that it was not just the audience, but really athletes with competitive practice in mixed martial arts, Brazilian jiu-jitsu, grappling and other sports.
According to Mikhail Kozitsky, he showed some effective throws and wrestling mat holds. One of the most popular techniques that every last was interested in, was a painful leg lock. The seminar was a great success. It was demonstrated by the words of the MPR Endurance MMA owner Eric Purcell who told about his plans to carry out as many SAMBO training sessions in his Club as possible.