FIAS Anti-Doping Educational Webinar on March 15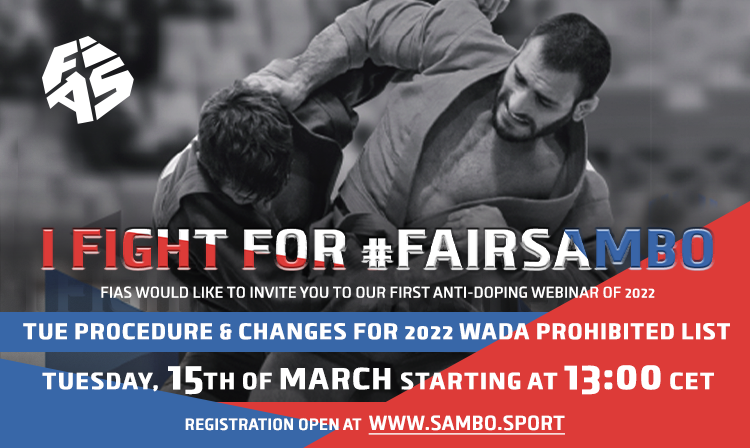 The International SAMBO Federation (FIAS) with invited experts from Anti-Doping community is organizing the educational webinar focusing on Therapeutic Use Exemption (TUE) procedure and substances included in 2022 WADA Prohibited List. The Prohibited List of the World Anti Doping Agency (WADA) is one of the most important Anti-Doping documents that athletes and athlete support personnel need to be aware of, and to understand.
With the 2022 Prohibited List recently published, it is timely to answer all these questions, and examine the key modifications to the List that came into force from 1st of January 2022, including changes to glucocorticoids and their related wash-out periods. The topic combines two problematics which are closely related. In case the athlete has serious health issues which are requiring to be treated by a prohibited substance, then is necessary to apply for TUE. Therefore, full process for TUE application will be clarified during the webinar.
Join the FIAS to learn more about current changes in Anti-Doping to gather the most important information that athletes and their support personnel need to know, in a practical and interactive format. Questions of the participants will be answered live at the end of the session.
Topic: TUE procedure & Changes for 2022 WADA Prohibited List
Registration: click here
Event date: 15 March 2022, 13:00- 14:00 CET
Panelists:
Prof.dr. Miodrag DRAPSIN, FIAS TUEC Chairperson, Sport Medicine Specialist
Ing. Tomas PAGAC, Head of Testing and Prevention at Slovak National Anti-Doping Agency
Moderator: Mrs. Kamila VOKOUN HAJKOVA, OLY, FIAS Anti-Doping Manager