Argentine Сhampionship with the Malvinas mood
Federations
4 August 2014
Sergei Grishin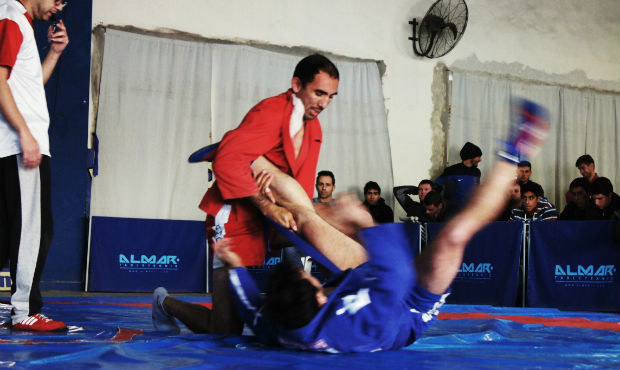 On June 28 the Argentine National Sports and Combat SAMBO Championship was held at the Atlanta Sports Club hall gym. The competitions in honour of the Malvinas (Falkland) Islands gathered about 60 SAMBO athletes from different parts of the country. A festively decorated gym, athletes' fighting spirit and the historical event, which the event was dedicated to, created the necessary atmosphere of the tournament.
– The results that Argentine SAMBO has achieved today were unthinkable a few years ago, – says Juan Pablo Melo, the President of the Argentine SAMBO and Combat SAMBO Association. – The international success had also an effect on the national championship level. Athletes demonstrated an interesting technique, whereby fights looked exciting. I would also note culture of fights. It was evident that athletes are guided by principles of brotherhood and camaraderie.
The national tournament began with fights in Sports SAMBO, which took place at the gym, decorated in blue and red colours. The organisers tried to create a festive mood at the competitions. In the middle of the day SAMBO athletes stopped their duel meets to give the floor to E. Lamadrid, the Argentine Army Colonel. Veteran and the President of the Veterans of the Malvinas Islands center, he participated in the war for their liberation in 1982 against Great Britain. Lamadrid made a welcoming patriotic speech to the participants of the event, and also took part in awarding the most outstanding athletes following the results of the last year. SAMBO athletes, having demonstrated the high international results, received their awards.
After these ceremonies it was time of Combat SAMBO beloved in Argentina. According to the organisers of the tournament, this year both qualitative and quantitative improvement of the competitions was noticeable. The number of competitors has increased significantly, and the overall level of participants has really grown. Representatives of the following national schools took part in the tournament: Club Atlanta, Club Cava, Dojo Masubi, Black Bull Team, Sambo La Plata, Sambo Puerto Iguazú, Sambo Campana, Sambo Entre Ríos, Sambo Córdoba and Sambo San Justo. Following the results of the tournament the winners received well-deserved awards, and then re-started training to continue self-improvement.