French champions received three-colored belts
Competitions
4 February 2015
Sergei Grishin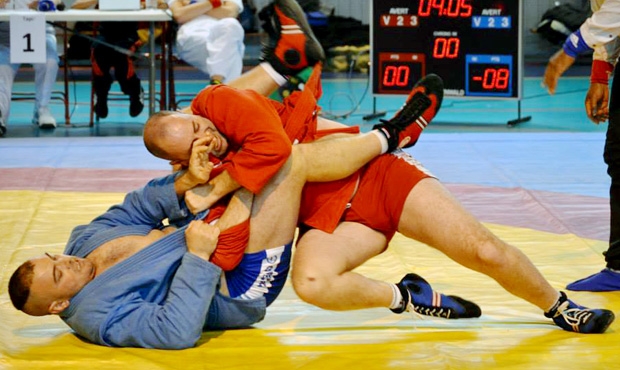 The French Sambo Committee introduces a new tradition of the running the competitions at the national level. The winners of the National Championship held from January 31 to February 01 in Chambery became not only gold medalists, but also special three-colored belts holders (in the style of the France national flag). We'll tell about other specific features of the French tournament in our today's story.
173 sportsmen of different ages became the participants of the French Championship in Chambery: children, juniors and adults. The first day of the medals individual score competitions was held on 3 mats in non-stop mode. On the second day the club teams scoring was held, each team consisted of five athletes: four men and one woman.
"On my own behalf and on behalf of the French Sambo Committee I would like to say that we are very satisfied with the results of this Championship. It was held on the high organizational level, and the athletes showed excellent technique," says the president of the French Sambo Committee, Jean-Claude Cerutti. "This national championship was exemplary from the mutual respect of the participants point of view and it was held in the fair play spirit. I would like to mention that at this tournament the French champions among adults received three-colored belts from the French Sambo Committee."
Jean-Claude Cerutti congratulated all the participants of the competitions and expressed deep gratitude to the tournament organizers in Chambery — "Guy Grimont and his team".
This tournament has become a national selection for the European Championship, which will be held in May. Selection for the European Youth Championship will be held on February 28 and March 01 in Poussan at the Youth, Cadets, Boys and Masters Sports Sambo French Championship. Selection for combat sambo is planned to be held on March 21, when the National Combat Sambo Championship shall be held in Claye-Souilly.