Champions of the second day of the Asian Sambo Championship in Kazakhstan about the tips of the coach and the children, the hymn and fair play, as well as plans for 2016
Competitions
13 December 2015
Sergei Grishin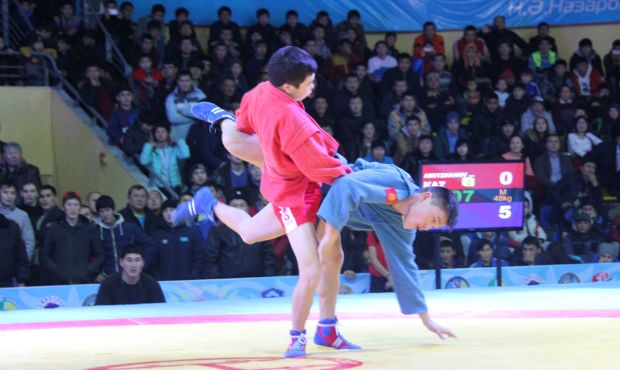 On the second day of the Asian Sambo Championship in Atyrau there appeared juniors, as well as combat sambo athletes in weight categories of 62, 82 and more than 100 kg. Some champions shared with the FIAS's site their emotions and feelings after their respective victories. You can read about them here.
Erzhan Amizhanov (Kazakhstan) - 48 kg, juniors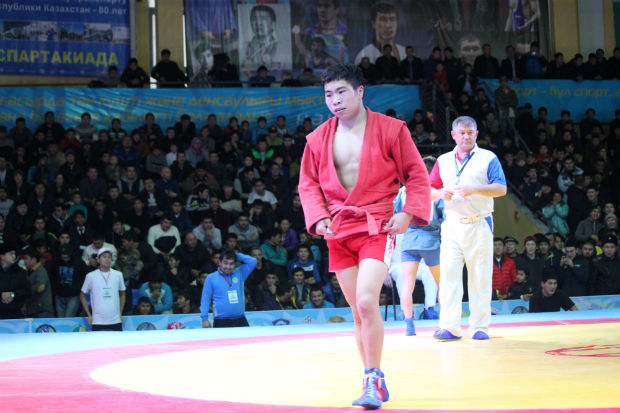 "I am very grateful to the audience: they were rooting for me so much and it helped me. Also thanks to the coach for his help. If it hadn't been for him, I would not have won in the finals, it was his tactics that helped me. At the beginning of the fight I was losing but the coach told me how to fight. I took my grip, was able to throw him and win this way. As they say, "hope dies last," that's how I had hope and faith in my victory. Preparing for this championship had been very long and hard, I tried to drop some weight, though only a bit, just 3 kg. Now I will prepare for the championship of Kazakhstan, and my greatest dream is to win the world championship in Romania."
Altanbagana Purevdagva (Mongolia) – 57 kg, juniors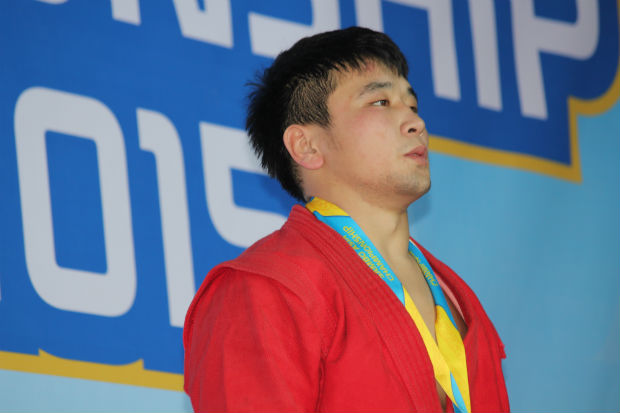 "This is the first men's medal for Mongolia in this tournament, and I won it for my country. We went to the championship on the bus for 6 days. It was too much, of course, and I feel a little tired, but for the sake of the sport I'm ready to do anything, all the barriers are just nonsense, you can go through a lot for sambo. On the eve of the fight I slept well and was calm. The main thing for me was to win a gold medal today, I kept thinking only about the first place."
Rustambek Dzhirenshiev (Kazakhstan) – 82 kg, combat sambo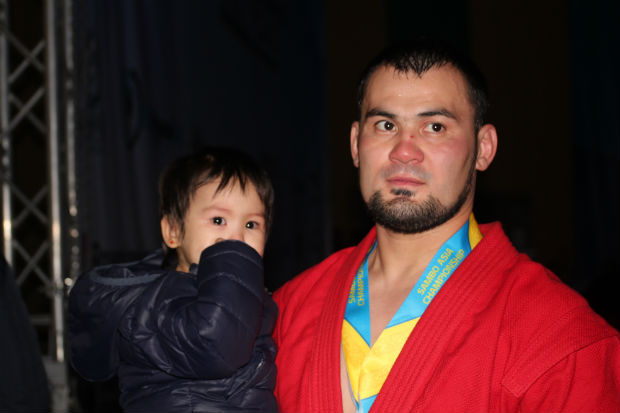 Immediately after the awarding ceremony Rustambek's 1,5 years old daughter threw herself into his arms, and nearby stood her mother with three more children. Naturally, the conversation started with the kids' theme.
"I am 30 years old and as you can see, I have four children. My eldest is in the 5th grade, the second one is in the 1st grade, the third one is 5 years old and my youngest is 1,5 years old. In fact I have not seen them for a month as I was preparing for this championship in Almaty, that's why my baby is crying. I dedicate this victory to my wife and kids to divide it among my five favorite people. Today I've become the champion of Asia for the second time, the first title was won in 2013 in Korea. At the beginning of my sports career I did sport sambo, but then joined the combat sambo. For me, combat sambo is a real man's sport, it appeals to me and is more spectacular."
Agzhigit Oralov (Kazakhstan) – 100 kg, juniors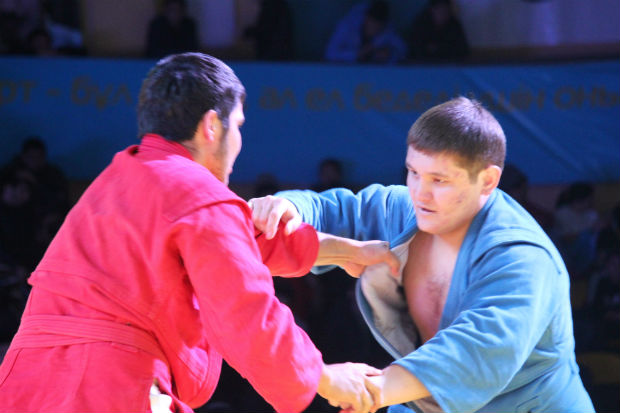 Agzhigit in the final battle against Nurbek Bekberdiev from Kyrgyzstan has shown phenomenal technique. For his more than 100 kg he looked like a wrestler fighting in medium weight, since he showed a very diverse and vibrant technique and the whole match was held in very high, uncharacteristic for heavy-weights pace.
"Why did I call the other winners to my highest step of the podium? For me it is an expression of respect for the opponent, I think we should treat each other with dignity. The final was a hard fight, my opponent was very good and strong, I'm glad I managed to win. You know, for me the most important thing in winning is the anthem, I know the words by heart. So it's an indescribable feeling when you are standing on the podium and in honor of your victory the anthem of your country sounds."
Kubanychbek Kokumov (Kyrgyzstan) – more than 100 kg, combat sambo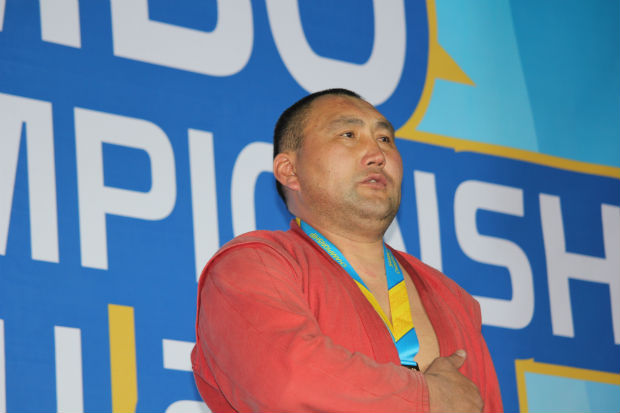 "The finals are never easy, and the final against a Kazakh in Kazakhstan is a different story altogether: they are at home, you know. During the fight there was one moment when I pulled out my hand for a handshake, and my opponent took advantage of the situation, threw me and held. Now I understand that it was my fault, I'll know that it happens sometimes, you have to be careful. I won the final by two knockdowns, after the second one my opponent didn't rise any more. I tend to use blows more than anything, because beside sambo I do close fight."