The first day of the Asian championship: gifts for friends, flips for Mum, the first doping tests, plans for 2016 and more
Competitions
12 December 2015
Sergei Grishin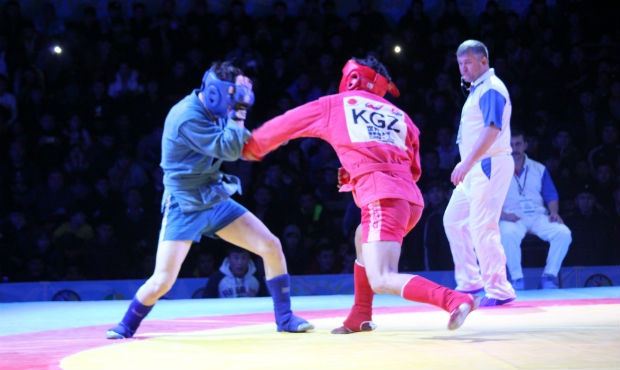 In Atyrau yesterday were named the first champions of the Asian Sambo Forum-2015. On Friday, adult sambo wrestlers – men and women – fought for the awards of the championship along with the representatives of combat sambo in weight categories of 52, 74 and 100 kg. Interviews with some of the champions can be found here.
Bolatbek Raymkulov (Kazakhstan) - 52 kg, Sport Sambo
"My first fight was the first of the final ones and opened the evening part of the competition, but it didn't bother me at all. I was sure of myself, despite the fact that the opponents have been strong today - each in their own way. The audience helped me a lot, everyone was rooting for me, a lot of friends and my relatives were present. I dedicate my victory to my parents. My only plan was to win. Now I will prepare for the championship of Kazakhstan to take place in March, last year I lost and was second, I hope that the year 2016 will bring me only victories."
Nozimdzhon Okhirov (Tajikistan) - 62 kg, Sport Sambo
"In the final the struggle against Zhandos Imanbaev from Kazakhstan was a bit hard. In Kazakhstan they always root with great enthusiasm, the stands support their athletes full-heartedly. But I knew that I was ready, was confident. What is it that gave me my confidence? My trainings, my courage and my character. At the beginning of the meeting I was losing by 4 points but was not taken aback, was confident. Ahead of me there are the World Cup - Memorial to A. Kharlampiev, and the Minsk tournament. But the main goal is the World Cup. I've never fought in a global tournament and all my dreams go to the medal in this competition."
Mustafo Khasanov (Tajikistan) – 68 kg, Sport Sambo
"The souvenir plate that has been my champion's gift I will give to my Mum who is my main fan. Today I've become a five-time champion of Asia in sambo. I was third in 2009 at the World Championship, and then failed to win a medal. This year at the World Championship in Morocco I came fifth in the final, by the way, losing to a Kazakh guy. Today after winning the final battle against Bagdat Zhariglasov from Kazakhstan (by the way, he is a very strong fighter, at the Universiade in Kazan he came second), I did a back flip. When I was little I used to love acrobatics, first I did it with insurance, then learned to do it by myself. And then I promised to my mother that I would do a somersault after each major victory. Today I've held my promise. I would like to do it the next year at the World Championship in Bulgaria."
Toktosun Uulu Kalysbek (Kyrgyzstan) – 74 kg, Combat Sambo
"Going to take a doping test for the first time, feeling a bit nervous. Just because it's the first time, not because I worry about the doping. Our Kyrgyz doping is a proper and healthy diet including besparmak and mare's milk. Our national food is natural and gives us strength and swift recovery. My opponent in the final was very strong but nevertheless I managed to win with a blow ahead of schedule. I felt that I could win thanks to this blow and I realized that it was the time to use it. I also wanted to throw him, of course, but the striking technique was more appropriate. My champion's gift - a plate – will be given to my coach, his contribution to this victory has been great"
Nabimuhammad Khorkashev (Tajikistan) – more than 100 kg, Sport Sambo
Khorkashev won his final bout brightly and technically, and most importantly, quickly. This heavy-weight from Tajikistan took just over a minute to carry out a clean pickup under one leg. He stayed in a stand and received a pick-up evaluation of "Clean" and after the fight surprised the audience by performing a back flip with ease. The powerful performance of the athlete weighing more than 100 kg looked very spectacular and unexpected.
"After the World Cup where I came second it was a bit difficult to gather my wits to perform here at the Asian Championship. All forces were given to the championship in Morocco where in the final I lost to a Russian citizen Artem Osipenko. Today I fought four bouts and it hasn't been easy for me. What about the future? Frankly, the last four world championships I lost to the Russians. Of course I want to stop this nasty tradition."