FIAS invites friends to A. Kharlampiev Memorial
Competitions
22 March 2013
Sergei Grishin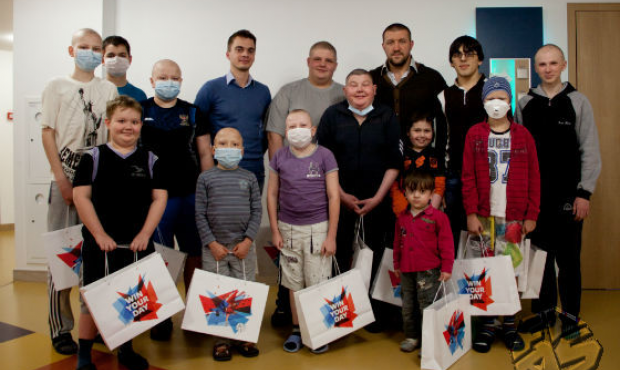 This is the second time over the last few weeks when we have been taking an already familiar road to Moscow. There is gray weather outside the windows of the car: something like a long-running winter and a spring lost somewhere. A grey roadway covered with chemical reagents, gray cars stuck for ages in traffic jams, gray blocks of flats with an incredible number of windows and their dwellers... And suddenly right in the middle of this gray kingdom there is an incredibly bright and colourful building. Despite its immense beauty and garishness, most of its dwellers dream to leave it as soon as possible. It is the building we are striving for. It is the Federal Research and Clinical Centre of Pediatric Hematology, Oncology and Immunology named after Dmitry Rogachev.
We are representatives of SAMBO International Federation. Dmitry Maximov, FIAS Sports Director, and your obedient servant, Alexander Solomakhin, FIAS website editor. Over a year ago communication and collaboration started between FIAS and Russian and German Charity Photo Project "We live on this Earth" based at the Children's Clinical Center. The first steps taken were invitation of the kids who are being treated or who have already recovered to SAMBO tournaments as photographers. They were looking for interesting photography perspective, taking exciting photos, finding creative solutions to manifest themselves. Then their photos participated in various exhibitions and even won first prizes in prestigious international contests.
FIAS supported by KfW German Development Bank has recently presented a camera to one of the participants of the project who is currently being treated in the clinic. And here we have come again to our friends to chat, tell about SAMBO and invite the kids to A. Kharlampiev Memorial.
The playroom, the walls and floors of which are painted with unusually bright colours, is full of clatter and chatter. Boys and girls of all ages - from the most cheerful and laughing kids to more thoughtful and serious youths - together spend here their free time after medical procedures and school classes. Everyone has his/her own interests and it seems there is no single topic to unite them. But when Dmitry Maximov, a double world SAMBO champion, begins to talk about his favourite kind of sports, children's eyes light up with glee, the kids ring and listen carefully.
At first, they are a bit shy to ask questions, but then curiosity prevails. How many medals and cups have been won? Did you have to use SAMBO fighting techniques in the street? What injuries did you have? What is the most important international tournament? How does SAMBO differ from other combat arts? Dmitry answers all these and many other questions with pleasure. Gradually the conversation turns to discussion of general concepts of a healthy lifestyle, ability to think and be an all-rounded person. The kids express their opinions, share their own sports achievements, joke and laugh.
Nearly two hours of conversation fly like a bird. At the end of the conversation, Dmitry Maximov invites children as the audience to the A. Kharlampiev Memorial World Cup and also gives them memorable souvenirs from FIAS. Already tomorrow they will be able to see live elite SAMBO and appreciate the skills of the SAMBO athletes from around the world. And the kids participating in the photo project "We live on this Earth" will go to the tournament to capture the most interesting moments of the competitions. Their photos will soon be available for your evaluation, FIAS website visitors.
Alexander Solomakhin
www.sambo.sport