FIAS invites sambists to ITA Anti-Doping Webinar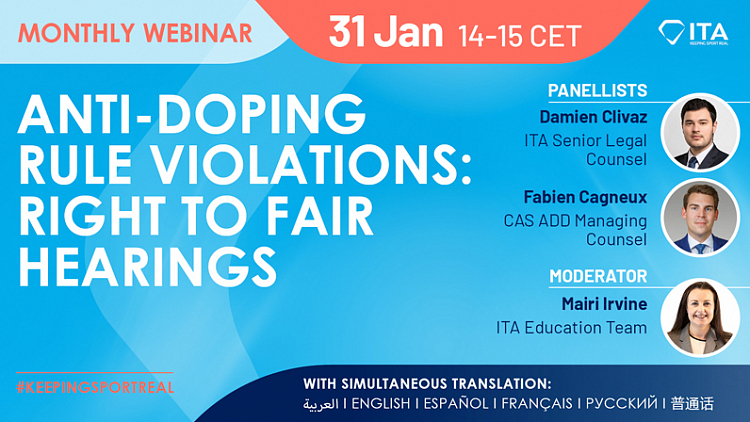 What do you really know about Anti-Doping? Each athlete and personal should know the Anti-Doping rules, responsibilities, and last but not least - rights. Those why we invite SAMBO community to join the ITA webinar "Anti-Doping rule violations: right to fair hearings", which will be held on January 31.
Last year, the FIAS partnered with the International Testing Agency (ITA). ITA is an international organisation constituted as a not-for-profit foundation with a mission to manage Anti-Doping programs, independent from sporting or political powers, for International Federations (IFs), Major Event Organisers (MEOs), and all other Anti-Doping organisations requesting support. The structure of the ITA reflects the recommendations provided by a dedicated ITA Steering Group established in 2016 by the World Anti-Doping Agency (WADA) and composed of representatives from Governments, National Anti-Doping Organisations (NADOs), and the Sport Movement.
This month ITA will provide a legal look at Anti-Doping by examining hearing panels, focusing on the Anti-Doping and Appeal divisions of the Court of Arbitration for Sport (CAS). The session aims to explain what happens and what to expect during the hearing process, such as:
What is CAS and the CAS Anti-Doping Division?

What is the decision-making process?

Who testifies, and what evidence is presented?

How and by whom are the parties represented?

Who is the judge or arbitrator?

What is the appeal process?
Two expert panellists, Damien Clivaz, Senior Legal Counsel for the ITA, and Fabien Cagneux, Managing Counsel of the CAS Anti-Doping Division of the Court of Arbitration for Sport with the support of the moderator: Mairi Irvine, ITA Education Team, will provide you into the juridical part of sports and share a number of steps that take place before a case is heard by a hearing panel, and where resolution can be reached. At the end of the session, everyone can ask questions live and get answers from experts.
These webinars will be delivered in English with simultaneous translation to four additional languages – Arabic (العربي), Spanish (español), French (français), and Russian (русский).
Topic: Anti-Doping rule violations: right to fair hearings
Registration link: REGISTRATION
Event date: Tuesday 31 January, 14:00 – 15:00 Central European Time (CET)