Georgian love for SAMBO at the A. Chokheli Memorial
Competitions
15 September 2016
Sergei Grishin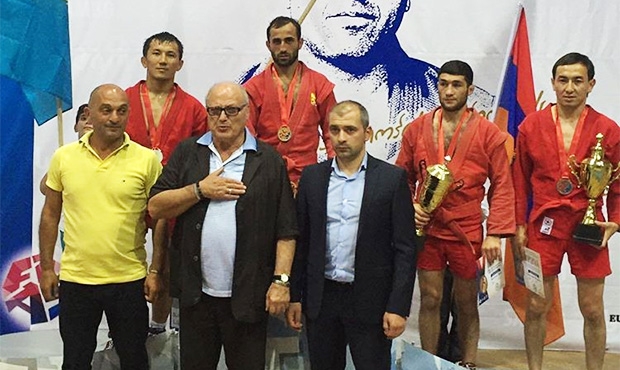 The A. Chokheli Memorial men's SAMBO tournament was held on September 10 and 11 in Tbilisi, Georgia. The incredible atmosphere in the stands, award-winning rivals on the mat, and the government's attention to the event – that's, in short, how the audience and the participants remembered the tournament.
Representatives from 8 countries took part in the competitions. Along with the hosts of the tournament, sambists from Armenia, Azerbaijan, Belarus, Greece, Kazakhstan, Cyprus and Russia struggled for medals. The teams were real fighters: they were all acclaimed sambists and winners of the World and European championships.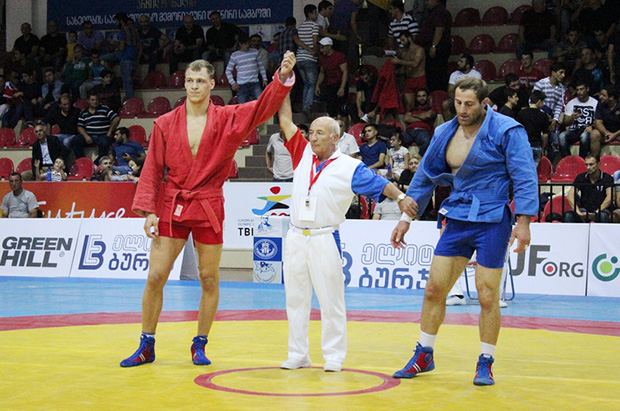 Apart from the stars on the mat, there were a lot of honored visitors in the stands as well. World SAMBO champions of past years and SAMBO veterans gathered together to watch top-level SAMBO and share their experiences. They were matched by ordinary spectators, who filled the stands to capacity. Those who missed the start of the competitions had a very hard time finding a free seat.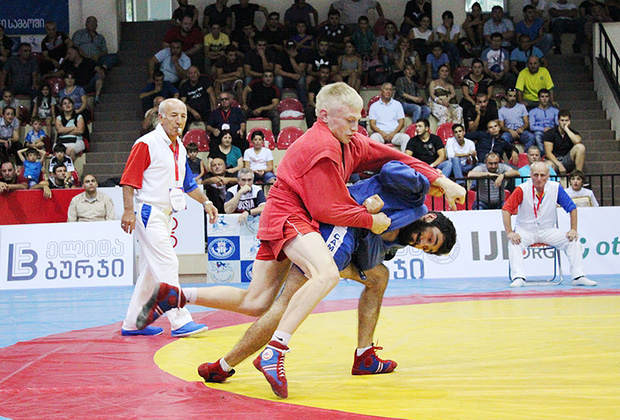 The event attracted much attention of the media. At a press conference before the start of the tournament, representatives of Georgian SAMBO and the Minister of Sport and Youth Affairs of Georgia Tariel Khechikashvili answered journalists' questions. It was clear from the Minister's speech that Georgians love and understand SAMBO, and the support for the tournament from local athletes and fans proved this.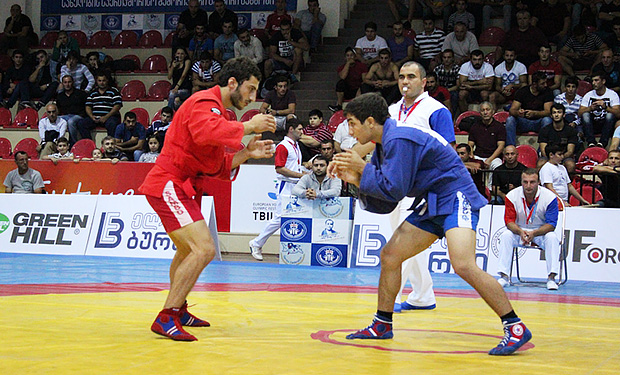 Results of the A. Chokheli Memorial 2016 (men) International SAMBO Tournament
52 kg
1. BERBERASHVILI Levani (GEO)
2. KUBARKOV Andrei (RUS)
3. BEDINADZE E lari (GEO)
3. MIRUASHVILI Giorgi (GEO)
57 kg
1. CHIDRASHVILI Vakhtangi (GEO)
2. BAIBATYROV Yerbolat (KAZ)
3. MKHITARYAN Grigor (ARM)
3. KANZHANOV Beimbet (KAZ)
62 kg
1. ODOSHASHVILI Zviad (GEO)
2. SOROCHENKOV Artem (RUS)
3. CHIRGADZE Genadi (GEO)
3. NABIYEV Yusif (AZE)
68 kg
1. LAGAZAURI Shmagi (GEO)
2. PSEUNOK Amir (RUS)
3. SHEMAZASHVILI (RUS)
3. LILUASHVILI Mindia (GEO)
74 kg
1. MAMULASHVILI Kakha (GEO)
2. NAKHUTSRISHVILI Levan (GEO)
3. KOKSHA Aliaksandr (BLR)
3. MANUKYAN Rafik (ARM)
82 kg
1. KUTSIA Niko (GEO)
2. BERULAVA Desarion (GEO)
3. MATEVOSIAN Levon (RUS)
3. SAIFUTDINOV Iyrii (RUS)
90 kg
1. MARGIANI Ushangi (GEO)
2. SIDAMONIDZE Nika (GEO)
3. OBOLASHVILI Giorgi (GEO)
3. MAMARDASHVILI Zauri (GEO)
100 kg
1. ELISEEV Dmitriy (RUS)
2. LORIASHVILI Davit (GEO)
3. PETROSYAN Edik (ARM)
3. KOBAIDZE Giorgi (GEO)
+100 kg
1. BUGADZE Onise (GEO)
2. TUNAKOV Aleksandr (RUS)
3. GURULI Lasha (GEO)
3. REZESIDZE Slava (GEO)
Photo: Alexandr Kotorashvili.