SportAccord Convention in Belek: another day of the FIAS President
President
9 April 2014
Sergei Grishin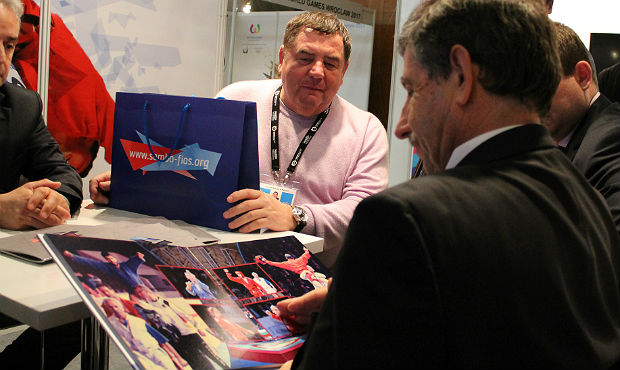 In the framework of the SportAccord Convention in Belek (Turkey) Vasily Shestakov's, the FIAS President, day is literally mapped out to the last five-minute increment: meetings, proceedings, and interviews. Today, we'd like to distinguish a meeting with Jose Perurena, the President of the International World Games Association (IWGA), elected as recently as yesterday, among the series of such work moments. The new Head of the IWGA is the IOC member, President of the International Canoe Federation and member of the Olympic Games in Melbourne. Jose Perurena is the Spaniard and, of course, their meeting began with a discussion of the fact that in his homeland in Spain the European Youth SAMBO Championship starts in a few days.
Jose Perurena pointed out SAMBO entertainment and popularity in the world. The FIAS booklet demonstrated it dramatically, which he was bearing in his hands at that moment: the IWGA President called the figures showing the number of national SAMBO Federations (NSF) in the world (FIAS members and candidates) impressive. Judge for yourself: Pan-America – 23, Europe – 36, Oceania – 3, Africa – 18, Asia – 26.
According to the results of this working meeting Jose Perurena and Vasily Shestakov agreed that in the near future FIAS will update the FIAS documents that had been previously signed, for consideration by the IWGA in accordance with the current development momentum of the federation. Issues on new members' admission to the ranks of the IWGA will be discussed in the regular course of work on the basis of the documents submitted by the federations at the next General Assembly of the Organisation to be held next year.
"At the moment many sports go for the World Games program, we need to strike a balance. To date, the official program of the Games-2017 in Wroclaw includes 29 sports and the plans are more than 4 thousand participants of this grand sports show, which takes place every four years. Our task is to keep a balanced program of the World Games. To do this, we must be extremely cautious, but at the same time, open to everything new," – said the new IWGA President.
 "This is our first meeting with Jose Perurena. It's great that we managed to talk immediately after his yesterday's elections win. Now we will interact fruitfully, and I hope we will succeed. This year has already become successful for us – SAMBO was included in the Asian Games program. The World Games is the next step for us as part of the work on SAMBO integration to the multisport games", – commented Vasily Shestakov on the meeting with Head of the IWGA.
More news from the SportAccord Convention in Belek can be seen in our television reports that the FIAS TV crew creates for you creatively, inspired and quickly.