EU SAMBO Cup was held in Latvia
Competitions
15 August 2017
Sergei Grishin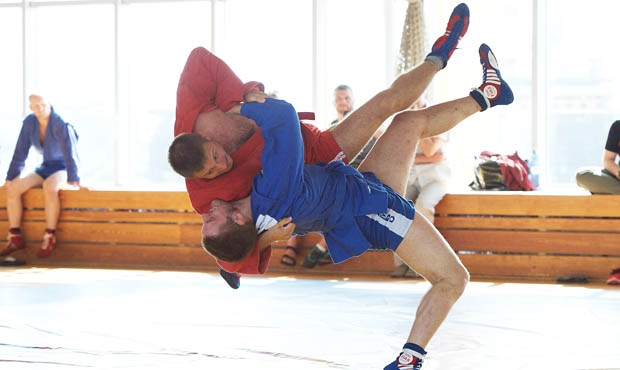 Interesting, spectacular, compact and a little bit home-like – this is how the participants and hosts of the EU SAMBO Cup described this tournament, which was held from August 10 to August 13 in Riga. This is the first tournament of this kind, which was held under the guidance of European SAMBO Federation and included not only competitions, but also master classes and seminars.
The EU Cup gathered more than 60 participants from 6 countries: Germany, Italy, Litva, France, Estonia and the host-country Latvia. The sportsmen competed both in sport SAMBO among men, women and the youth, and in combat SAMBO.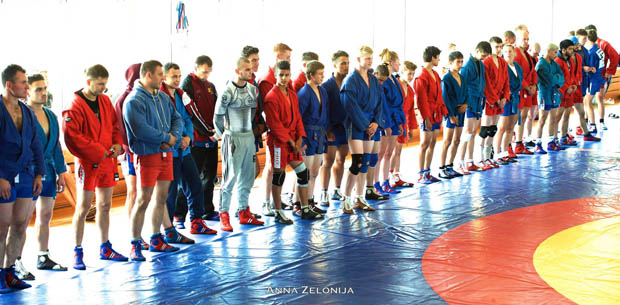 "The concept, where SAMBO athletes only from EU take part in competitions, has proved its value, - President of Latvian SAMBO Clubs Association, mastermind and sponsor of the EU SAMBO Cup Vsevolod Zeleny thinks. – When we perform at the World Cup or Championships, where our rivals are from Russia, Ukraine, Belarus, Georgia, and Azerbaijan and from other countries with rich SAMBO traditions, it is very hard for us to withstand such competition. The EU Cup gave the opportunity to representatives of other countries to get on the podium, win medals and cups. We saw our real level relative to each other, the sportsmen had an opportunity to fulfil their potential, believe in themselves and acquire the taste for victory".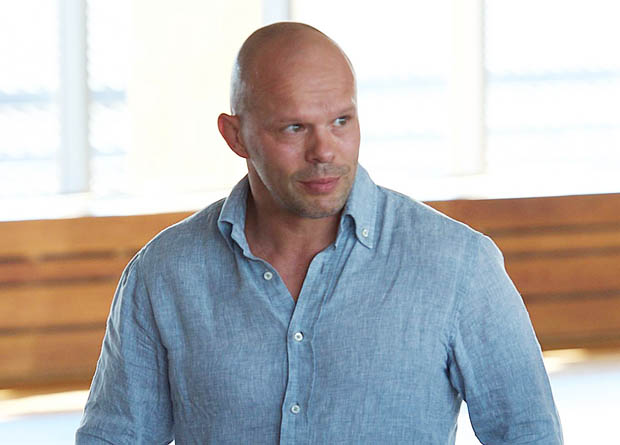 According to Vsevolod Zeleny, the sporting component of the tournament was at a high level. He also distincts drive for victory and total dedication, which SAMBO athletes demonstrated.
"I even wanted to give a medal or a diploma for will to victory to each participant, - he stated. – I also want to point out the achievements of Italian SAMBO athletes, who won 3 gold medals: two in sport SAMBO and one in combat SAMBO. It's obvious that these sportsmen are goal-oriented and already demonstrate their high level. Sportsmen from France, Germany and other countries also demonstrated great results".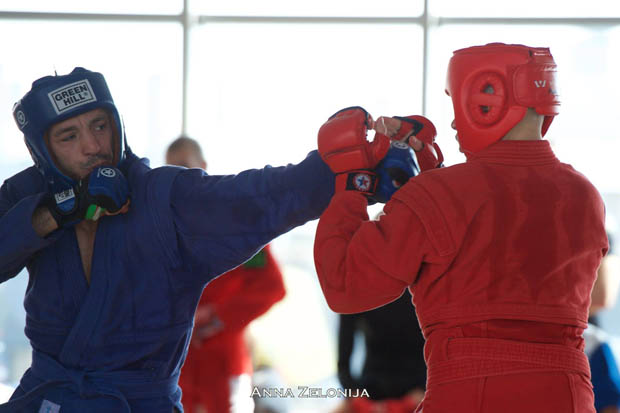 Director of SAMBO section of Italian Kickboxing Muay Thai Savate Shoot Boxe and SAMBO Federation (FIKBMS) Roberto Ferraris also marked the success of his fosterlings.
"Italian national team took the second place in sport SAMBO among men and the third place in combat SAMBO, - he noted. – We saw many good sportsmen and interesting fights during the tournament. Each SAMBO athlete tried to mark a place for himself in the history books of the EU Cup and Latvian SAMBO Clubs Association hosted the tournament at a great level".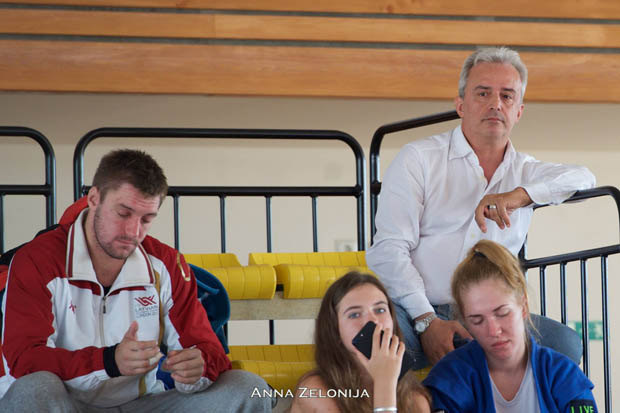 And if in the role of director of sambo section of the national federation Roberto Ferraris was concerned about performance of his fosterlings and rejoiced over their victories, then in the role of secretary general of European SAMBO Federation he regarded the EU Cup globally.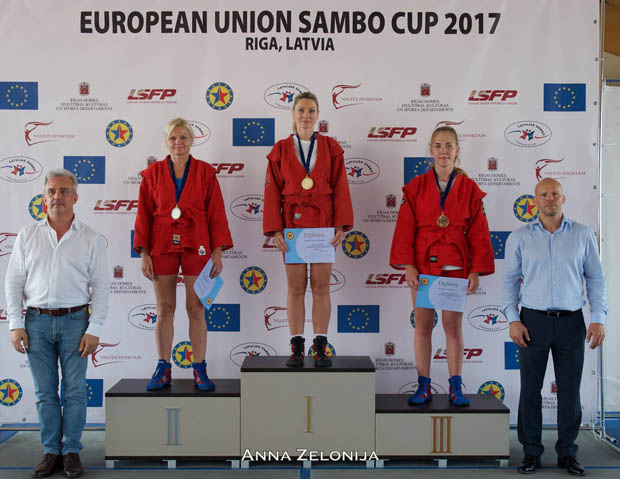 "One of the main goals of this tournament is to develop SAMBO traditions in European countries without participation of the sportsmen from former USSR countries. There were attempts to organize something like this before, but in recent times with the support of European SAMBO Federation we can get good results. Organization of such tournament is very important for SAMBO development in the EU. Also it's a good preparation for the season and most sportsmen, including Italian SAMBO athletes, stayed in the training camp after the end of the competitions", - Ferraris noted.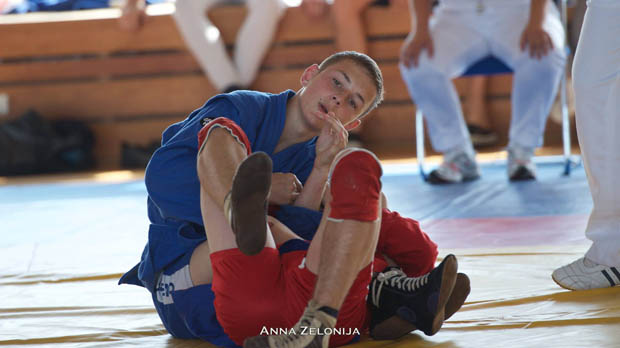 According to the hosts, many participants stayed for a 2-day training camp: representatives of Germany, Italy, France and of course Latvia spent the time with mutual benefit, having dedicated it to group trainings and sparrings. It was after the competitions, before this Executive Director of FIAS Sergey Tabakov held the seminar for SAMBO athletes.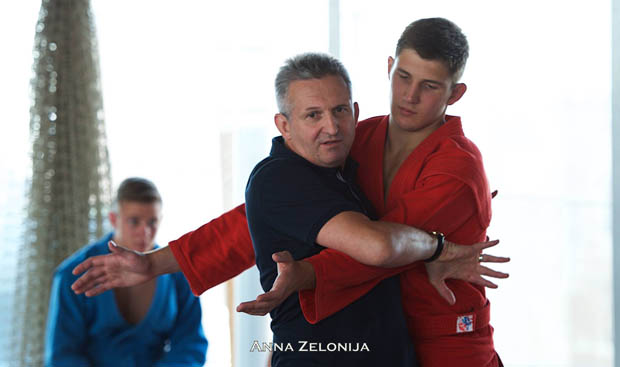 "I think I won't go too far with saying that Sergey Evgenievich was the one with a flair at the tournament. He skillfully switched from theory to practice, taught the sportsmen many interesting things and got them even more interested in SAMBO, - Vsevolod Zeleny said. -  Of course, his experience and skills as both a professor and an honored coach speak for themselves. The sportsmen got so inspired that they didn't want to let him go even after the designated time for the seminar was over. They look forward to their next meetings".
 Also Zeleny pointed out the workshop, which was held by FIAS demonstration group for SAMBO athletes.
"I think it's very important that sportsmen took part both in exhibition performance and trainings. They demonstrated perfect SAMBO -  how it should look like and what we should aim for", - Vsevolod Zeleny said.
According to his words, such tournament should be held as a whole, combining sporting part with educational one.
"Those seminars, which were held in compliance with FIAS program proved to be very useful for the sportsmen. By their own admission, the athletes were able to gain new knowledge and get to know important nuances. We plan to train sambists, coaches and referees in future. Also we can train operating personnel, so that every following tournament, no matter what the host country is, will be organized at high technical level", -  Zeleny said.
Next year it is likely that the dates of the tournament will shift for a few months. At least, the hosts will make this offer. The point is that August in Europe is a time for holidays, not every country can gather a team for participation in the competitions.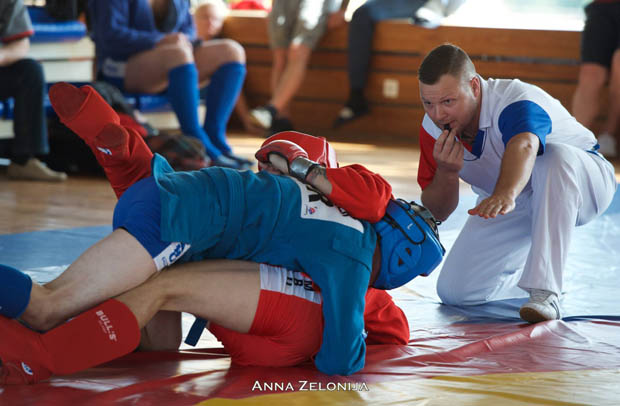 "We understand that it was sort of experiment and I think that the EU Cup will continue developing. The participators fought very skillfully – we saw real SAMBO of good level. Next year we plan to hold a full-scale tournament.  Based upon previous competitions we will do necessary improvements of all aspects. I'm sure that the EU Cup will become one of the stages of preparation for autumn period, when youth and adult World Championships are held", - Vsevolod Zeleny concluded.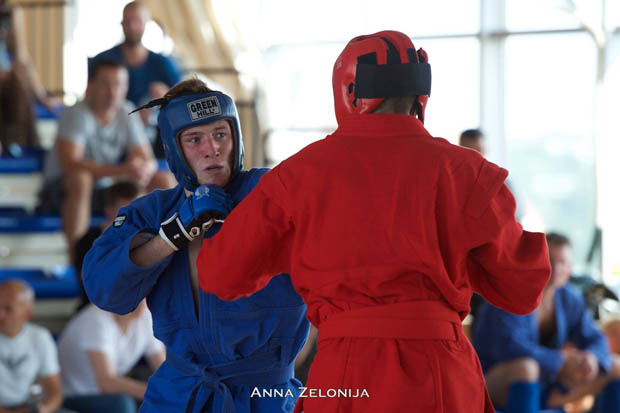 Photos by: Anna Zelenaya