The Victor Koga SAMBO Cup was held in Japan
Competitions
12 September 2017
Sergei Grishin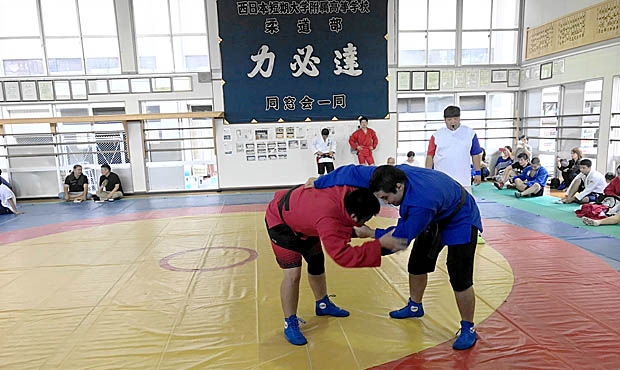 The Third Victor Koga SAMBO Cup was held in Japan on the 27th of August. This tournament is named after one of the first Japanese sambists, who also inspired SAMBO development in the country. By now the Viktor Kogi SAMBO Cup has become an All-Japanese SAMBO tournament among high school students.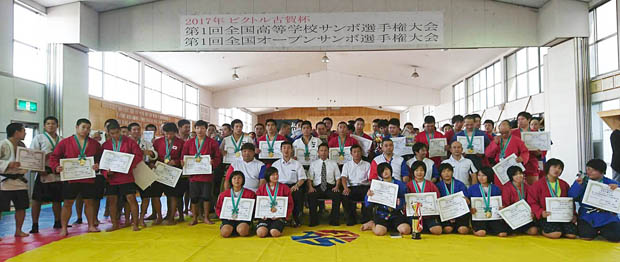 57 SAMBO athletes, representing six high schools, participated in the tournament, jointly organized by the Kyushu SAMBO Federation and the Japan SAMBO Federation. The competitions took place in Nishi Nippon Junior College High School judo hall. Winners and prizetakers received the corresponding medals and diplomas. MVPs (most valuable players) were awarded with diplomas, cups and «Full SAMBO techniques guide» DVDs. Kota Abe and Natsuki Matsuoka became MVPs among men and women respectively.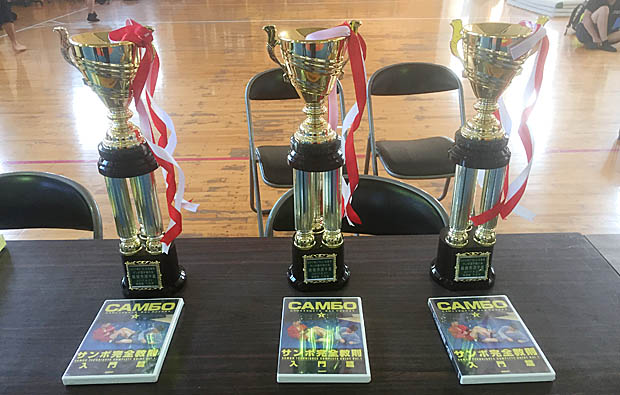 It should be reminded, that not long ago Victor Koga donated his cups, medals and other valuable SAMBO to the city of Yokosuka. These trophies will be exhibited in the city`s sports complex – the Yokosuka Arena.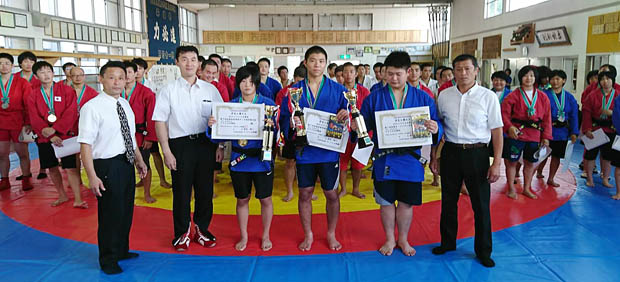 The Victor Koga SAMBO Cup Results
Men
62 kg
1. Tatsuo Yamaguchi (Nishi Nippon Junior College High School)
2. Masayasu Murata (Kurume Commercial High School)
3. Yuki Nose (Yahata Technical High School)
3. Kento Otsuka (Kurume Commercial High School)
 68 kg
1. Nagisa Nishiyama (Nishi Nippon Junior College High School)
2. Ojiro Kawaguchi (Nishi Nippon Junior College High School)
3. Yuki Takayama (Kurume Commercial High School)
3. Takuto Inumaru (Nishi Nippon Junior College High School)
74 kg
1. Kazuki Takeya (Nishi Nippon Junior College High School)
2. Yusaku Sakoda (Nishi Nippon Junior College High School)
3. Yuga Yamashiro (Nishi Nippon Junior College High School)
3. Jinta Abe (Nishi Nippon Junior College High School)
82 kg
1. Ryoga Yamashiro (Nishi Nippon Junior College High School)
2. Fuma Takasaki (Nishi Nippon Junior College High School)
3. Kazuya Kitahara (Kurume Commercial High School)
3. Tomoki Takeya (Nishi Nippon Junior College High School)
90 kg
1. Kota Abe (Nishi Nippon Junior College High School)
2. Ryuichi Hamana (Nishi Nippon Junior College High School)
3. Tatsumoto Oba (Nishi Nippon Junior College High School)
3. Budo Ishihara (Tokai University Daigo Senior High School)
+90 kg
1. Yuki Iwakawa (Tokai University Daigo Senior High School)
2. Jin Miura (Nishi Nippon Junior College High School)
3. Taisho Sasaki (Nishi Nippon Junior College High School)
3. Ryuichi Ishii (Nishi Nippon Junior College High School)
Women
57 kg
1. Suzuno Sunamitsu (Kumamoto Chuo High School)
2. Miho Kaneko (Nishi Nippon Junior College High School)
3. Tsuki Inoue (Nishi Nippon Junior College High School)
3. Rina Okamoto (Kumamoto Chuo High School)
70 kg
1. Natsuki Matsuoka (Kumamoto Chuo High School)
2. Mami Uchikura (Kumamoto Chuo High School)
3. Asei Itsumi (Kumamoto Chuo High School)
+70 kg
1. Akari Shiraishi (Kumamoto Chuo High School)
2. Yume Kawahara (Kumamoto Chuo High School)
MVP
Мужчины: Kota Abe (Nishi Nippon Junior College High School)
Женщины: Natsuki Matsuoka (Kumamoto Chuo High School)