People and Facts that Impressed Us at the First Day of the African Sambo Championship
Competitions
28 September 2014
Sergei Grishin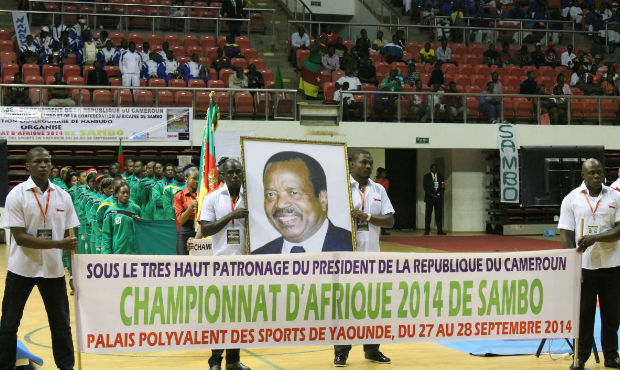 Saturday, September 27th, was the first day of competitions within the African Sambo Championship for the first time ever taking place in Cameroon. This interesting day was full of different surprises. What makes Cameroon fans feel entranced, where you can look at aboriginals' dances, and who feels homy in Yaounde winning all tournament's "gold" – read about all this in the reports made by the FIAS website.
Fans at the Grandstand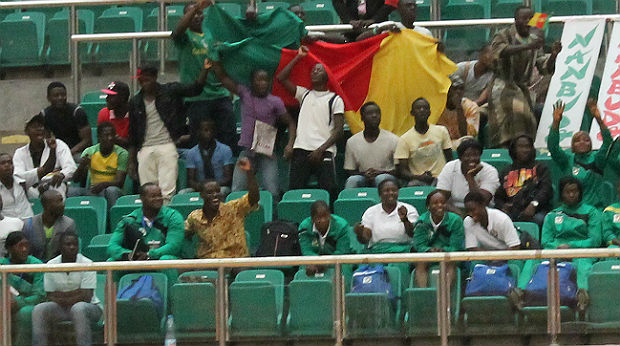 I cannot say about other kinds of sport but sambo athletes in Cameroon get a tremendous support from their fans. It's almost impossible to describe how fans at the grandstands show their real feelings to sambo athletes. Imagine this: The referee-communicant announces that a participant from Cameroon enters the sambo carpet, and the same moment grandstands explode as if he has already won the World Cup (as a minimum). And fans are not just screaming, they are jumping, beating the drums, blowing vuvuzelas, crying something to each other and make a hundred gestures per minute. Do you remember that it's done exactly when the participant's name and country is announced. And when a Cameroonian sambo athlete makes some hold and gets referees' score, a powerful wave of joyful support appears at grandstands again, and it's for about two times bigger than you imagined last time. If the Cameroonian wins his scrimmage, you feel like being present at the Football World Championship where you team has won at the final kicking the goal at the last minute. Previously I thought that such joyful and loud atmosphere was possible only in such cases.
And here's the riddle. Tell me, please what will an ordinary spectator do at a sport event where a pause has appeared, and this pause lasts too long? Well, usually he feels bored. What does a Cameroonian fan do? He's zigzagging! These guys find reasons to make themselves merry – they're singing songs, dancing and screaming funny cheers and chants. While waiting for the Cameroonian Minister of Sport who was late for the opening ceremony because of some state affairs, I went to the corridor of the sports complex. If I knew nothing about the tournament's pause, I would say there was some interesting scrimmage as it was supported by loud support of fans. 
Traditional Dances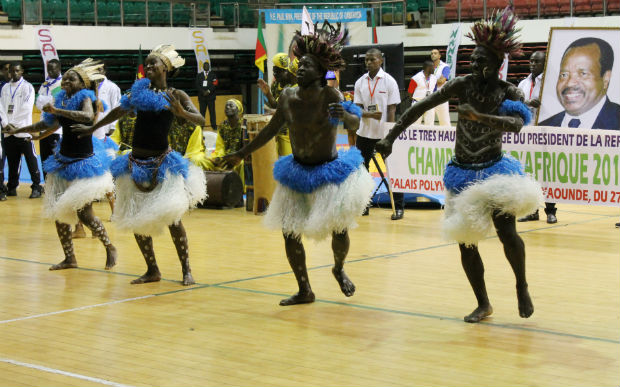 If you don't visit Central Africa too often, you may know about local nations' culture and traditions mainly thanks to scientific and educational channels that often show aboriginals' dances impressing by their authenticity. It's worth a lot to see such dances performed by Cameroonian artists by your own eyes. At the opening ceremony we were given such an opportunity by the 2014 African Sambo Championship organizers. This performance together with a bright parade of teams supported by an extremely harmonious and rhythmical march were among main highlights of the show. The opening ceremony was also interesting for an exhibition performance of nanbudo sportsmen but we'll talk about it separately. 
Nanbudo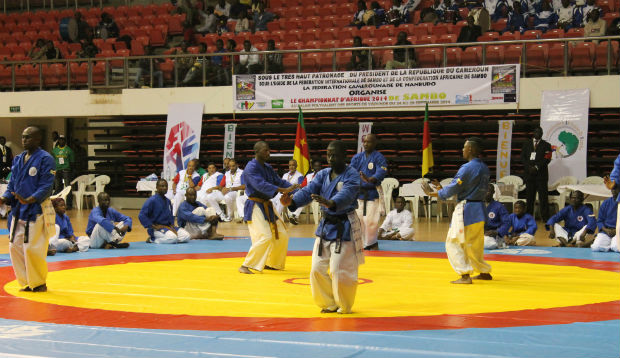 The full name of the organization developing sambo in Cameroon is the Nanbudo Federation, National Sambo League. There are two combat sports here: Sambo becoming popular in Cameroon is found side by side with one of the most popular martial arts – nanbodo. Thus, it's not surprising that almost every time there's a competition in one of these combo sports, sportsmen of another one make their exhibition performances.
Nanbudo performance at the African Sambo Championship looked really great. Spectators liked the most when some holds were first shown in slow motion style giving spectators' a chance to look closely and then – at a full speed allowing the viewers to see them as large as life. Fans' reaction was similar to that of announcing names of Cameroonian sportsmen entering the sambo carpet.
Precision and Eurhythmy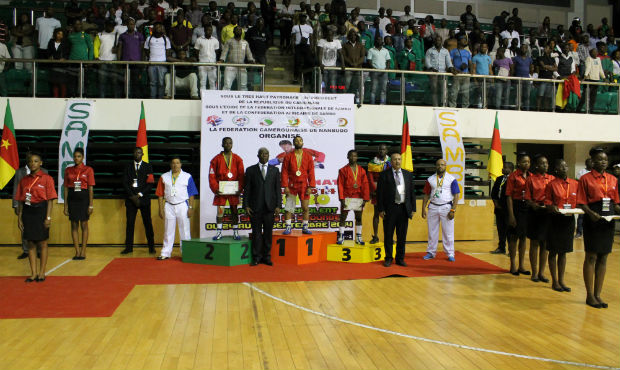 In spite of everything Ateba Ngongo, the Vice-President of the Cameroon National Sambo League, said about the lack of professionals in the country, organizers managed to create a great team acting with precision and eurhythmy. And this can be seen in everything – starting from the sport complex guards' work and finishing with holding an awarding ceremony where each action was performed strictly as planned. Not every professional organizer of big sambo competitions has much to boast of, not to speak of debutants. When we stress this while talking to Francois Mbassi, President of the Nanbudo Federation, National Sambo League, he says, "I'm a perfectionist, thus, I immediately see what needs to be improved and polished. Though we've really managed to do a lot, tomorrow everything will be even better." A serious look and confidence of the National Sambo League President assure us that everything will be like this.
Morocco National Team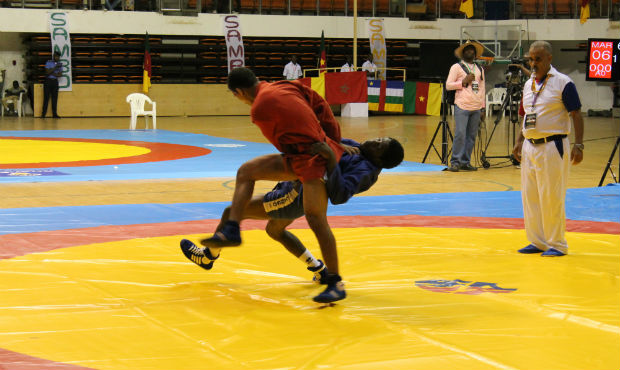 This is the first year when the African Sambo Championship doesn't take place in Morocco but it doesn't prevent Moroccans from feeling homy and winning gold medals. At the first day of the competition they dominated their opponents and won "gold" in all weight categories. Cameroonians tried to keep them from winning but their back was broken by an experienced Moroccan sambo athletes. Happy winners took each other into their arms, ran with their country flag and checked the golden metal for strength. Local fans and sportsmen applauded the champions. And they definitely thought about their second day of competition when their team friends would get their own back and present Cameroon the first "gold." However, sportsmen from other countries won't be against participating in medals winning. We'll see what will be next. Read the news on the FIAS website!