Ukrainian sambo youth championships determined «the icon of the national team»
Competitions
7 February 2017
Sergei Grishin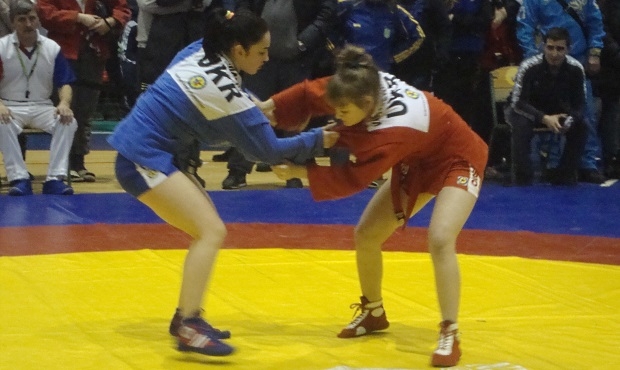 From February 2 to 5 Odessa hosted duels of the Ukrainian Youth Sport and Combat Sambo Championships (youth, men and women under 18 and juniors, men and women under 20). More than 400 athletes from the 21st region of Ukraine participated in the events. As with all championships, the tournament is a qualifying competition – its results will define the national youth team which is going to take part in the European Youth championships in Prague (Czech Republic) in spring.
The organizers state that it is no coincidence that Odessa was chosen to open the national season.  For the last two years this region has been developing in terms of both sport and organization.  For instance, in 2016 Odessans won the team events of the Junior championships, Cadets Cup of Ukraine and Sambo championships among young people.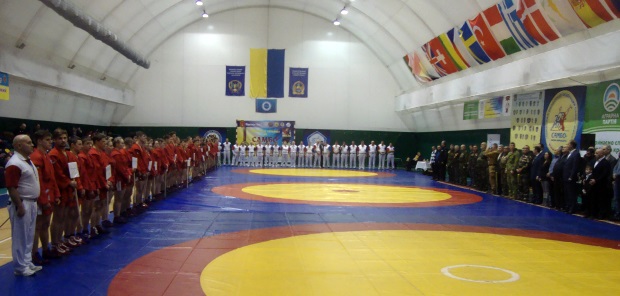 Moreover, the best athlete of the last year was a representative of South Palmyra Halyna Kovalska who gained the most points in the national rating having won the bronze medals of World and European championships, bronze medals of the world cup and gold medals of the continental cup among youth under 20.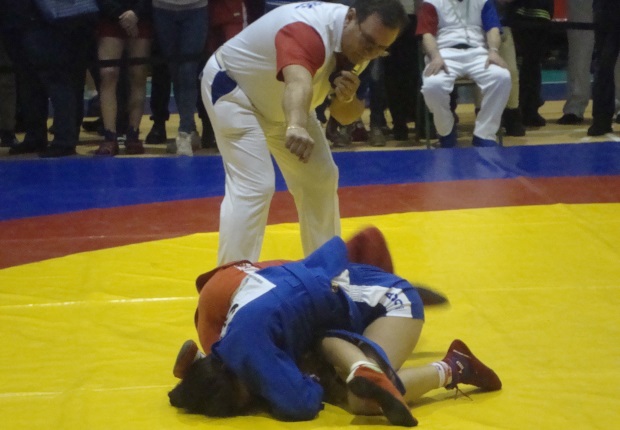 Traditionally, the program of youth events also includes combat sambo.   
"As is known, the combat version at the international level has presence only among adults, but don't we want to see well-trained young fighters at the European and World Championships?" says the president of the National Sambo Federation of Ukraine Vadim Rogach. "That is why we massively introduce youth and juniors to the combat style. And this work is fruitful. For example, an 18-year-old debutant Andrey Kucherenko won the silver medal of the world events in Sofia in 2016."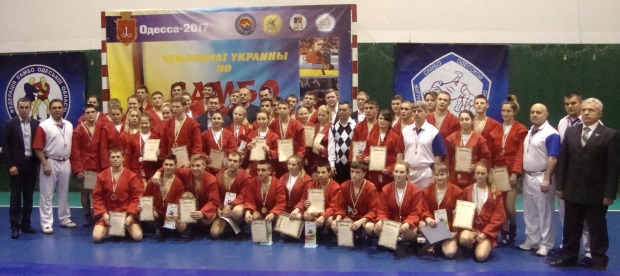 The next major tournament of the national level will take place in March – Lutsk will host the Ukrainian sport and combat sambo Cup for men and women.
Team events (youth, men and women)
1. Kiev.
2. Odessa region.
3. Kharkov region.
Youth, men (sport sambo)
Under 48 kg
1. Evgeny DOBROVOLSKY (Odessa region)
2. Vitaly TERENTIEV (Nikolaev region)
3. Anatoly KULIBABA (Vinnitsa region) and Daniil MUDRAK (Vinnitsa region)
Under 52 kg
1. Artur MARTIROSYAN (Lugansk region)
2. Vladislav PSHENICHNY (Kharkov region)
3. Nikolai KULIBABA (Vinnitsa region) and Andrey LAISCHUK (Ivano-Frankivsk region)
Under 56 kg
1. Viktor YAKOVLEV (Odessa region)
2. Kirill MATUS (Dnepropetrovsk region)
3. Mikhail SVIDRAK (Ivano-Frankivsk region) and Denis TUPITSKY (Kiev)
Under 60 kg
1. Roman TRUSH (Kharkov region)
2. Andrey SHEVCHENKO (Kharkov region)
3. Dmitry NAGORNY (Sumy region) and Alexander KOVALENKO (Dnepropetrovsk region)
Under 65 kg
1. Roman YATSEVICH (Odessa region)
2. Artem STELMASHOV (Zhitomir region)
3. Andrey TOPOLNITSKY (Lugansk region) and Vladislav TYUTYUNNIK (Sumy region)
Under 70 kg
1. Vladimir KIRICHENKO (Dnepropetrovsk region)
2. Sergey SYTNYUK (Dnepropetrovsk region)
3. Gleb LUBYANKO (Kharkov region) and Oleg PLATONOV (Donetsk region)
Under 75 kg
1. Nazar SHADRIN (Kherson region)
2. Artem ZHENZHERUKHA (Zhitomir region)
3. Denis KULENKO (Vinnitsa region) and Ruslan GRIGORASH (Ivano-Frankivsk region)
Under 81 kg
1. Ivan TYMINSKY (Ivano-Frankivsk region)
2. Stanislav SERGEYCHUK (Dnepropetrovsk region)
3. Evgeny PANICH (Kherson region) and Stanislav GUNCHENKO (Odessa region)
Under 87 kg
1. Yaroslav DAVIDCHUK (Khmelnitsky region)
2. Nikita BELYAKOV (Dnepropetrovsk region)
3. Egor STATIVKA (Kharkov region) and Sergey MOLODYK (Kiev)
Over 87 kg
1. Evgeny VEGERA (Kharkov region)
2. Kirill NECHEPORYUK (Odessa region)
3. Georgy DIL (Odessa region) and Egor LEONOV (Kharkov region)
Youth, women (sport sambo)
Under 40 kg
1. Alexandra PRISCHENKO (Vinnitsa region)
2. Ekaterina GRIGORENKO (Vinnitsa region)
Under 44 kg
1. Anna TANTSYURA (Dnepropetrovsk region)
2. Valentina NOVITSKAYA (Kiev)
3. Karina RADCHENKO (Kiev) and Olesya SALFETNIK (Zhitomir region)
Under 48 kg
1. Sofiko BAGISHVILI (Kharkov region)
2. Alla BEGEBA (Ivano-Frankivsk region)
3. Valeriya VASCHENKO (Sumy region) and Ruslana PEREKHREST (Dnepropetrovsk region)
Under 52 kg
1. Anastasia BEZATOSNAYA (Kharkov region)
2. Maria CHERVAN (Rivne region)
3. Diana BAGRIY (Odessa region) and Yulia VORONENKO (Sumy region)
Under 56 kg
1. Lidia VASCHENKO (Zhitomir region)
2. Kristina YANCHUK (Kiev)
3. Viktoria BALZHIK (Odessa region) and Alexandra GIDIRIM (Odessa region)
Under 60 kg
1. Vladislava NETSVIT (Kharkov region)
2. Sofia POTAPCHUK (Kiev)
3. Ekaterina PAUSTOVSKAYA (Dnepropetrovsk region) and Maria RYBACHUK (Odessa region)
Under 65 kg
1. Vlada KOPNYAEVA (Nikolaev region)
2. Eva DONICHEVA (Kiev)
3. Arina TARAN (Donetsk region) and Natalia PERESUNKO (Odessa region)
Under 70 kg
1. Natalia CHISTYAKOVA (Chernigov region)
2. Anna KUPINA (Kharkov region)
3. Maria SNISARENKO (Nikolaev region) and Alexandra SIRENKO (Odessa region)
Under 75 kg
1. Anastasia ZHILYAEVA (Dnepropetrovsk region)
2. Yana SPILNAYA (Nikolaev region)
3. Irina LOGOIDA (Odessa region) and Yana BORSUK (Rivne region)
Over 75 kg
1. Maria MERKULOVA (Dnepropetrovsk region)
2. Elizaveta GORB (Dnepropetrovsk region)
3. Anna SLOBODYANYUK (Khmelnitsky region) and Kristina GOMAN (Chernigov region)
Youth, men (combat sambo)
Under 48 kg
1. Vladimir CHERNY (Kiev)
2. Andrey FILIP (Odessa region)
3. Vitaly NOSOK (Zhitomir region)
Under 52 kg
1. Anatoly KULIBABA (Vinnitsa region)
2. Dzhafar ISKENDEROV (Kiev)
3. Vladimir TKACHENKO (Nikolaev region)
Under 56 kg
1. Nikolay KULIBABA (Vinnitsa region)
Under 60 kg
1. Kirill KRASNIKOV (Kharkov region)
2. Maxim PODOROZHNIY (Volyn region)
3. Dmitry GAIDAYCHUK (Vinnitsa region) and Bogdan KOGUTKO (Kiev)
Under 65 kg
1. Roman YATSEVICH (Odessa region)
2. Alexey PANKOV (Rivne region)
3. Denis RAEVSKY (Kharkov region) and Vitaly SIVULYAK (Lviv region)
Under 70 kg
1. Dmitry LASTOVETSKY (Kharkov region)
2. Oleg ZIBOROVSKY (Kharkov region)
3. Vladimir KIYAN (Kharkov region) and Vyacheslav PASCHAK (Lviv region)
Under 75 kg
1. Nazar SHADRIN (Kherson region)
2. Stepan SAMKOV (Rivne region)
3. Akim GRINKO (Kiev) and Egor KUKUROV (Kiev)
Under 81 kg
1. Maxim PROKOPENKO (Odessa region)
2. Maxim NIZHENSKY (Odessa region)
3. Vitaly VOLYNETS (Vinnitsa region) and Bogdan DUBAS (Kiev)
Under 87 kg
1. Sergey MOLODYK (Kiev)
2. Andriy CHICHIN (Donetsk region)
3. Dmitry ARNAUTOV (Kiev) and Daniil PATSURA (Donetsk region)
Over 87 kg
1. Sergey KACHKIVSKY (Kiev)
2. Nazary PIMENOV (Kiev)
Team events (juniors, men and women)
1. Kiev
2. Odessa region
3. Kharkov region
Juniors, men (sport sambo)
Under 48 kg
1. Vitaly TERENTIEV (Nikolaev region)
2. Yury ZAIVELEV (Kiev)
3. Andrey FILIP (Odessa region)
Under 52 kg
1. Dmitry STREMENOVSKY (Kiev)
2. Evgeny CHEPURNOY (Kiev)
3. Denis ARTEMCHUK (Odessa region)
Under 57 kg
1. Dilshot KHALMATOV (Kiev)
2. Maxim BELEVTSOV (Kharkov region)
3. Ivan PILIPYAK (Ivano-Frankivsk region) and Safgulu KHALILOV (Kharkov region)
Under 62 kg
1. Alexander SPIVAK (Odessa region)
2. Dmitry SHILO (Kharkov region)
3. Taras KRAVCHUK (Lviv region) and Dmitry NAGORNY (Sumy region)
Under 68 kg
1. Daniil SHEVCHENKO (Dnepropetrovsk region)
2. Georgy CHOKHONELIDZE (Dnepropetrovsk region)
3. Artem MARTIROSYAN (Kiev) and Zaur UZHUEV (Kharkov region)
Under 74 kg
1. Daniil BELOSTOTSKY (Kharkov region)
2. Sergey NAUMOV (Odessa region)
3. Sergey SYTNYUK (Dnepropetrovsk region) and Alexander GONCHAROV (Odessa region)
Under 82 kg
1. Sergey KRIVCHACH (Kharkov region)
2. Dmitry STETSENKO (Kharkov region)
3. Zakhar SHADRIN (Kherson region) and Vladislav GRINCHUK (Zhitomir region)
Under 90 kg
1. Vitaly SHEPEL (Zaporizhzhia region)
2. Dmitry TSYBANEV (Kiev)
3. Nikita BELYAKOV (Dnepropetrovsk region) and Sergey MARUSHKIN (Odessa region)
Under 100 kg
1. Alexander DUKHNEVICH (Kharkov region)
2. Alexey MOISEEV (Kiev)
3. Bogdan GONTAR (Kharkov region) and Roman DUBOVOI (Odessa region)
Over 100 kg
1. Vladislav BEREZKA (Kharkov region)
2. Kiril NECHEPORYUK (Odessa region)
3. Georgy DIL (Odessa region) and Ruslan NAUGOLNY (Kharkov region)
Juniors, women (sport sambo)
Under 44 kg
1. Valentina NOVITSKAYA (Kiev)
2. Anna TANTSYURA (Dnepropetrovsk region)
3. Irina CHERVAN (Rivne region) and Elizaveta DIDORENKO (Sumy region)
Under 48 kg
1. Ekaterina SABLEVA (Ivano-Frankivsk region)
2. Ilona NAZARCHUK (Rivne region)
Under 52 kg
1. Kristina BONDARCHUK (Odessa region)
2. Anastasia BEZATOSNAYA (Kharkov region)
3. Sofiko BAGISHVILI (Kharkov region) and Maria CHERVAN (Rivne region)
Under 56 kg
1. Elena GAIDASH (Nikolaev region)
2. Yulia ORCHAKOVA (Lviv region)
3. Alexandra GIDIRIM (Odessa region)
Under 60 kg
1. Elena TRUS (Dnepropetrovsk region)
2. Valeria TANTSYURA (Dnepropetrovsk region)
3. Alina BOGACHUK (Zhitomir region) and Alina GERASIMENKO (Nikolaev region)
Under 64 kg
1. Polina MIKHAYSKAYA (Dnepropetrovsk region)
2. Viktoria GAPON (Zhitomir region)
3. Olga GRIBCHENKO (Kiev) and Viktoria MUDRIK (Lviv region)
Under 68 kg
1. Ekaterina SKORAYA (Dnepropetrovsk region)
2. Anna KUPINA (Kharkov region)
3. Vlada KOPNYAEVA (Nikolaev region)
Under 72 kg
1. Ekaterina MOSKALEVA (Dnepropetrovsk region)
2. Anna ANTIKALO (Nikolaev region)
Under 80 kg
1. Natalia PILIPENKO (Kiev)
2. Yana SPILNAYA (Nikolaev region)
3. Olga KLIMYUK (Volyn region) and Natalia LEBED (Odessa region)
Over 80 kg
1. Anna SLOBODYANYUK (Khmelnitsky region)
2. Taisia REDCHENKO (Kharkov region)
3. Elizaveta GORB (Dnepropetrovsk region)
Juniors, men (combat sambo)
Under 48 kg
1. Dmitry NIKITIN (Vinnitsa region)
2. Vladimir CHERNY (Kiev)
3. Andrey FILIP (Odessa region)
Under 52 kg
1. Denis ARTEMCHUK (Odessa region)
Under 57 kg
1. Vladislav KOKHNENKO (Odessa region)
2. Bogdan KOGUTKO (Kiev)
3. Gumbat AGADZHONOV (Nikolaev region)
Under 62 kg
1. Taras KRAVCHUK (Lviv region)
2. Andrey TISCHENKO (Odessa region)
3. Vyacheslav MIKHAYLOV (Zhitomir region) and Vladislav SHULGA (Donetsk region)
Under 68 kg
1. Vladimir KINDYUK (Odessa region)
2. Zaur UZHUEV (Kharkov region)
3. Alexander KRIVORUCHKO (Kharkov region) and Yury ROGOVSKY (Lviv region)
Under 72 kg
1. Vitaly KRASNOZHON (Nikolaev region)
2. Daniil PIGUL (Kiev)
3. Vladimir BARYSHEV (Kherson region) and Vladislav CHONKA (Dnepropetrovsk region)
Under 82 kg
1. Zakhar SHADRIN (Kherson region)
2. Arli KAMBILO (Kiev)
3. Maxim SHEREMET (Odessa region) and Nazar SEREDA (Lviv region)
Under 90 kg
1. Kirill SKLONCHAK (Kharkov region)
2. Ivan KASKEVICH (Odessa region)
3. Egor KOPOTKO (Kiev) and Bogdan DUBAS (Kiev)
Under 100 kg
1. Roman TROKHIMCHUK (Donetsk region)
2. Georgy SHEVCHUK (Kiev)
3. Pavlo BOYAKOVCKY (Kiev) and Artur SHKURENKO (Kiev)
Over 100 kg
1. Vladislav BOYCHUK (Kiev)