Mongolian Associations of Judo and Sambo Signed a Cooperation Agreement
Federations
8 November 2014
Sergei Grishin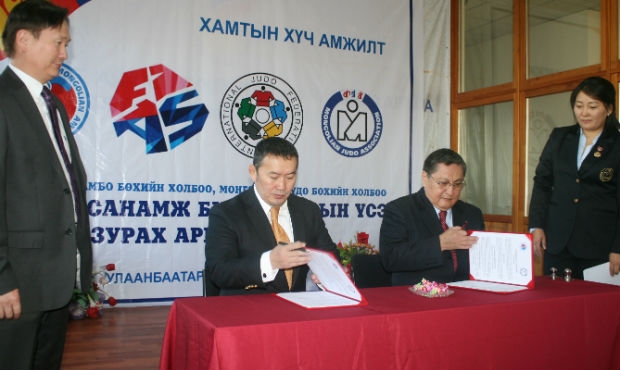 On November 7, the Mongolian Judo Association and the Mongolian Sambo Federation signed an agreement of understanding and cooperation. Khaltmaa Battulga, President of the Mongolian Judo Association, and Dorjpalam Gerel, President of the Mongolian Sambo Federation, affixed the document with their signatures. According to local media, the agreement resulted from a similar document signed between the International Judo Federation (IJF) and the International Sambo Federation (FIAS).
We remind that on August 31, the final day of the World Judo Championships held in Chelyabinsk, Marius Wieser, President of IJF, and Vasiliy Shestakov, President of FIAS, signed the cooperation agreement between the International Federations of Judo and Sambo.
"I wish sambo to be recognized by the International Olympic Committee. We hope that our cooperation will help sambo achieve this status," said Marius Wieser after signing of the agreement.
"Sambo and judo are fraternal sports, and we want to reach the same level as judo," emphasized Vasiliy Shestakov. "We can see how the world judo works, and it serves as an example for us."
The relay of international federations was taken up by national federations. It should be noted that Mongolian judo and sambo cooperated before as well, but for specific reasons the cooperation was suspended for several years. Right now, in connection with the signing of the new agreement, the parties expect the revival of the relationship between the two federations. The document specifies many key aspects of cooperation, such as the possibility of joint training, coordinated planning of the sports calendar and other events, as well as the joint work on the development of athletes.
"This agreement has a great potential which will promote the development of the world-class athletes in Mongolia due to the improved interaction between judo and sambo that are traditionally called fraternal sports," shares his opinion Byambaa Tsagaanbaatar, Mongolian sports journalist.
In addition to the above, the agreement includes many items of the program: provision of support by the Mongolian Judo Association to the Mongolian Sambo Federation in strengthening of the legal status of the latter, and the assistance in the involvement of coaches and other sports experts. Sports organizations have agreed on mutual participation of athletes in international and regional judo and sambo tournaments and on the mutual assistance during workouts and camp training. In addition, the Mongolian Judo Association promises its maximum support in promotion of the Mongolian and international sambo to the program of the Olympic Games.
Photo: B. Ganzorig