You can try on the Fedor Emelianenko's sambo uniform at the first European Games
Кaleidoscope
15 June 2015
Sergei Grishin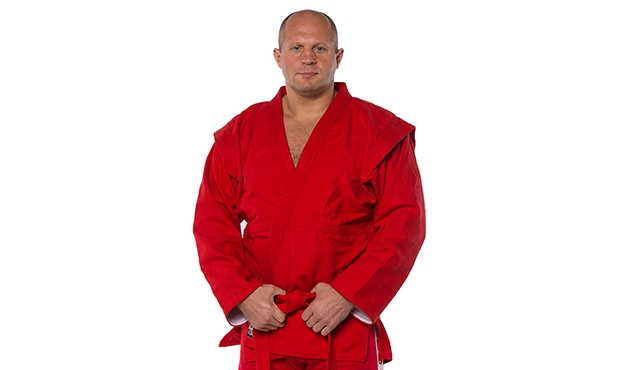 The House of Fans opened its doors wide in the centre of Baku on June 12. This tradition was born during the Olympic Games in Sochi a year ago and now it was continued. Thousands of people, who are interested in sports, have received the possibility to touch, literally, the top-level sports. Sambo fans can realize this chance by trying on the sambo jacket of Fedor Emelianenko.
The House of Fans will be opened in the Russian Information and Cultural Centre during the whole European Games. Everyone who wants to try on the sambo jacket of the legendary wrestler, four-time World Combat Sambo champion, Fedor Emelianenko, or hold in his hands the clubs and the ribbon of Evgenia Kanaeva, two-time Olympic champion in rhythmic gymnastics, or hold a rapier, or make a photo in the "champions" ushanka-hat  –  the lucky talisman of the Russia national beach soccer team; he can do it till June 28.  Additionally, guests, using special 3D glasses, will be able to "ride" a mountain bike virtual trail or stretch a professional Olympic bow and do many other things.
«It's extremely important for success to have fans support and it's impossible to overrate its significance, – the President of the Russian Olympic Committee Alexander Zhukov declared at the opening of the House of Fans. – So we decided to open the House of Fans in Baku.  During the preparation of this project we based on the fact that Russian and Azerbaijani sportsmen, and fans of our two countries historically had very much in common. We have a common legacy of the Soviet era, the common cultural and historical traditions. At the same time, cooperation in the field of sports between Azerbaijan and Russia is constantly developing».
It should be noted that design of the House of Fans in Baku represents the unique interactive exposition dedicated to the athletes of the Russian Federation and Azerbaijan Soviet Republic – former union republics that were parts of the United Soviet Union. In fact, fans of two countries have been proposed to plunge into the shared history and they have been proposed not only to remember but also touch, literally, the historical exhibits and, at the same time, try on professional equipment.