Nataliya Smal: "My title will not be the only one for the national team of Ukraine!"
Personalities
12 November 2016
Sergei Grishin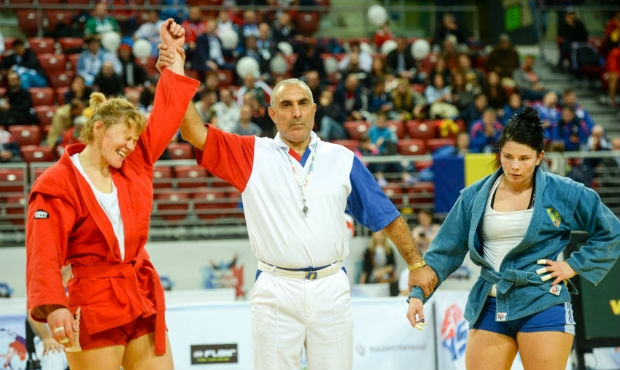 Ukrainian sambo wrestler Nataliya Smal became the winner in the weight category of up to 72 kg for women in the World SAMBO Championships which take place in Sofia and became a three-times world champion. Her previous gold was won a year ago in Morocco. In an interview to the FIAS the athlete told us what stimulated her to achieve this victory, how the national team gets younger and who roots for Ukrainian SAMBO wrestlers as for their children.
"I lost the European Championships and it was my incentive to win the World ones. Last year I became the world champion in Morocco, and this confirmed that the success was not accidental, it is very nice", said Nataliya Smal.
The champion noted that after the first title the second one is not very difficult to prepare for.
"The main thing is to have the desire and strength. Then there is nothing difficult and impossible. And when you are supported by such a great team as our team, supported by your coach and your family at home, then all things become easy, - said the Ukrainian. – Still, to confirm a medal is more difficult than to win it for the first time. When you're the reigning champion, everyone in the team is looking at you with hope and rivals prepare for a fight with you especially hard. Therefore, morally this gold was harder to get.
The sportswoman thanked the coaching staff of the national team of her country.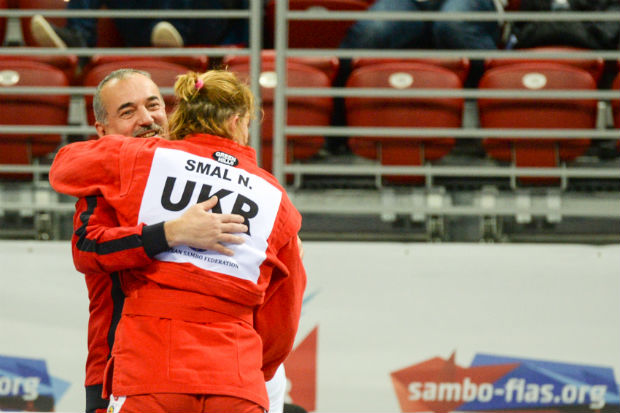 "I want to thank Mikhail Mikhailovich, our state coach. He organized three training sessions for us to prepare for the World Cup. This is the first time, perhaps, such a thing happened in Ukraine. We were in the mountains, we were at sport bases and at home to prepare", said Natalia.
According to her, the Ukrainian team is getting younger every time.
"I mean specifically the women's team. We have a very cool mentor, a new head coach! We all love him, and as he roots for us as for his own kids, we manage to show results and achieve success. And I am more than confident that my title will not be the only one for the national team of Ukraine!" assured Nataliya Smal.