What winners and prize takers of the second day of the European Sambo Championships in Minsk were talking about
Personalities
21 May 2017
Sergei Grishin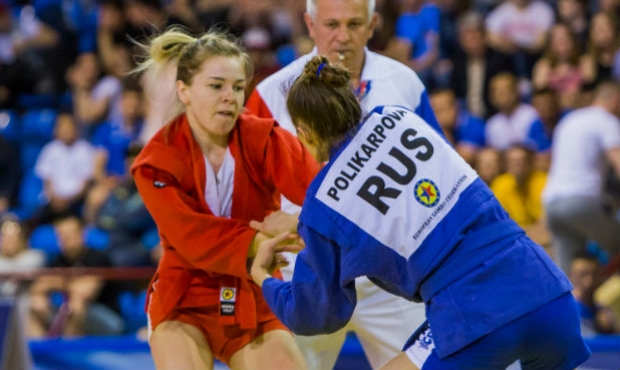 Another nine medal events were held during the second day of the European Sambo Championships. This tournament, sponsored by Rosneft Oil Company, is being held in the capital of Belarus from the 19th to the 21st of May. The names of champions and prize takers have been revealed, wrestlers have shared their emotions and impressions with FIAS correspondents.
Anastasia Polikarpova (Russia), winner in the under 52 kgs weight category: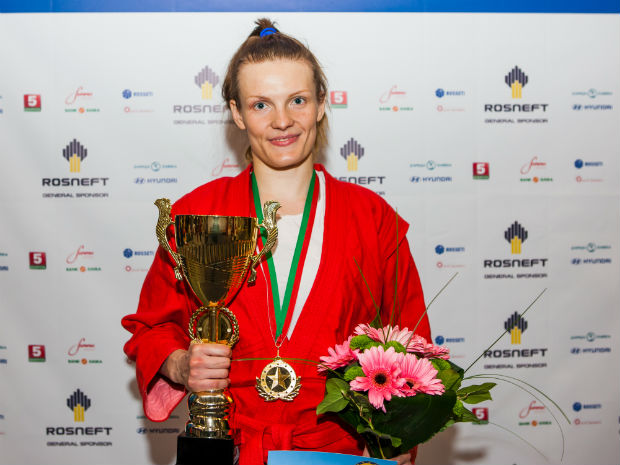 «The final fight turned out to be the hardest one. It was essential to come up with suitable tactics. I considered achieving the first two points to be my primary goal, and they`ve helped me prevail indeed. I`ve managed to capitalize on my advantage. So it was a tactical victory first of all. I knew, that the finals would be very challenging, so I had to take a strategic approach. Now I`m absolutely delighted!».
Mindaugas Verzbitskas (Lithuania), bronze medalist in the under 82 kgs weight category in combat sambo: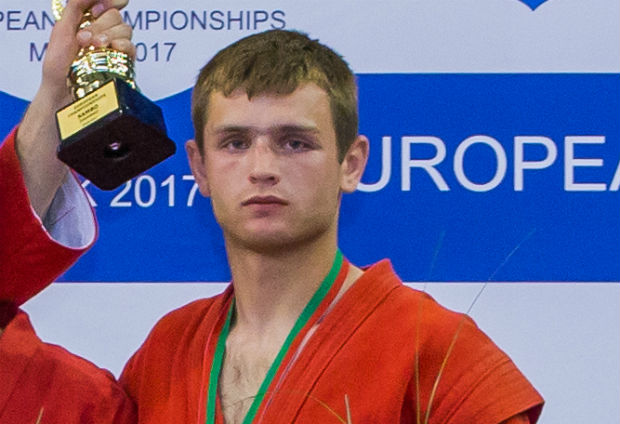 «This bronze medal, earned at the European Championships, has become my highest achievement in combat sambo so far. I`m satisfied with the result, however I hoped I could reach the finals. Unfortunately, I`ve failed to achieve that. Hope I can take part in the World Championships in Sochi, however I`m not completely sure whether I`ll be able to do that or not».
Tatiana Matsko (Belarus), winner in the under 64 kgs weight category among women: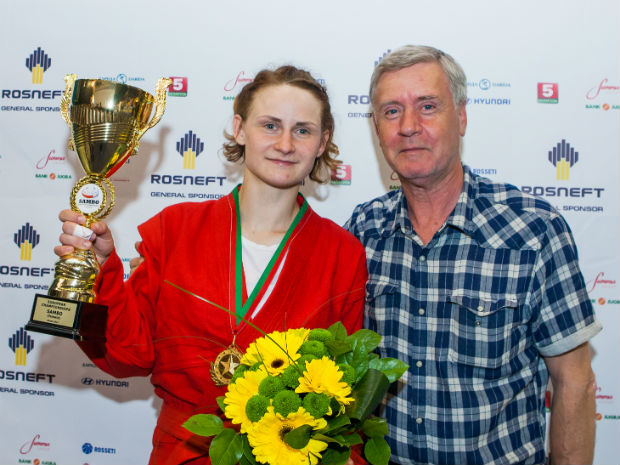 «I can`t say that the final fight was really challenging for me. If it was challenging, I would`ve have to struggle for victory all the time. However it wasn`t easy either, that`s for sure. Good that I managed to perform a submission hold early in the fight. It is my second gold medal, earned at the European Championships. I`m very happy that I`ve won it at my home ground here, in Minsk. Now I have some time to recover, then I`ll start my preparations for the World Cup in Sochi».
Maya Blagoevich (Croatia), runner-up in the under 64 kgs weight category among women: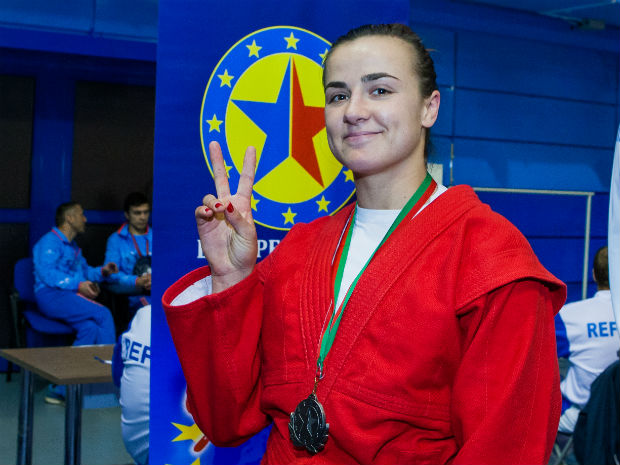 «I`m glad that I`ve won a silver medal. Of course, a gold one would`ve made me even happier, maybe I`ll succeed next year. The finals have become the hardest round for me. The Belorussian wrestler performed a submission hold, so the fight was really short. I want to apologize to fans and spectators as I`ve failed to put up a good fight. I`m sure I could`ve done better than that.
Hope I can achieve better results at the World Championships in Sochi, I`ll also compete for the gold medal at the European Championships next year. I took part in sambo competitions for the first time in 2012 and I`ve been constantly making progress since then. I`ve already earned bronze medals at tournaments for adult wrestlers, while my teammate won a gold medal at the Youth World Championships. So I guess it`s safe to say, that Croatian sambo wrestlers are making steady progress.
Stepan Popov (Belarus), bronze medalist in the under 74 kgs weight category among men: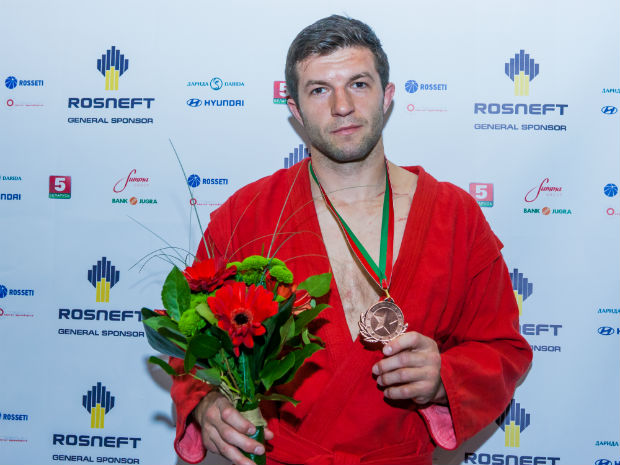 «I only decided to participate in the European Championships one week before the start. I had participated in an international tournament in Kaliningrad a month before, getting a groin injury in the process. So I had to recover instead of getting prepared for the European Championships. Such injuries cause real inconvenience as they prevent you from making abrupt movements. However, thanks to the doctors` assistance and all the work I had done, I`ve managed to win a medal. Considering the circumstances, it`s not a bad achievement at all.
It was hard from the psychological point of view. In the first round I had to face the future champion from Georgia and I didn`t know what to expect from my body. At first I fought with great caution, then I tried to take a more active approach, however my body wasn`t ready for such an intensive fight. I broke a leg during a training session right before the last year`s European Championships. I just twisted my ankle and had to wear a bandage for two following months. I didn`t want to miss this the European Championships this year too. On the one hand, it`s being held in Minsk, on the other hand I just can`t allow myself not to participate in continental tournaments for two consecutive years. Now I have plenty of time to recover and improve my fitness».
Maria Oriashkova (Bulgaria), winner in the under 80 kgs weight category among women: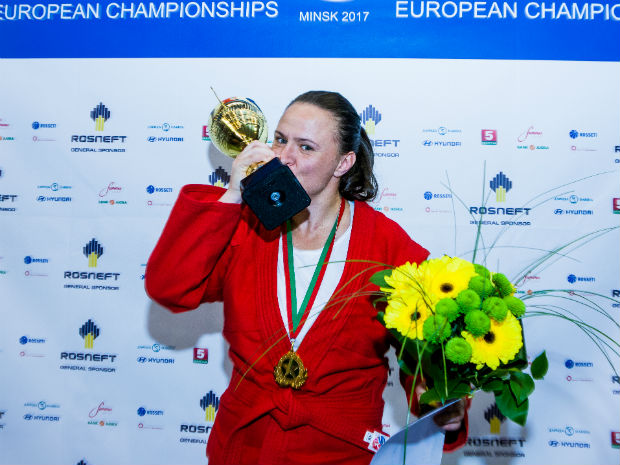 «It is my seventh gold medal at European Championships, I`ve also won five at World Championships. No matter what, it`s never easy to defeat your rival on the mat. My first opponent was a Belorussian wrestler. We faced each other for the first time back in 2006 in the World Championships semi-finals, it was in Bulgaria eleven years ago. It was a very hard at close fight, but I prevailed. There are several components that help you achieve victories: skill, attitude and tactics. This is sambo, you have to make a good combination of these components if you want to win.
Viacheslav Mikhailin (Russia), winner in the under 100 kgs weight category among men: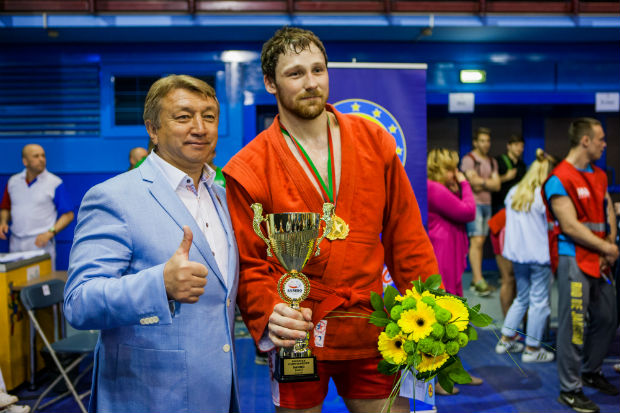 «My victory streak has become even longer: first I won two European Championships, then two World Championships and now I`ve won the European Championships once again. It`s a major achievement for me and the «Sambo-70» sports school. However, I`m really disappointed that I`ve failed to qualify for the World Championships in Sochi – the position I had earned at the national championships earlier wasn`t high enough. I was beaten by Alsim Chernoskulov, so I guess he was really better prepared.
To tell the truth, I expected that my rival in the finals would be Andrei Kazusenok, I had been preparing to face him, however I had to face Moldavian wrestler Denis Tachii instead. He had beaten Andrei on his way to the finals, we`ve been facing each other on the mat for the first time. I`ve been preparing for this fight really seriously, at first it was quite challenging, but then I took a tactical advantage and clinched the victory. When the tournament ends, I`ll have some time to spend with my son and recover from my injuries, then I`ll participate in further competitions. It`s predictable, but I still find it interesting».
Denis Tachii (Moldova), runner-up in the under 100 kgs weight category among men: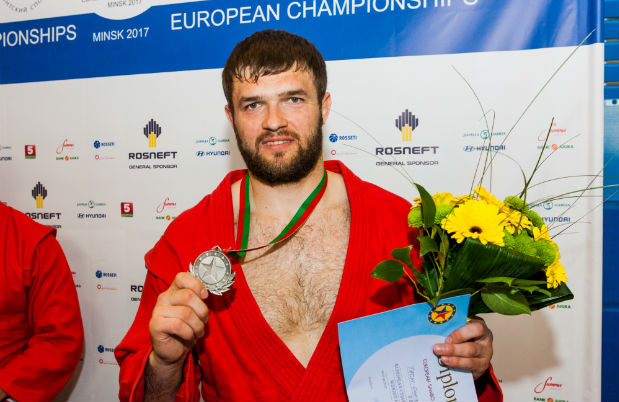 «Sambo was founded in Russia, so Russian wrestlers are always superior, but I still did all I could in order to win. During this tournament I had to face really tough opponents, for example, Belorussian wrestler Andrei Kazusenok and Georgian fighter David Lorashvili, both of them are world class sportsmen. For sure, I have to set ambitious goals, I wanted to become champion, but I believe there are more opportunities to come.
I had to take a three-year break due to knee injury, so I couldn`t participate in competitions for quite long time. A silver medal at the European Championships is a big achievement, everybody is really happy with it: me, my coach, my clubmates. Everybody has contributed to this silver medal and we`re satisfied with this result.
This silver medal is a big milestone for my country. Moldavian athletes rarely win medals and the European or World Championships, however we still perform decently at major international tournaments. I`m sure that in the future we`ll delight our country and our fans with even better results. We want to win gold medals at the World Championships, so now we`ll double our efforts».