What Prize Winners of the Second Day of the 2017 World SAMBO Championships Were Talking About
Personalities
12 November 2017
Aleksandr Solomahin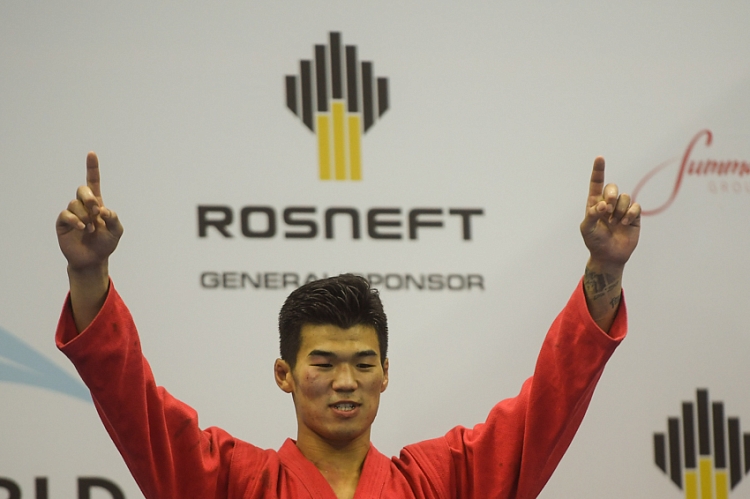 The 11th of November, the second day of the World SAMBO Championships in Sochi, is over. The outcome of the competitions has brought the names of prize winners in nine weight categories. Emotions and impressions of sambists are reflected in their interviews for FIAS website.
Gulbadam Babamuratova (Turkmenistan), Gold medal in the under 52 kg weight category among women: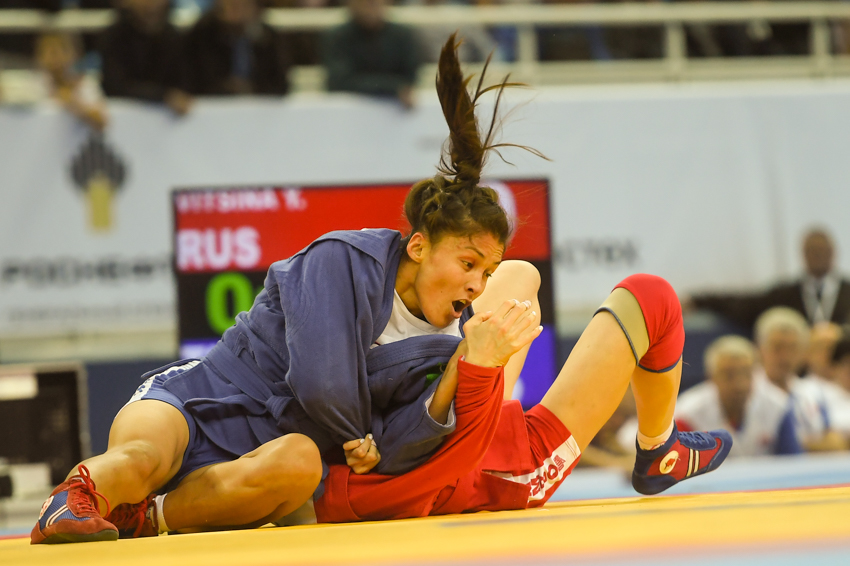 "The road to victory was very hard but determination helped me. Earlier, in 2012, I'd already won Gold at the World Championships. Today I`ve managed to repeat that achievement. Now my new goal is to strike Gold at the World Championships in Romania. I want to be a three-time world champion. "
Rustam Taldiev (Russia), Gold medal in the under 62 kg weight category (combat SAMBO):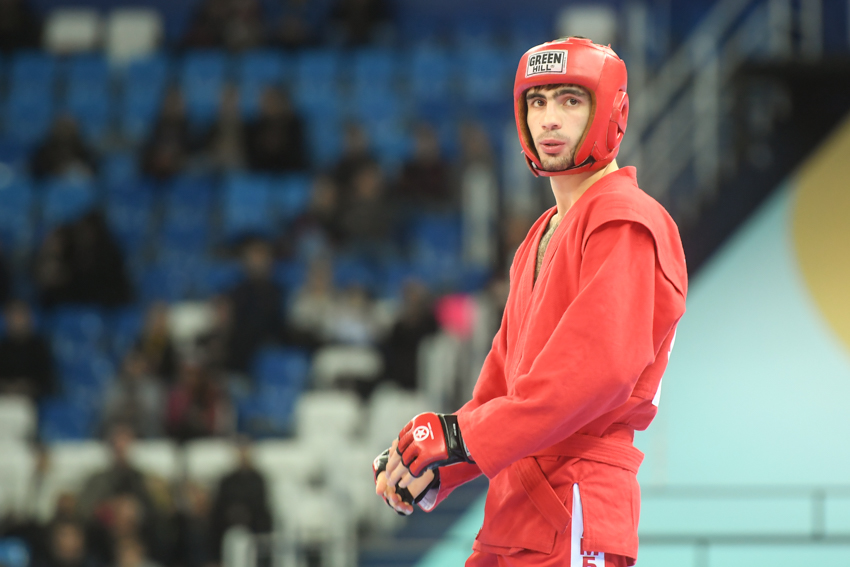 "I`ve participated in the World Championships for the third time already, but my way to the finals was a hard one. All my opponents were very skilled: I faced Latifov from Tajikistan, Cheragi from Iran and Yusupov from Turkmenistan. And my opponent in the finals, Orozbek Abtandil Uulu, appeared no less 'uncomfortable', besides, I had already been defeated by him once. His grip is strong like a vice, and once he performs a hold, your counterattacking options become very limited, yet my former experience helped me out this time."
Alice Perin (Italy), Silver medal in the under 64 kg weight category among women: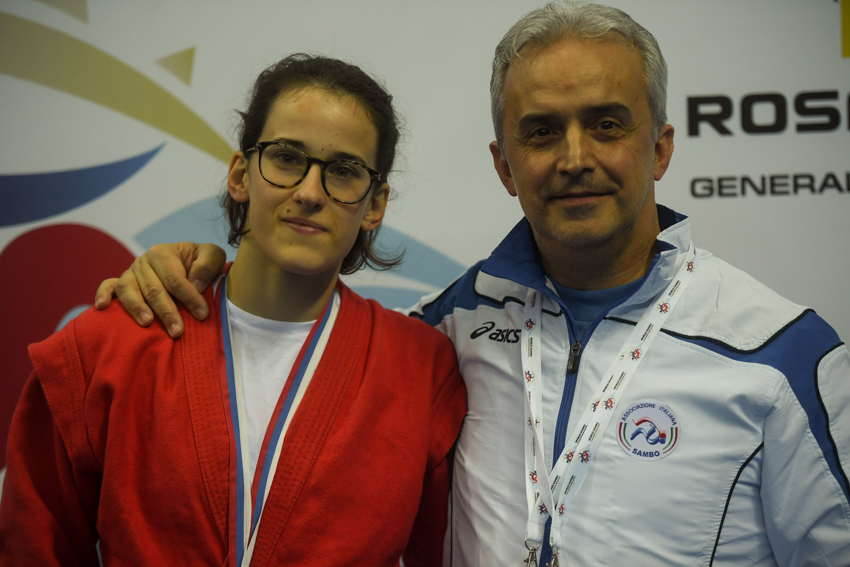 "This medal is very dear to me, as it`s is a great success for my motherland, Italy, and personally for me, of course. I`ve never competed at the World SAMBO Championships before, and winning a medal was exactly my goal. Two years of hard training, and here's the upshot – a Silver medal."
Tatiana Matsko (Belarus), Gold medal in the under 64 kg weight category among women: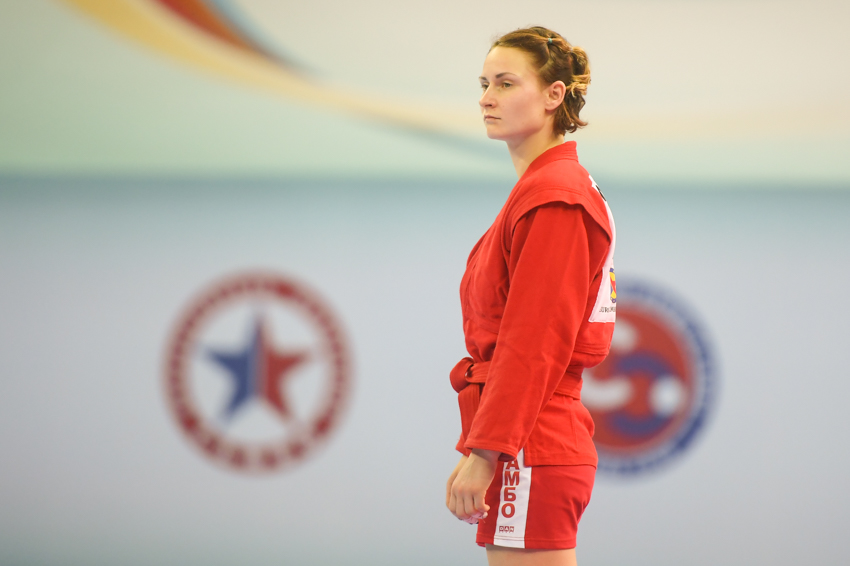 "This is my second Gold medal in a row. I`d won the previous one at the World Championships in Bulgaria. Of course, everything is not as simple as it seems. My way to this medal was pretty tough, through traumas, through tears, something goes wrong, and you get frustrated, and yet you keep on going, and in the end it pays off. The chief incentive is to prove that you are the best. I'm grateful to relatives and friends who help me not to give up and keep on going when the going gets tough. And I'm not going to stop at this stage. To be a two-time world champion is good, but to become a three or four-time champion is a great deal better. As soon as SAMBО becomes an Olympic sport, I`ll compete for Olympic Gold. Now I`ll be preparing for the European Games that will be held in Minsk."
Seo Hyeon Ko (Korea), Gold medal in the under 82 kg weight category (combat SAMBO):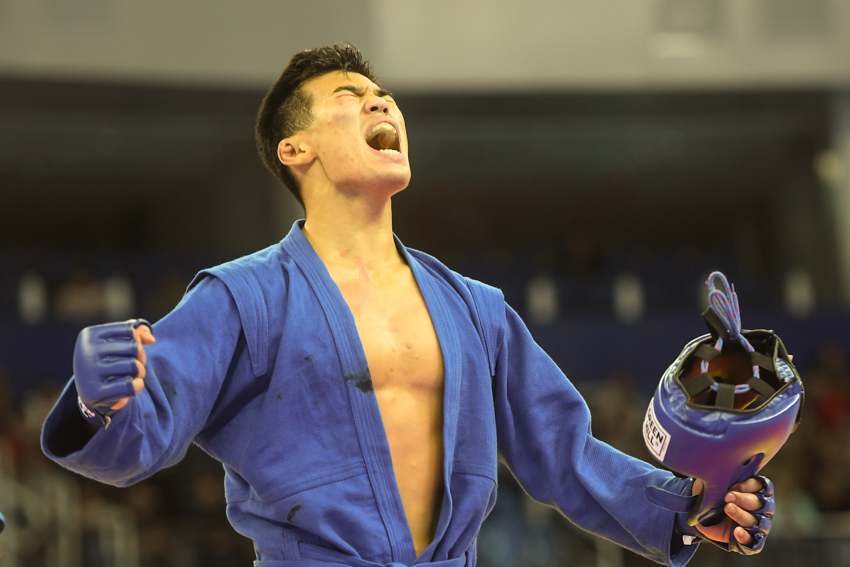 "If I'm not mistaken, this is the first Gold for Korea at the World SAMBO Championships. I'm certain this would lend energy to promotion of SAMBO in Korea, and we'll achieve yet more significant results at the following tournaments. I hate to sound vain but I always aim for Gold at all tournaments. Today I was hoping for the Gold medal and got what I was looking for.
However, it was rather difficult at the beginning. I had a very tough opponent in the very first fight. When it was over, I thought if it would go on this way I would be completely exhausted by the finals. However, with each new stage, with each defeated opponent, I was growing stronger and more confident in my victory.
Sochi is a very beautiful city. I'm glad I got a chance to participate in the World SAMBO Championships in Russia, this is a great honor for me. It is always rather hard to compete in a foreign country, moreover, we'd come from afar and changed planes and were dead beat on arrival. But after the victory the tiredness vanished as if by magic.
I've already got a prize cup from a SAMBO tournament that was held recently in Irkutsk. I'll place the World Championships Cup at the most conspicuous corner of my room, right on my desk.
Apart from SAMBO, I'm into mixed martial arts. I enjoy both sports very much. I see huge perspectives for SAMBO, and I'm pretty confident about its Olympic prospects."
Nieves Mirtha (Cuba), Silver medal in the under 80 kg weight category among Women: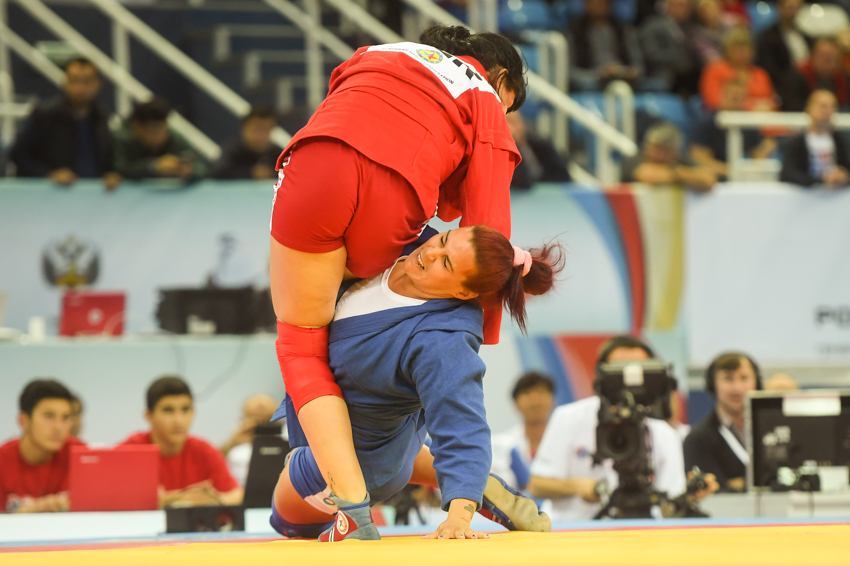 "All the athletes in our national team are trying to show good results and do their best. Yesterday my teammate won a Bronze medal. In my turn, I'm glad that I've managed to win Silver, and, first and foremost, I wish to thank the President of our federation for supporting us. No one from our team will compete on the third day, yet we'd come all together anyway, to support the fighters, and to root primarily for representatives of the Pan American continent."
Katy Bryant (Canada), Bronze medal in the under 80 kg weight category among Women: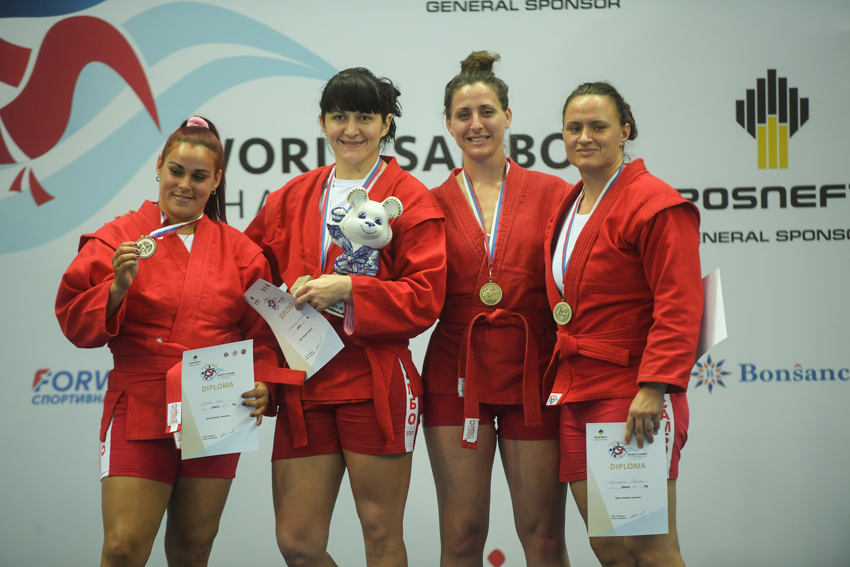 "I gladly receive congratulations as my Bronze is the first World SAMBO Championships medal for Canada. I'm very happy! Last year I was also competing for Bronze but lost it to a fighter from Georgia. I've spent the whole year in preparations for this tournament and modified my training system, to focus on subtleties of SAMBO techniques. I was into judo before, and for successful performance in SAMBO one has to know nuances of this particular sport, and first of all, par terre. Due to laborious coaching I've become Pan American champion twice, and now I've managed to win Bronze medal at the most important SAMBO tournament of the year. I think this medal will hang right over my bed."
Alsim Chernoskulov (Russia), Gold medal in the under 100 kg weight category among Men: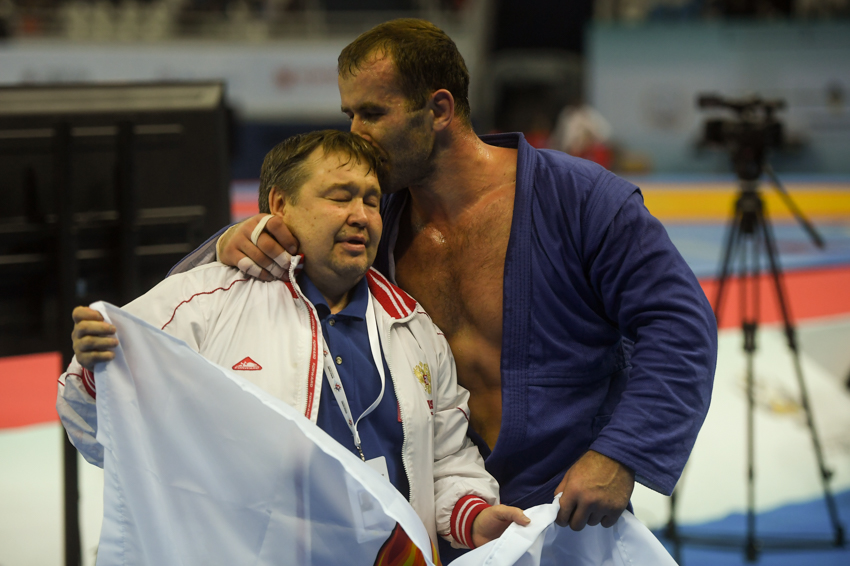 "Praise the Lord, this is my fifth Gold and not my fourth Silver, I hated the idea these prizes would even up in score, for that would've produced some inward uncertainty. Jokes aside, at first I was going to come and win the World Championships once again, and then my wise and professional coaches explained it to me very well: you're going to participate in particular fights, just don`t consider them as World Championships. Thus, my attitude here was "come out and win". For if you're constantly concentrated on the thought that you're competing at the World Championships, it stiffens you up psychologically, especially when your opponent is skilled. In the finals I managed to overcome my opponent tactically. The fighter from Georgia was pretty tough, besides, I started the fight in a wrong way. However, correctly chosen tactics allowed me to shift the combat into par terre and to finish the fight ahead of time."
Viktor Resko (Latvia), Bronze medal in the under 100 kg weight category among Men: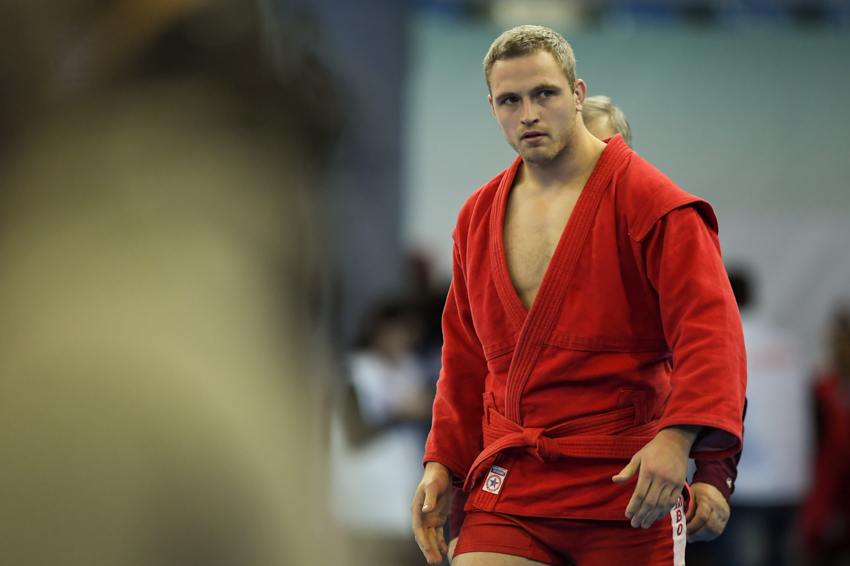 "This is my third Bronze. My «Bronze rain» started at the World Championships in Japan, continued in Bulgaria, and now again Bronze, here in Russia. I`ve lost in semi-finals to Russians twice in a row and virtually with the same score, lacking just one point. I understand that to win I lack well-practiced, worked-out SAMBO techniques. I started as a judoist, but I've got quite accustomed to SAMBO. However there's a certain lack of strong sparring partners in my SAMBO weight category. Nonetheless, Bronze at the World Championships is a real success."
Denis Goltsov (Russia), Gold medal in the under 100 kg weight category among Men (combat SAMBO):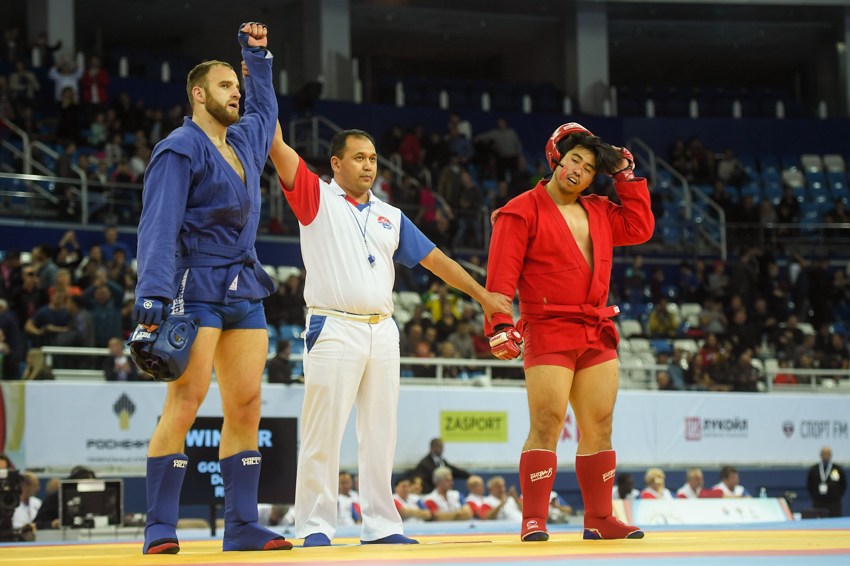 "Easy victory is an illusion. My opponent from Korea was very experienced, he competed in the finals of the World and European Championships on several occasions. I had worked with him before and I knew that he was skilled both in throws and wrestling. I was seeking for tactical options, which would help me break his defense and perform a hold. It might have looked easy, but it was essential to choose the most suitable techniques. At the previous World Championships I didn't give in a single point and won with the score 8:0. In Sochi I gave no chance to my opponents either. We'll see what would come next, but first I have to sum up this year's results."
Photos by Evgeniy Odinokov (FIAS)