FIAS's President Vasily Shestakov handed a championship belt in sambo to the President Ilkham Aliev
President
23 June 2015
Sergei Grishin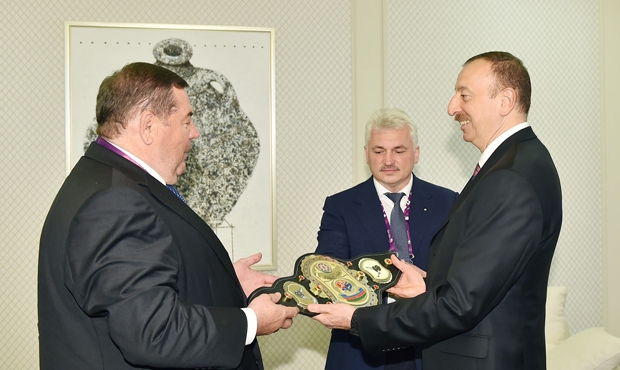 On June 22, the President of Azerbaijan Ilkham Aliev visited the sambo tournament in the mark of the program of the I European Games in Baku in 2015 where he met with the president of the International Sambo Federation Vasily Shestakov. The head of FIAS handed Ilkham Aliev a championship belt in sambo, as informs the official website of the President of Azerbaijan.
"Allow me to thank you for a great feast organized here. I was in Baku in 1974 and wasn't able to recognize the city, - said Vasily Shestakov. - By the decision of the International Sambo Federation for your great contribution to the development of sambo in Azerbaijan and the world we hand you the championship belt. This is the second one of this type. The first one was awarded to the President of Russian Federation Vladimir Vladimirovich Putin. Thank you very much for the fact that thanks to you, sambo could participate in such major sports events."
Ilkham Aliyev thanked Vasily Shestakov for this high assessment of his work.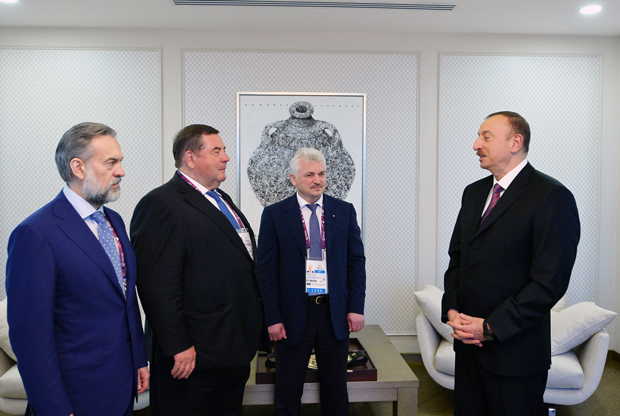 "As you noted, sambo was included in the program of the First European Games. It was a joint initiative of President Putin and me; we discussed it with him last year. We appealed to the European Olympic Committee to ensure that sambo was included in the program. I must say that there were seven more sports on the list that claimed to be included in the program. 19 have been already determined and one remained. And of course, we also thank the European Olympic Committee for satisfying our request. And now the day has come. In fact, this sport unites us ", - said the President of Azerbaijan.
Vasily Shestakov stressed that Azerbaijan has a strong sambo school that is constantly evolving. He noted in particular a legendary athlete, seven-time world champion in sambo Jeykhun Mamedov who was awarded an order of gold "75 Years to Sambo" by the International Sambo Federation. Only 10 sambists in the world have ever received this award.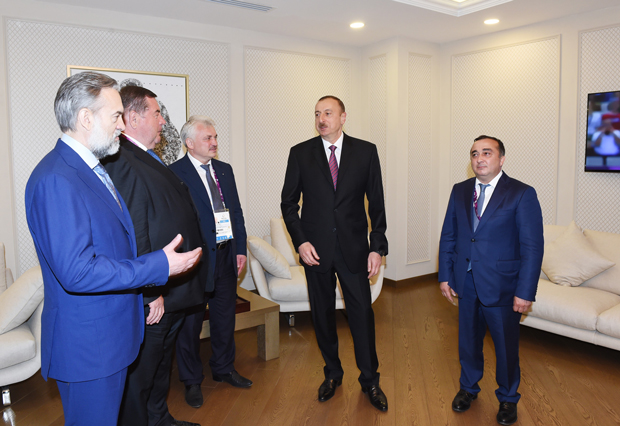 The Azerbaijani President said: "The European games are a way for sambo to the future program of the Olympic Games. This sport is very popular with us. I think there will be even more people joining sambo after this tournament. Today judo is an Olympic sport and attracts more and more young people and children who want to become Olympic champions. We will support sambo the same way."
"I hope that we have a great chance to get into the Olympic program after what you said," - said Vasily Shestakov.