GROWING NUMBER OF CONTESTANTS AT THE DUTCH NATIONAL SAMBO CHAMPIONSHIP
Federations
31 January 2018
Aleksandr Solomahin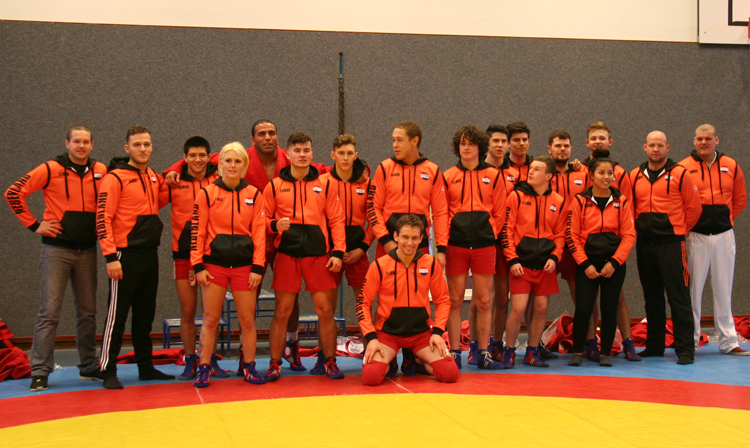 With an ever-growing number of enthusiastic athletes, the Dutch National Sambo Championship took place on January 20th right in the middle of the country in Utrecht, one of the Netherlands' four major cities.
'The Dutch Sambo Federation, which has nearly reached its 30-year SAMBO anniversary, is proud to say the sport keeps on growing. The general board, technical and athletic committee as well as the National Federation's trainers, coaches, Public Relations staff, medical staff, volunteers and, last but not least, the athletes themselves, are doing everything they can to make this straightforward and competitive sport grow", – secretary general of the Dutch Sambo Federation Frederick Ningbergs commented.
The Dutch Sambo Federation organised the National Championship with competitions in the categories for cadets, youth, juniors and seniors for Sport SAMBO and men seniors for the Combat SAMBO variety.
"During this championship we also had some new referees join our ranks, who had signed in for the national referee course. From this point of view the Dutch National Sambo Championship was also a success", – Frederick Ningbergs said.
This year saw the adding of another special category try-out for physically and/or mentally challenged SAMBO practitioners (special needs, adapted SAMBO).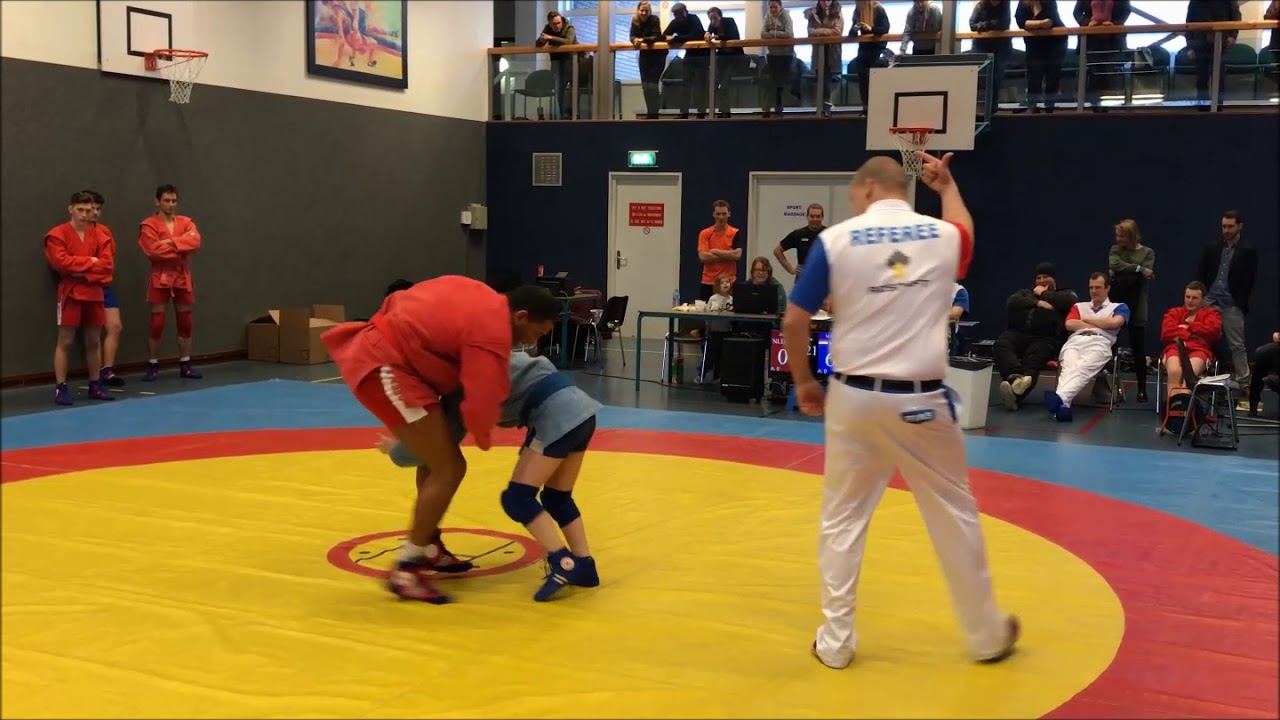 Milan (the sportsmen in blue on the video) has a mental disability. So organisers arranged a special category for him. They had 2 volunteers (man and woman) who competed against Milan.
"With this extra category added, we also gained more interest from various representatives of Dutch martial arts companies such as Hans van Essen, owner and editor of the world-famous website judoinside.com, as well as Peter Wetzer, one of the owners of Nihon Sport, the famous company who specialises in Martial arts products and also a number of famous professional Dutch wrestlers", - Ningbergs told.
In cooperation with the Dutch Sambo Federation, Nihon Sport sponsored the new outfits for the Dutch Sambo practitioners who competed at the World Championships in Sochi, Russia and Novi-Sad, Serbia.
"Also in Venray trainers Mayckel Claassen and Wouter Hendriks are starting to teach kids and SAMBO for disabled people. With this step we are trying to make SAMBO approachable for everyone", – Frederick added
At this moment the Dutch Sambo Federation is busy preparing for Dutch Open tournament on March 10th this year.
"We already have new competitors from such countries as Belarus, France, Belgium, England, Lithuania, United States, Russia, Poland, Hungary, Ukraine, Scotland, Germany and of course the Netherlands who have signed up this year for the Dutch Open Championships 2018", – Frederick Ningbergs said.
If you haven't signed up for this tournament yet, do not hesitate any longer and send e-mail at info@sambo-nederland.nl
Results of the National Dutch Sambo Championship 2018
Women
-56 kg 2002 t/m 2004
1. Iwan ten Brink (Sambo On Fire)
2. Lindy Zandman (Sportcentrum Emsland)
3. Maaike de Vries (Sambo On Fire)
-65 kg 2000 t/m 2002
1. Zoe Klunder (Sambo On Fire)
2. Vera van't Zand (Sambo On Fire)
+70 kg 2000 t/m 2001
1. Leena van den Bos (Sambo On Fire)
2. Delilah Hutten (Sambo On Fire)
-56 kg 1988 t/m 1999
1. Paula Borgonje (Shoganai Dronten)
2. Tisha Balentien (MAS Amsterdam)
-83 kg 1988 t/m 1999
1. Megan van Houtum (Sportvision)
2. Sacha Gorissen (Sportvision)
3. Caitlin Heerikhuisen (Shoganai Dronten)
Men
-65 kg 2000 t/m 2003
1. Niek Lamberts (Sportcentrum Emsland)
2. Noah Jaspers Faijer (Sambo On Fire)
-75 kg 2000 t/m 2001
1. Lars Brinkhuis (Sportcentrum Emsland)
2. Iwan Lubbers (Sportcentrum Emsland)
3. Roel Luijnenburg (Orient Rotterdam)
-87 kg 2000 t/m 2002
1. Lars van der Veen (Sambo On Fire)
2. Vova Krigin (Orient Rotterdam)
3. Dylan Smulders (Orient Rotterdam)
-68 kg 1984 t/m 1999
1. Daniel Wassenaar (Shoganai Dronten)
2. Leroy Schuijers (Sambo On Fire)
3. Niek Lamberts (Sportcentrum Emsland)
-74 kg 1984 t/m 1999
1. Johan Jaspers Faijer (Sambo On Fire)
2. Thomas van Mourik (Shoganai Dronten)
3. Jan Van Bruggen (SC Graafland)
-82 kg 1984 t/m 1999
1. Stefanus Jeucken (Mayks gym)
2. Dennis van Beesten (Sportcentrum Emsland)
3. Pim Raedts (Mayks gym)
-90 kg 1984 t/m 1999
1. Remo Smeer (RemoSports)
2. PieterPaul Schouten (SC Graafland)
3. Jasper van den Born (Shoganai Dronten)
-100 kg 1984 t/m 1999
1. Arya Sheikh Hosseini (BS Amsterdam)
2. Nils Koedam (Mayks gym)
Open category 1984 t/m 1999
1. Arya Sheikh Hosseini (BS Amsterdam)
2. Jasper van den Born (Shoganai Dronten)
3. Stef Jeucken (Mayks gym)
3. Ruben Drost (Sportcentrum Emsland)
Combat SAMBO
-74 kg 1995 t/m 2000
1. Felipe Homeylev (Orient Rotterdam)
2. Derriel Alvarez (MAS Amsterdam)
-90 kg 1995 t/m 2000
1. PieterPaul Schouten (SC Graafland)
2. Samuel Hovsepijan (Sportvision)