SAMBO. Friendship. Anniversary
President
13 March 2014
Sergei Grishin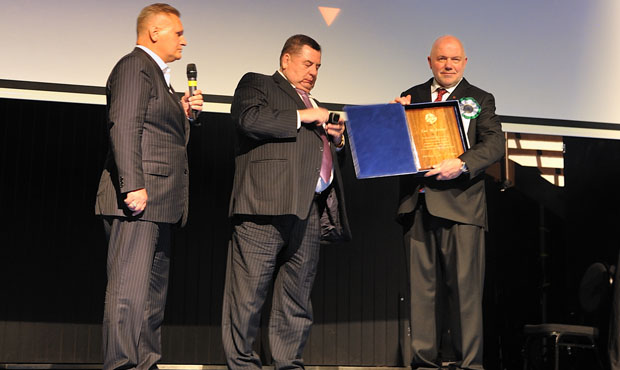 We have repeatedly said in our reports that Sambo is a school of friendship. For many people it is really so. People in Sambo not only fight, train or guide together, but in addition to sports, in ordinary life, they communicate, make friends and go through the life hand in hand for years. And they often tell that they are obliged exactly to Sambo for their friendship. It is true for everyone - athletes, coaches, leaders. Such an example of friendship exists between sambo leaders, Vasily Shestakov, FIAS President, and Auvo Niiniketo, Head of the Finnish Sambo Federation.
President of the Finnish Sambo Federation Auvo Niiniketo celebrated his anniversary last weekend. "What an anniversary can be without Sambo wrestlers?" – FIAS President thought, and taking the opportunity, he visited his Finnish friend, fortunately, it is only 400 km from St. Petersburg where Shestakov lives to Helsinki.
By the way, the hero of the day heard from his old friend not only congratulations and best wishes, but also the words of admiration about him as the sports org-man. Judge by yourself, under his leadership the Finnish Sambo Federation which he has headed already for 2 years is making grand steps forward. At 2013 European Championship in Italy the country's national team won the medal for the first time in its history - Rintamaki Antti Petteri in the weight category of 68 kg brought the "bronze" to his team. Haapa-Ano Hake supported the success of his teammate who five months later won for his country the most prestigious medal of SportAccord World Combat Games II in St. Petersburg (Russia) in the weight category of over 100 kg. The first Finnish medals in the international arena gave a huge boost to Sambo development in this country.
many distinguished guests visited Auvo Niiniketo's anniversary: Mr. Bogomolov, Deputy Mayor of Helsinki for sports activities and former Member of the Parliament, Mr. Jukha Khakola, member of the Executive Board of Helsinki, as well as representatives of Jiu Jitsu, SAMBO related combat, Soke Richard Morris from Great Britain (10 dan ranks) and Soke Jan Erik Karlsson from Sweden (10 dan ranks). The thing is that Auvo Niiniketo in addition to Sambo also governs the development of this kind of sport in Finland.
Anniversary celebration was heartful and bright, the guests left, and Auvo Niiniketo came back his work. Now Finnish sambo wrestlers are preparing for the World Cup Stage - Anatoly Kharlampiev Memorial. Very soon, less than in two weeks, President of the Finnish Sambo Federation will be anxious for his countryman Haapa-Ano-Hake who on the first day of the prestigious Sambo tournament will try his strength against the best world heavyweights.