The Slovenes Get to Know SAMBO in its Homeland
Federations
16 March 2014
Sergei Grishin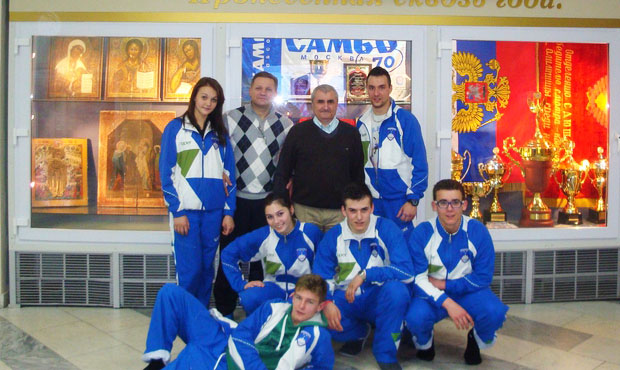 Do you want to get to know the secrets of sambo? Go to its homeland and ask those who dedicate themselves completely to this sport. This truth correct for all martial arts seems to be the guide followed by the Slovenian sambo athletes when going to Moscow for training together with Russian colleagues. From February 18 to March 3 Prometne school students of the city of Maribor learned the secrets of sambo and became familiar with the Russian culture. The tricks of the trade and training process, trying strength and SWAT demonstrations are only a small part of all the impressions experienced by the Slovenes in Russia.
A delegation composed of six young athletes and Dmitry Stoyanov, President of the Slovenian Sambo Federation left Maribor for Moscow. Representative of Alkid club Nikolai Stepanov met and accompanied the Slovenes in the capital city. Of course, first of all the sambo athletes went to "Sambo-70" and the famous school impressed the foreign visitors with its technical equipment and the level of the training process. Here the leading coaches not only demonstrated, but also skillfully explained the fine points of sambo to the Slovenian athletes. And the latter could practice the techniques with their Russian peers from "Sambo-70" whom they quickly found a common language with and managed to make friends.
Thanks to the intraurban Sambo tournament, to which the guests were invited by the management of Alkid club and Lomonosovskoe intra-municipal entity of the city of Moscow, the Slovenes were able not only train, but also compete. In a tense and bitter struggle the guests from Maribor managed to win one silver and two bronze medals. This is how the skills just received at the training camp were nailed down.
It is well-known that rest is also a part of the training process. And the best rest is a change of activity. Moscow city tour comprised numerous attractions, including the Tretyakov Gallery, and Novodevichy Convent, allowed the guests to make an impression on the Russian culture. Excellent leisure facilities and the opportunity to taste Russian cuisine added details to this impression.
Then the guests saw an exciting performance, where they could see the applied use of sambo live. The young Slovenes visited Gribki, where they saw what Russian SWAT is. exhibition performance of SWAT on combat, technical and specialised training impressed the guys indeed.
- On behalf of the Slovenian Sambo Federation and myself, I want to sincerely thank the Russian Sambo Federation represented by Sergey Eliseev, its President, Nikolai Stepanov, a representative of Alkid club, Renat Laishev, Director General of "Sambo-70" Education Centre State Educational Institution and other people, who helped our delegation by their work, understanding and professional attitude during our joint trainings, - said Dmitry Stoyanov, President of the Slovenian Sambo Federation after his visit to Moscow.