Stanislav Kolbasov: "I always dreamed to be a history"
Competitions
17 May 2013
Sergei Grishin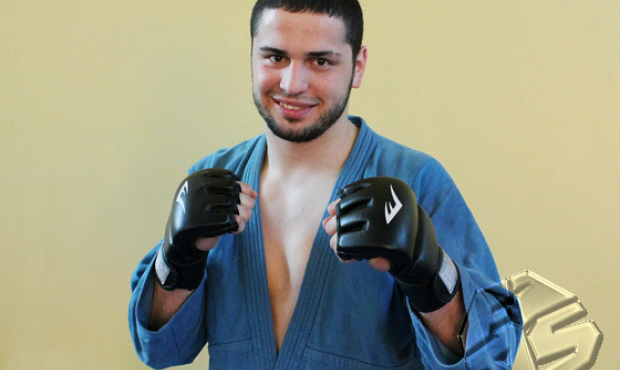 At the age of 21 he became the first Belarusian World champion in Combat SAMBO, and as early as tomorrow he will have to prove this result is not a fortuity. On the eve of the 2013 European SAMBO Championship Stanislav Kolbasov told the FIAS website about the preparation for the tournament, recalled his success at the global forum in 2012 and revealed what the SAMBO athlete does when somebody tries to have a fling at him in the street. How to set heart at rest before the finals? Why is it important to be the first while going up stairs? Do girls cramp the athletic feats? The answers to these and other questions you can find in our interview right now.
"I have really wanted they are proud of me"
– Stas, the upcoming European SAMBO Championship will be the first major international start for you after the victorious 2012 World Championship in Minsk. What's on your mind while preparing for the tournament?
– I always set my mind on the only thing – to present myself worthily. No matter what the final result will be, I just want to present myself worthily. I have a quick remembrance of the European Championship in Minsk a few years ago when one of my current coaches Alexander Voronovich won from the Russian Maxim Futin in the finals. This SAMBO athlete will also present the Russian team now, so there is a probability that we will meet with him at some stage of the tournament. 3 years intervened since the finals – let's see who will be more prepared today.
– And how were the evaluations for the European Championship held in Belarus?
– There was held the Cup of the country for Combat SAMBO, where I managed to win all duel meets ahead of time. I wouldn't say it was easy, after all the rivals put up a serious resistance. But it turned out somehow or other that I covered the tournament distance steadily. Then I had a rest for a couple of days and began to prepare for the European Championship – muscle loading became twice as much at training sessions.
– Let's turn to your victory at the World Championship in Minsk. Call to memory what was on your mind when you were going out for the final duel meet?
– I was really nervous then, because I performed at home – the pressure of the stands affected me. All the guys from the gym, training with you, are looking at you, so of course I couldn't lose face. I really wanted my coaches, who warmed up me, invested their strength and heart, to be proud of me.
– And how did you manage to compose yourself and set heart at rest?
– I was doing breathing exercises, which my uncle had taught me. He is a doctor of the Belarusian national team in modern rhythmic gymnastics, and before he also worked with track and field athletics team. He is a very good specialist and always bided farewell me, and if there are injuries or damages – gives recommendations to recover. Thanks to breathing exercises I can compose myself – the nervousness is certainly present, but there is no fear. And when you go out on the mat, fear disappears at all, because there you have nowhere to go. You have to fight, you have to present yourself.
"I always aim to be the first all along"
– Remember the first emotions when you won.
– At first I didn't sell myself the idea of what had happened. I am a spiritual, and before going out on the mat I prayed: "Lord, give me at least one chance!". And when the chance arose, and I used it, I went on knees directly on the mat and said: "Lord, thank you so much!".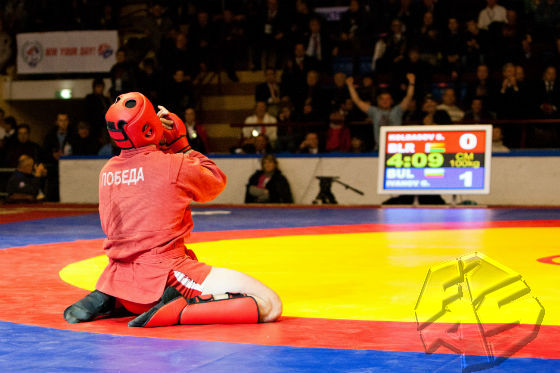 – Did you shoot to stardom the next morning after the victory?
– At that moment I didn't sell myself the idea of what had happened yet. I was awake all night long, I had the adrenaline boiling in my blood. Everybody came to me and congratulated on my victory constantly at the Championship. I probably realized what had happened only a week after the victory.
– What is it to be the first ever Belarusian champion in Combat SAMBO?
– Honestly speaking, I always aim to be the first all along. If I'm the second somewhere, I'm upset badly. Even when I go up stairs in the subway, I always aim to overtake everyone and be the first. If you can't win the competitions, it means that you have underworked something and there are gaps or errors. May be, I came short of patience. I always look for a reason in myself. Sometimes, of course, you meet an opponent who is objectively stronger physically than you, so it seems to be no shame if you don't win. But, on the other hand, it is possible to win him tactically, so I always look for the reasons of failures, when they occur, in myself.
– Please tell us how and when did you get into SAMBO.
– My dad was Head of the regional SWAT in Tula. At the age of 11 he led me to the SAMBO section to the coach, who worked with special operations soldiers. This is a notable coach, two-time world SAMBO champion Sergey Yuryevich Vlasov. I started practicing the sports at his section. However, I didn't have significant results for a long time. I placed high at various youth tournaments in Russia, but nothing more. So, as a matter of principle, I already intended to give up SAMBO.
But then I came to Belarus, where I was trained by Vladimir Arkadyevich Eremenko. He got me up on a fairly serious level. In 2007 I got into the youth team in judo, became the second at the European Championship. Then I found myself in the Belarusian national SAMBO team. Before the 2012 World Championship I didn't manage to win the "gold" of the international tournaments, but I'd like so much the national anthem begin to play in my honor! So when it happened, I was incredibly happy.
"We are not friends, we are family"
– And how did it fall out that you were born in Russia and then moved to Belarus?
– The thing is that I have Belarusian origins, but I grew up in Russia – Tula. My parents came from Khoyniki that is in the Gomel region. I was born in Kaliningrad – my dad graduated from there, and my mother came to him to rest. As a result, I lived in Russia for 15 years. After all I consider myself the Belarusian, because this country has given me many things: experience, medals – all I have at the moment.
– It's no secret that many Combat SAMBO representatives are not averse to participate in mixed combat sports tournaments...
– I also have some thoughts about this, but I'm not really ready for that yet. For example, I still don't have enough striking technique, sometimes I can close tightly in exchange of the blows, although it's prohibited to do it. But I'm working on it – I train with boxers, engage in classic boxing. Generally in Belarus there is a well-developed cooperation between the different types of combat sports. For example, when we are in SAMBO training camp, we are settled nearby with judoists to help us. They have already passed the European start – so they help us. Once our major event takes place, we help them.
– In the interview to our website Natik Bagirov said that the Belarusian teams in SAMBO and judo "friendship is put at the forefront". Please tell us what kind of atmosphere is in the team?
– Actually, we are not friends, we are family. Every day, at least half a day we spend together – at two training sessions. Besides, it's a real pleasure when you are rooted for at the competitions. Mom always laughs at me because when I come from the competitions I always have a frog in my throat – I have a voice like a 50-year-old three-pack-a-day man. At tournaments you constantly scream, root for guys. After all, we come together, we do the same good cause together, and everyone will be more pleasant and easier if he feels the support. However, there was one situation where my teammate and I were actively rooting in the stands, and then turned around and saw that other guys from our team were sitting, looking around, pottering around the phones. It was a kind of shame, so we came up and told off them. But this is an exception to the rule, and in general we always try to carry along each other, root for actively.
– Are you listening to tips while performing?
– Yes, of course. But I try to listen not to the audience but my tutors. They have prepared me and know what I can do. Tips from the stands are such a thing... They may be right, but it's not the way of fighting peculiar to me, not my style – so I can't use it. Although I do sometimes shout something, but more often I try to tip off about to the guys from my gym – because I know what they can do.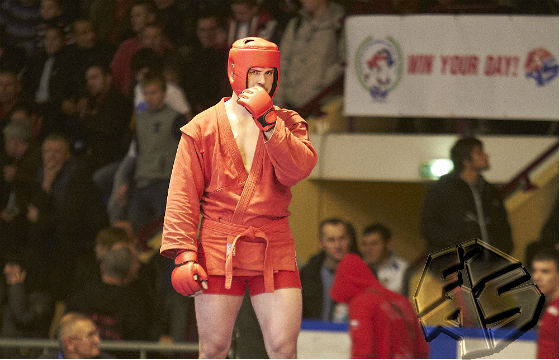 – Did you have to use SAMBO holds on the street?
– I think we should solve problems by means of conversation. There are daring guys, but I always have to be responsible for my actions. If I'm shouted something in the back, I say to myself, yes, I am – and move on. The main thing I really know who I am and limits of my abilities.
"I have someone to share my thoughts with"
– Do you have enough time for something besides SAMBO?
– I live in the country, so I spend many hours to get somewhere each day. That's why I try to contribute the majority of time to training sessions, especially while preparing for major tournaments. However, friends are offended that I don't find time for them. The majority of my friends are wrestlers, boxers and hockey players. Now they are home on furlough, call me, invite to go for a walk. But I refuse, sometimes we meet at the weekends.
– Do you believe in omens?
– Some omens are important to me. I always say certain words to myself before going out on the mat. But I am not used to do such things as to put slippers to one place, or, for example, to do strictly three sips of water.
– There is an anecdotal evidence that girls cramp the athletic feats. What's your attitude towards it?
– I am lucky in this respect: my girlfriend is also an athlete, though, ex-athlete already – she went in for modern rhythmic gymnastics. She doesn't distract me, knows that I have some goals. It happens that we can't meet, but she always understands me. She is more nice to know that I have training sessions twice a day than I hang about somewhere.
– What are the goals you set yourself for a sports career?
– I always dreamed to be a history. Since childhood, as soon as my age of reason started, I realized that I have to live honestly, work, go in for sports, and decided that I dreamed to be a history. Three years ago Alexander Voronovich became the first Belarusian European champion in Combat SAMBO, and I have already managed to become the first Belarusian World champion. But you always want more and can't rest on your laurels.
– And do you have any idols?
– Dad always says: "You shall not make for yourself an idol". Although, of course, I like Fedor Emelianenko. This is a man who works. Now he has changed boxing-gloves for a suit, but still works for the good of the sport. Fedor is a great man, he is respected around the world. At the World Championship in Minsk, Vladimir Gennadyevich Yaprintsev led me to him, we got acquainted, talked a little. As athletes, many appeal to me, and they aren't necessary to be representatives of combat sports – for example, I like track and field athletics. But it's also important for these athletes to be decent people in ordinary life. In general, I'm always geared to myself, I have someone to share my thoughts with and consult – it is and my dad and my girlfriend's dad. They told me a lot of interesting things. Each person has to move forward and get a little better every day as compared to him yesterday.
Interviewed by Alexander Solomakhin
www.sambo.sport