Stepan Popov – a hero of our time
Personalities
27 June 2015
Sergei Grishin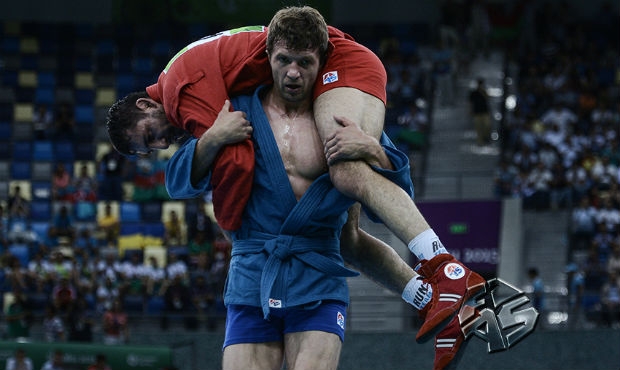 Within a few days this story spread around the world and the act of a Belarusian sambist Stepan Popov delighted a lot of people many of whom have never heard about sambo before. After winning the final sambo tournament during the European Games 2015 over the representative of Azerbaijan Amil Gasimov, Stepan Popov then picked up his injured opponent onto his shoulders and carried him away from the mat. This act was immediately appreciated by a thunderous applause of the crowd in the stands and "likes" of hundreds of thousands of people online. FIAS´s site learned more about this and other deeds of the athlete he committed that day.
For those who still haven´t seen it as well as for those who want to see everything that happened again, we present the video of the famous bout and what happened after it.
After the fight both parties were in great demand among the journalists. FIAS´s site has already spoken about how the incident was commented upon by Amil Gasimov. He said the following:
"After the final when I was injured my opponent Stepan Popov from Belarus lifted me from the mat by doing a "mill". I simply wasn't able to stand on one foot where I had an old injury. Popov is a real athlete and a great man. I am sure everyone among sambists would have done the same in a similar situation."
Stepan Popov confirmed his idea saying that he did not do anything special. The Belarusian sambist emphasized the fact that his opponent was fighting at home.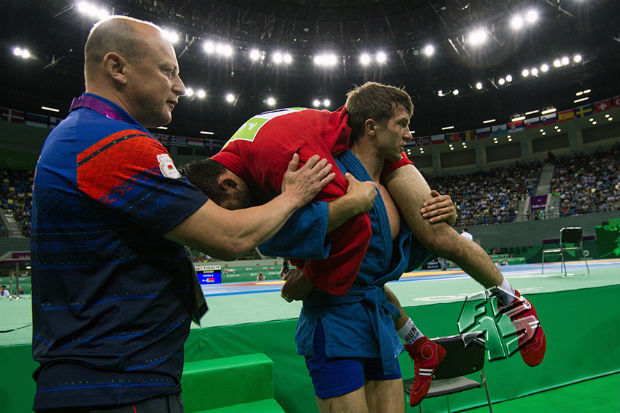 "I've had a similar situation. I lost by submission at the World Sambo Championship in my homeland, in Minsk. And in the first match too! I left without a medal and injured. It was my most humiliating World Cup. I also did not give up until the last and I know what it means to leave the mat after this. So I lifted my rival and took him off the mat. It helped him to cool down a bit after the defeat, calm down. It was a gesture of friendship as we're only rivals on the mat. And I have great respect for that athlete,"- said the Belarusian.
In addition, Stepan Popov noted:
"Before the tournament I went to see the competitions in wrestling and noticed how the Azerbaijani fans react when their beloved athletes are fighting. So I learned that for the fans to recognize me I needed to win clearly and confidently. I think if the audience sees that you made every effort and did everything possible they recognize your victory."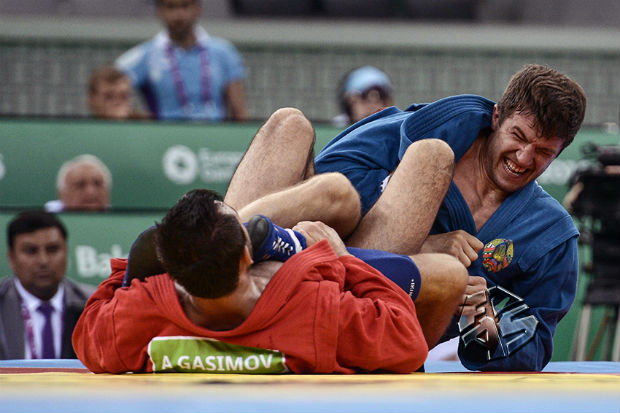 The athlete said that the European Games stand out among sambo competitions and the preparation for them had been appropriate.
"The World or European Sambo Cups where all is familiar are one thing. European Games and their crazy pressure are totally different. Here we don´t represent just ourselves but our whole sport that we promote to the Olympics. And we also represent our country and we want it to rise as high as possible in the medal standings. All our Belarusian delegation was counting the medals, all the guys were eager to prove themselves. Before the competitions we gathered in a circle and talked and all of our athletes got to the final of the tournament. The only exception was our athlete Staroverova Olesya: she had a health problem in the morning and wasn't able to fight,"- said Stepan Popov.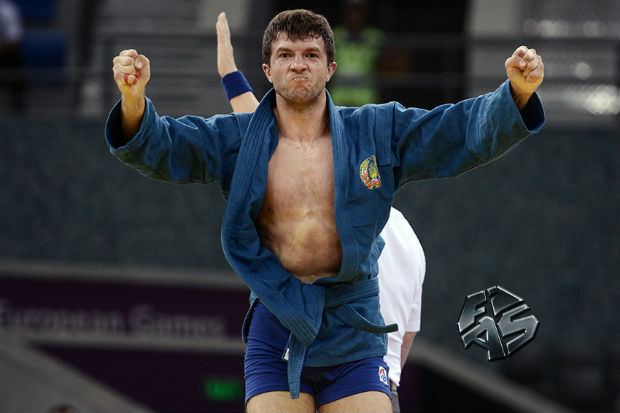 Belarusian athletes clearly benefited from such unity.
"We all gathered, stood in a circle, said how much we root for each other, that together we have all the power and we would tear our opponents up,"- said the owner of gold Tatiana Matsko from Belarus about what helped her to tune in to the competition.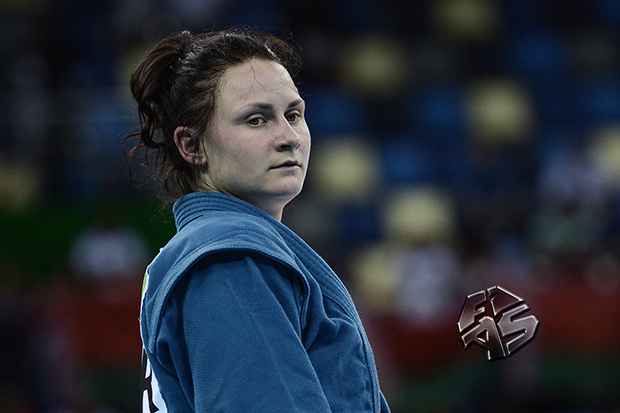 Only later it became clear that it was Popov who had proposed such gatherings and tunings in.
"In Baku Stepan Popov became an unofficial head of our team. He walked over, gathered us all, we hugged and stood in a circle. Perhaps some of us even felt uncomfortable in this situation. However he exuded confidence: said we' tear everybody up, we were all already in the final. In the end everyone made their own way but everyone is most certainly satisfied with their struggle. And the team result for Belarus seems good to me," – said an experienced Belarusian athlete Andrey Kazusenok. – "I was in the judo team at the Beijing Olympics and I can say that the atmosphere in Baku is exactly the same. And although I already have similar experience but I'm still nervous. I wanted to avoid any mistakes because their price is too high. I even had a slight nervous trembling before the day part of the competitions."
Silver medalist Andrey Kazusenok continued:
"We are roommates with Stepan. And from the beginning I felt his incredible confidence. It should seem that it's me who has experience of participation in the Olympics and I should be the person to support the rest. But on the contrary, I felt greatly worried about the result. Stepan told me: "Andrey, stop worrying, everything will be fine!" And I was sitting at this moment and thinking: shouldn't it be me who tunes everyone in?.."
According to Kazusenok during the day part of the tournament Stepan Popov was telling all the team members the important phrase "We are in the final!" as a fait accompli. And every athlete was motivated to fight with double force.
"When I reached the final I thought Stepan was already there too. So I told him: 'Well done, congratulations! ". He nodded and took my congratulations. And then after a while I looked at the mat and he was still fighting with a Russian in a semifinal fight. But at the same time he was pretty sure that he will get to the finals, didn't have a shade of a doubt. If each of us had been tuned in in the same way, perhaps we would have had more gold medals."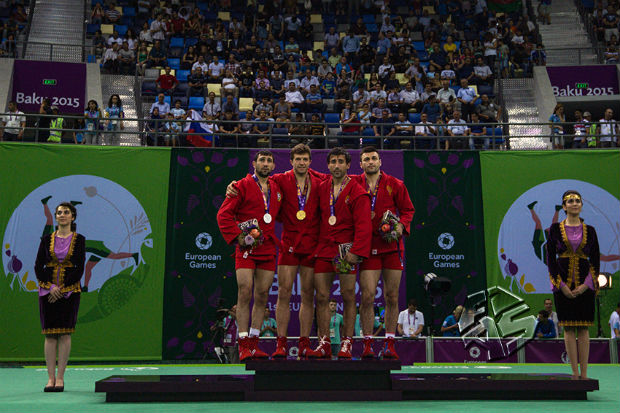 [Photogallery] Sambo at the European Games in Baku 2015. Finals