"Every time I had a lump in my throat when one was mentioning "The Wings of Victory""
Federations
5 May 2014
Sergei Grishin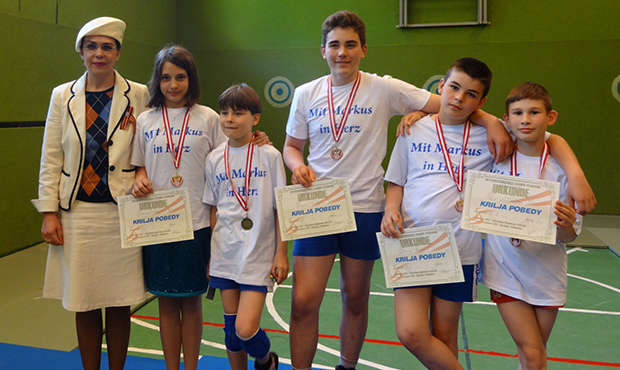 "We held the first in the history of Austria Sambo Tournament dedicated to Victory Day, and I would like to tell you some words about the history of this event", - President of the Austrian Sambo Federation Svetlana Neubauer-Sokolik started her narrative. She talked about the idea of celebrating The Wings of Victory International Sambo Tournament, why it was a very important event for her personally and what could be done when medicine was powerless.
The Wings of Victory International Sambo Tournament dedicated to the 69th anniversary of Victory in the Great Patriotic War took place on May 4 in Vienna. The competition was attended by young sportsmen from Russia, Austria, Germany, Slovakia and Belarus. The tournament was held in the school under the aegis of the Russian Embassy in Austria and became a real holiday for all the participants and organisers. Svetlana Neubauer-Sokolik is telling us how and why it was created:
"Four and a half years ago in an interview with Russian Ambassador Sergey Nechayev I said that one day we would celebrate Victory Day in the sambo way in the Alpine country. Then I repeated this promise before the veterans in Moscow when signing our agreement with the Moscow Sambo Federation.
A lot of water has flown since then... When conceiving the tournament, I bore in mind my grandfather Gregory Melentyevich Shemyakin, who defended Moscow in 1941 at the railroad junction of Dubosekovo. And two years ago another name was added to this one – my brother Vladimir Shemyakin deceased. Class 1 pilot, aircraft commander of 3 types, chief pilot of a lettered detached force of Kyrgyzstan (in simple phrase - presidential airliner), honoured pilot instructor with 22,000 flying hours (experts know what it is)… This man gave me the city on the Neva River. He taught me to dream and to achieve the goal. He was my "milk dad" who brought fresh milk from Cholpon-Ata every day for me.
That is why the tournament is called "The Wings of Victory"! When we started receiving applications for participation, and people became interested in the opportunity to take part in the tournament, every time I had a lump in my throat when one was mentioning "The Wings of Victory". I had a feeling that he was there, looking at me from above... And I told my family that was for Volodya. They supported me.
Then one more circumstance happened. My kids are now practising judo in Hatberge. Their coach got cancer. When he was discharged after surgery and chemotherapy, the European Judo Cup was being held in Oberwart. When I was there, I saw him modestly sitting in the stands and watching the match. It hurt so much because I was powerless to help! Then I decided that if medicine was powerless, the spirit was not! Being his students, my children will fight in his honour and with his name at the tournament in May! Special thanks for their support to FIAS President Vasily Shestakov, President of the European Sambo Federation Sergey Eliseev, as well as President of the European Judo Union Sergei Soloveichik.
We got the greatest reward for the last tournament when we came home. My daughter texted the coach informing that she won the event, my son was third in a tournament and he replied, congratulated them, which meant they did not do this in vain! I hope this will give strength to him to fight! On Tuesday we are going to give my children's medals to their coach through his daughter, who is also a coach. It will be a gift for him, as it is HIS WORK!
I also remember the speech of Headmaster of the school under the aegis of the Russian Embassy in Austria Alexander Yuryevich Gorbunov, who said that he had never seen anything like that over 30 years of work in the structure of the foreign ministry schools. I think, this is it. We look forward to seeing our dear veterans on May 8 to give them a cordial meeting. And then - new tops and new battles for tops, as we have a team to do that!"
These are emotions and stories President of the Austrian Sambo Federation Svetlana Neubauer-Sokolik shared with us. We would like to add only that the sport part of the tournament also rose to the occasion – the guys did their best. After all, their grandfathers and great-grandfathers fought for them to live and work out in the time of peace and in freedom.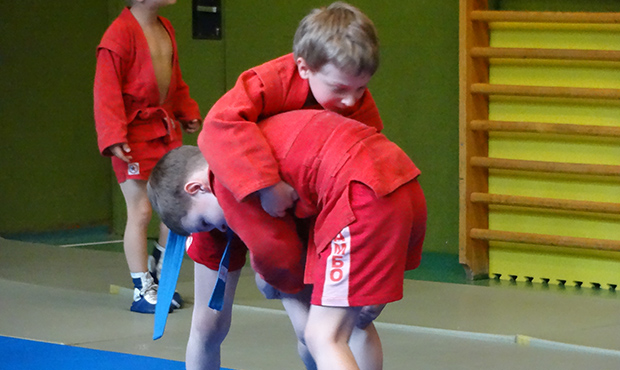 The results of the competition were as follows:
Weight category of up to 30 kg. (boys born in 2005 - 2007)
1. Rakhubov Yaroslav (Belarus);
2. Akimov Andrey (Russia);
3. Chirkov Fedor (Russia) and Zafesov Timur (Russia).
Coach of the winner - Pavlov Viktor
Weight category of up to 32 kg. (boys born in 2004 - 2005)
1. Rebrov Nikita (Russia);
2. Anikin Artem (Russia).
Coach of the winner - Pavlov Viktor
Weight category of up to 35 kg. (boys born in 2003 - 2005)
1. Vyalikov Sergey (Russia);
2. Vasilenko Ivan (Russia);
3. Kotyan Daniel (Slovakia).
Coach of the winner - Pavlov Viktor
Weight category of up to 32 kg. (boys born in 2002 - 2003)
1. Shevelev Andrey (Russia);
2. Vaytzel Philipp (Germany);
3. Neubauer Albert Max (Austria).
Coach of the winner - Pavlov Viktor
Weight category of up to 60 kg. (boys born in 2003)
1. Benko Damien (Slovakia);
2. Mosul Vadim (Russia).
Coaches of the winner - Balent Dulo, Valent Dulo
Weight category of up to 45 kg. (boys born in 2001 - 2002)
1. Kachan Dmitry (Russia);
2. Kuznetsov Dmitry (Russia);
3. Efentyev Petr (Russia).
Coach of the winner - Pavlov Viktor
Weight category of up to 55 kg. (boys born in 2000 - 2002)
1. Frank Nick Alven (Germany);
2. Khoroshev Nikolai (Russia).
Coach of the winner - Frank Martin
Weight category of up to 60 kg. (boys born in 2000)
1. Yungblud Daniel (Germany);
2. Aliseichik Ivan (Russia).
Coach of the winner - Vaytzel Andreas
Weight category of up to 75 kg. (boys born in 1999)
1. Guglis Gabor (Slovakia).
Coach of the winner - Balent Dulo, Valent Dulo
Weight category of up to 25 kg. (girls born in 2005)
Place 1 - Vasilenko Arina (Russia);
Coach of the winner - Pavlov Viktor
Weight category of up to 46 kg. (girls born in 2005 - 2006)
1. Belkina Tatiana (Russia);
2. Kachan Irina (Russia).
Coach of the winner - Pavlov Viktor