The arena for sambo at the I European Games will be dressed in green
Competitions
19 June 2015
Sergei Grishin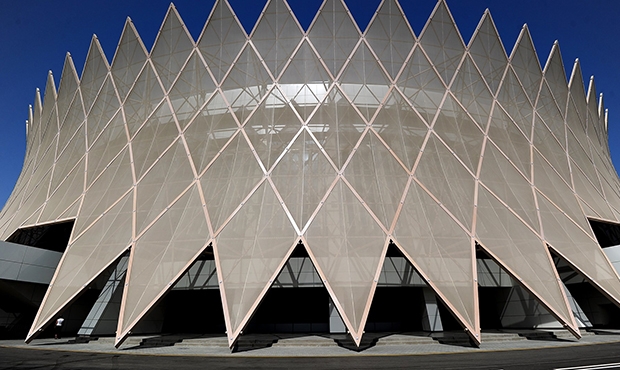 Yesterday, June 18, in the sports and concert complex named after Heydar Aliev in Baku the freestyle wrestling competitions ended. Participants and spectators of the tournament left the hall around 22 pm, and at midnight the workers of the complex started to transform the platform to be fit for sambo.
The installation process was held at night and completed as early as 4 am. For wrestling the organizing committee chose lilac while for sambo the color green was chosen. Looking at the the photo made towards the end of the installation process you can get a rough impression of how the room will look.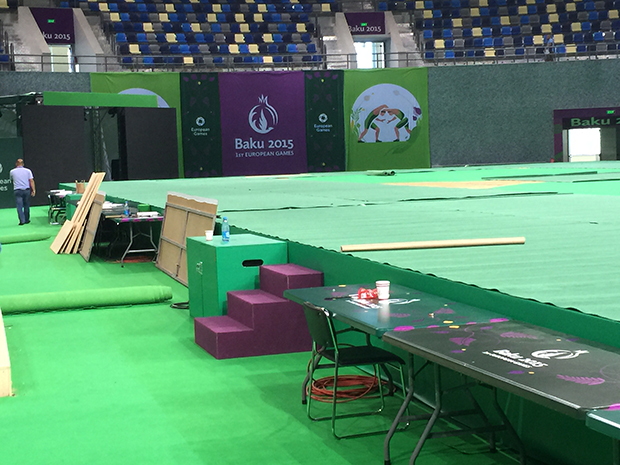 This afternoon after lunch the mats started to be laid out. In addition, experts will install panels and other components necessary for the competition. The conditions in the sports complex for athletes have been already explained at the FIAS´s site here and here.
We should add that the Heydar Aliev Sports and Exhibition Complex is the largest sports facility of the country. Every year at the complex a variety of different tournaments, competitions, international exhibitions, concerts and entertainment programs take place.
Tomorrow sambo referees will arrive in Baku to get their accreditation. And the site will tell you about a cherry on top of the FIAS´s Sambo Tournament in Baku-2015 related to the uniform for athletes and referees.