Battle of Champions will be held in Kstovo
Competitions
21 August 2014
Sergei Grishin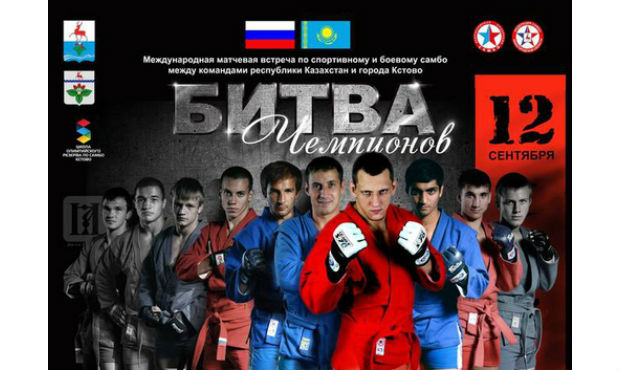 On September 12, the Russian city of Kstovo will host an international team meeting related to sport and combat sambo Battle of Champions between the expansion teams of the Republic of Kazakhstan and the city of Kstovo. It is dedicated to the celebration of the city's day and the 50th Anniversary of the Kstovo Academy of Sambo.
The program of the sports festival will include 10 combat sambo fights and one sport sambo fight, according to the press service of the All-Russian Sambo Federation. The wall-to-wall battle will be organized as a unique sport and entertaining show in which the Champions of the World, Europe and Asia come together.
The team of the city of Kstovo will consist of the world champions Vyacheslav Vasilevskiy, Imran Dzhavadov, European Champions Maksim Kuptsov, Aleksandr Salikov, winners of the Youth World Championship Vadim Shagin, Kirill Berezin and Ivan Lozhkin. Honored Master of Sports Aleksandr Sharov will take part in the sport sambo fight. The Asian team consists of 2 World Champions and 5 winners of the 2013 World Championship.
In addition to the carpet fights, the audience will see the show: The performance of trapeze artists and fiery dancing of Russian Champions in rhythmic gymnastics. The event will include the honoring of Vyacheslav Vasilevskiy.
The tournament is held with the support of the Administration of the city of Kstovo and the Sambo Federation of the Nizhny Novgorod Oblast. Free access will be provided to the stands of the sport arena. The spectacle promises to be truly exciting. To verify this, just watch the video from the last tournament of the same kind in which the teams of Kstovo and Saint Petersburg came together.