Inwoo PARK: "SAMBO helped to Shape my Personality"
Personalities
21 July 2023
Aleksandr Solomahin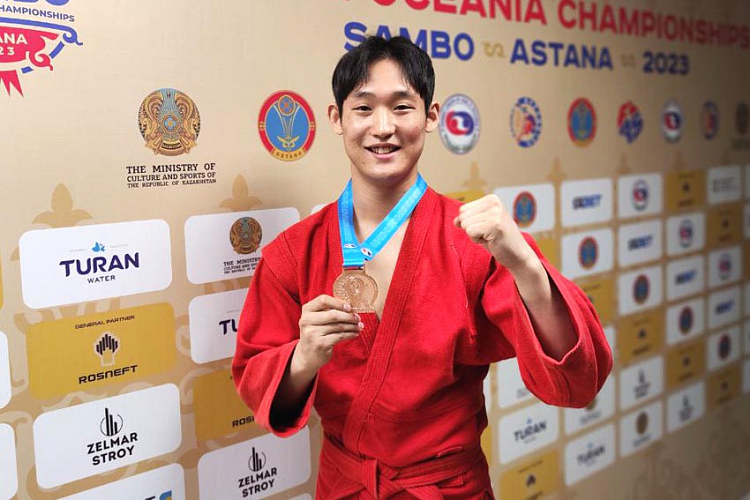 Korean athlete Inwoo Park became the bronze medalist of the Asia and Oceania SAMBO Championships in Kazakhstan. He won a medal in the weight category up to 71 kg in Combat SAMBO among men. In an interview for the FIAS website, the Korean sambists told to whom he dedicates his award, how SAMBO is developing in Korea after the coronavirus, and how SAMBO skills helped him to serve in the army.
– My mood was for "gold", but I did not reach the first place a little. However, the bronze award is also a great joy.
Which bout was the hardest one? How did the opponent surprise you?
– Surprisingly, the first fight, which I won, was more difficult than the second, where I failed to win. In the first match, the opponent kept to defensive tactics, so it was necessary to make more efforts to score points.
How long have you been practicing Combat SAMBO and why did you choose this martial art?
– I came to Combat SAMBO 5 years ago, before that I was engaged in Sport SAMBO. I began to work on my kick techniques, which allowed me to perform in Combat SAMBO.
Is this your first international Combat SAMBO competition?
– In 2019, I took part in the Baikal Cup tournament in Combat SAMBO. There I lost the fight for the bronze medal. So the "bronze" of the continental championship this year is my first medal. I want to dedicate it to my parents and to everyone who supported me – without these people I would not exist.
How is SAMBO developing in Korea now?
– During the coronovirus period, there was a lull in sports in our country, it was hard for everyone. I wanted to fight more, to compete in tournaments, but there was no such opportunity. When the restrictions ended, our national federation began to actively organize tournaments within the country, as well as attract athletes to international competitions. We are gradually returning to normal sports life, competitive activities. I see that everything is going in the right direction, and I am sure that every year it will get better.
Where do you train?
– I train at the Amur Tiger Gym club, which is a club accredited by the International SAMBO Federation. I also attend large trainings at the National SAMBO Center, which opened in the city of Cheon-An at the beginning of this year.
What do you do besides SAMBO?
– In January, I was demobilized after serving in the army, and already in September I return to study at the university. And I will continue to practice SAMBO in order to perform at the highest level.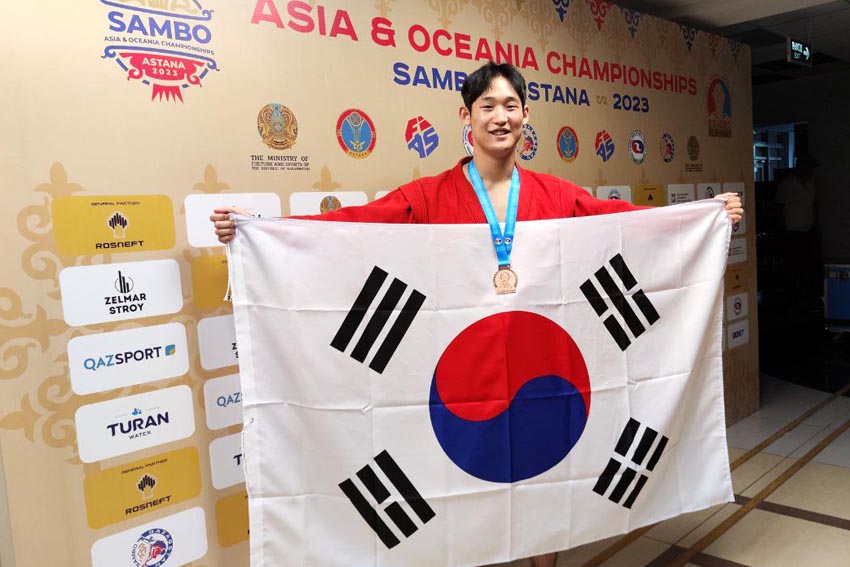 Did SAMBO help in military service?
– Thanks to SAMBO, I already had a good physical preparation when I came to serve in the army. In addition, SAMBO brings up the necessary moral and volitional qualities; it helped me to develop as a person. I can get along well with everyone: in the army, I never had problems communicating with either colleagues or superiors.
What sports plans do you have for the near future?
– I want to take part in all possible national and international Combat SAMBO tournaments and fight for the highest places.