Colombian referees are preparing for the Youth National Championship
Federations
17 July 2015
Sergei Grishin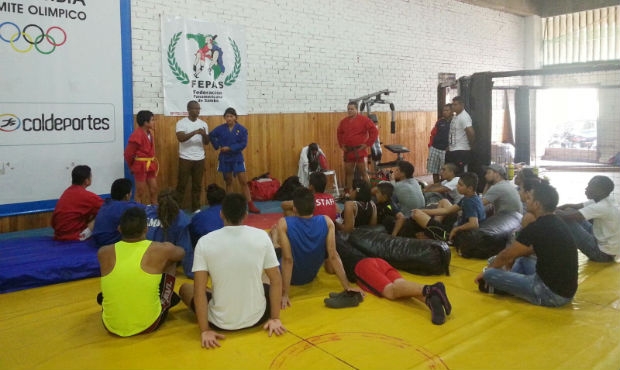 On the eve of the youth sambo championship in Colombia to be held from July 24 to 25 in the country's capital a seminar for referees who will work at this tournament has been held. The main purpose of the event was to prepare the referee for the important start including detailed theoretical training in the rules of sambo and development of practical skills of refereeing.
The seminar was held on the basis of the sports complex Coliseo El Pueblo which is part of the Center for advanced athletics in Cali. The event was organized by the head of the technical commission of the Colombian Sambo Federation Daniel Torres Tabares, the head of the referee panel of the Federation Andres Felipe Aguilera and the president of the Arbitrators' school Juan Fernando Popo.
15 Colombian arbitrators took part in the seminar and received regional category C that lets them work at the youth national championship. About 120 athletes from 14 clubs in Colombia are expected to participate in the championship that will also be held in the sports complex Coliseo El Pueblo. This championship will be qualifying for the World Championship among boys, girls and juniors that will be held in Latvia in October. Which Colombian sambists will represent the country in the international arena we'll learn very soon as National Youth Championship kicks off in a week.