Makhmudjon MAKHSUDOV: "I dedicate my victory to my parents and all of Uzbekistan"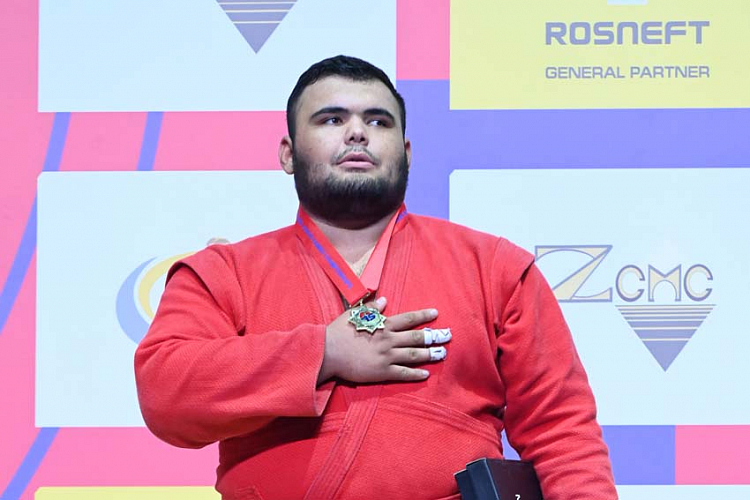 A samboist from Uzbekistan Makhmudjon Makhsudov won a gold medal in the weight category over 98 kg among youths at the World Youth, Junior and Cadets SAMBO Championships in Yerevan (Armenia). In an interview for the FIAS website, Makhmudjon spoke about his main task for the final fight, his signature technique, as well as his emotions during the award ceremony.
Makhmudjon, what did you feel after the victorious finale?
– For a long time I could not realize that I managed to win. For all the previous days of this championship, Uzbekistan did not have a single gold medal. Before entering the mat, I set myself the goal of definitely winning and bringing "gold" to our team. Fortunately, I succeeded, so I want to dedicate my victory to my parents and all of Uzbekistan.
It was a really beautiful fight that ended in an early victory. Did you initially set yourself up for a short duel or for all five minutes of an uncompromising struggle?
– It is difficult to predict an early victory, but I really wanted to complete the final match as quickly as possible. Fortunately, I managed to successfully implement my favorite technique and bring victory to Uzbekistan.
Which fight was the most difficult?
– All fights at the World Championships are difficult in their own way. Strong athletes get to the final, so it always turns out to be difficult.
How was the preparation for the tournament?
– Before the World Championships, we had training camps, where we practiced technique and engaged in physical training.
How important is it for you that the anthem of Uzbekistan is played in the hall during the awards ceremony?
– For me, it's priceless. It is difficult to convey in words the emotions that you experience while standing on a pedestal to the anthem of your country. You need to feel this by yourself.