Ilzat ASSIEV: "The main thing for me is that my parents can be proud of me"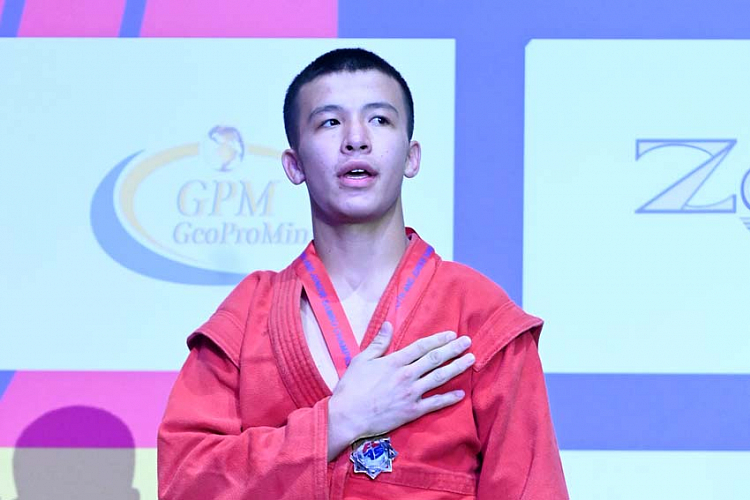 An athlete from Kazakhstan, Ilzat Assiev, became the first World Champion among juniors in Combat SAMBO. At the World Youth, Junior and Cadets SAMBO Championships in Yerevan (Armenia), he won a gold medal in the weight category up to 58 kg. After the final fight, Ilzat told the FIAS website about the preparation for the Championships, tactical tricks and the help of the stands.
Ilzat, you have become the first World Champion among juniors in Combat SAMBO. What do you feel now?
– I still can't believe this really happened! So much work has been done for this victory. For me, the main thing is that my parents can be proud of me. They have always believed in me, and I hope that today I was able to justify their hopes.
What is the role of the coach in your victory?
– My coach stayed in Kazakhstan, but we phoned each other before each fight, discussed and worked out all the technical and tactical issues. At fights, I competed without a second, so I had to navigate myself in the course of the fight.
Did you prepare in any special way for each fight?
– No, I didn't study my opponents beforehand, I don't have a history of fighting with them. In fact, I saw them today for the first time.
Which fight was the most difficult for you?
– The final against Oleg Filippov was the most difficult. The opponent was physically stronger, so I had to seriously work on my striking technique. My main task was to keep him at a distance.
It turns out that in the final fight you used a certain trick?
– That's right, in many ways it was just a tactical duel. Oleg tried to go for a choke hold, but I managed to counterattack and perform a hold, which brought me two points. And already at the end of the fight, my intention to perform a "choke" was more of a tactical move, an attempt to buy time.
Did you feel the support of the fans?
– Of course! Not only the support, but also help. People from the western part of the stands were constantly shouting and prompting. As they advised me, so I fought.
Your dream has come true. What's next?
– There are new goals ahead – even more complex and high. I would like to take part in world-class competitions, including the World Championships.