Martha RODRIGUEZ: "The secret of my victory is in physical and psychological preparation"
Personalities
17 August 2021
Anton Orlov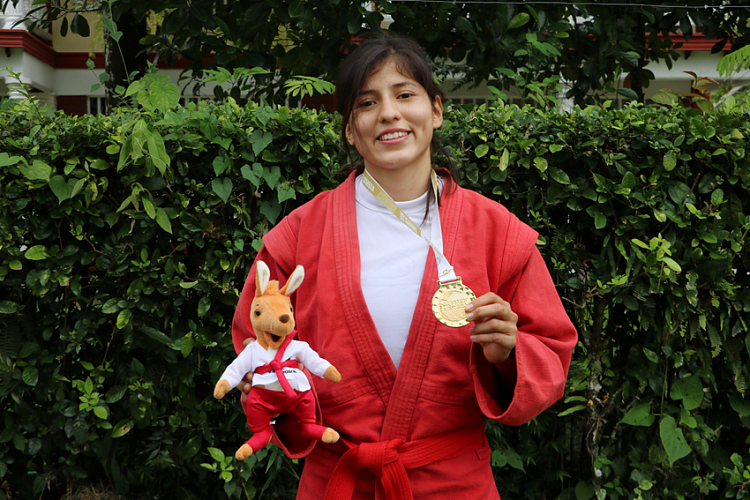 Mexican sambist Martha Rodriguez won two gold medals at the Pan American SAMBO Championships. To the gold medal in the weight category up to 50 kg among women in Sports SAMBO, she added the first place in the weight category up to 50 kg among women in Beach SAMBO. In an interview for the FIAS website, the athlete told what the secret of her victories is, which medal is more expensive for her, and also what is the peculiarity of greeting the Mexican flag during the sound of the country's anthem.
Martha, you have won gold medals in both the Sport SAMBO tournament and the Beach SAMBO competition. How did you manage it?
– It was not easy. The opponents are well prepared, in each fight they had to give all their best at 100%. I think we managed to win due to preparation, and not only physical, but also psychological. This is my little secret.
Which of these medals is more expensive for you, or are they equal?
– Perhaps a medal in Sports SAMBO is a little more significant for me. I was preparing to a greater extent specifically for Sports SAMBO competitions, and I participated in a Beach SAMBO tournament for the first time. Of course, Beach SAMBO has its own peculiarity, its own interest and its own charm: the same throws, the same technique and the same joy of victory. But still, classic Sports SAMBO is a little more important to me.
How did you prepare for the Championships? Only in the hall or also on the sand?
– In the hall. I did what I can, but before the championships I, of course, studied the rules of Beach SAMBO.
How do you assess the level of organization of this Championship?
– In general, the level of the athletes is very high, I really liked the teams of Costa Rica and Venezuela, the girls have a high level of professional skills. As for the direct organization of the competition, we can recall the small overlays, but they are not of fundamental importance, in general, everything was well organized.
While playing the national anthem, standing on the pedestal, you held your hand in a horizontal position near your heart. What does it mean?
– In our country, it is customary to express the greeting of the Mexican flag during the sound of the national anthem.
Is this the way athletes do?
– Not only. This is the custom of all Mexican citizens. I am glad that I was able to hear the anthem in honor of my victories in this tournament twice.