Moises FREDERICK: "I Take Beach SAMBO Very Seriously"
Personalities
6 August 2021
Anton Orlov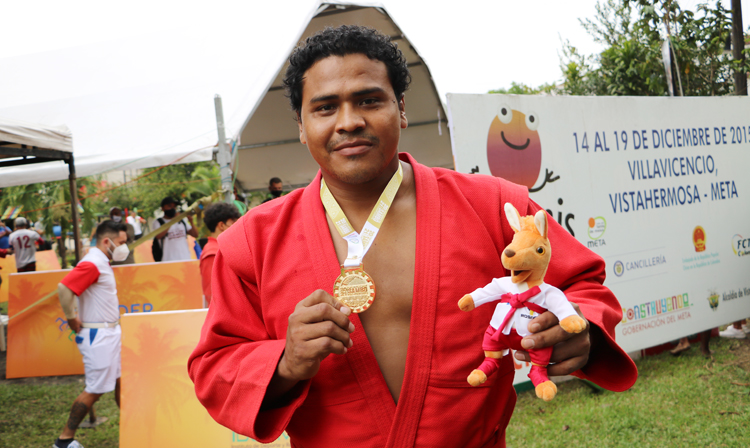 At the Pan American Championships in Colombia, an athlete from Nicaragua Moises Frederick first became a bronze medalist in the +98 kg weight category in Sport SAMBO, and then significantly improved the quality of his awards, having won gold at the continental Beach SAMBO tournament. In an interview for the FIAS website, Moises told about his path to these awards, compared Beach SAMBO with Combat and Sport SAMBO, and also assessed the level of organization of the Pan American Championships 2021.
You have become the Pan American Beach SAMBO Champion. How difficult was it to win the gold medal in this discipline?
– If you look at the competition as a whole, taking into account the preparatory process, then for me it was a difficult path. To participate in this tournament, I had to take a few days off from work. The conditions for training during preparation for the competition were also not the most comfortable: to get to the gym, I had to cover a distance of six kilometers every day. But the game was worth the candle, the efforts bore fruit, for which I want to separately thank all the guys who helped me, all the sparring partners, all the team members. It was thanks to them that I was able to achieve this victory.
How do you assess the value of this medal for yourself? To what extent is a medal in Beach SAMBO equal to a medal in Sport or Combat SAMBO for you?
– For me discipline does not matter. Of course, there are differences in style and strategy between Sport, Combat and Beach SAMBO, but for me a medal in Beach SAMBO is as valuable as any other medal, especially a gold one.
That is, for you, Beach SAMBO is a full-fledged sport, not entertainment?
– Sure. I take this discipline very seriously, I thoroughly prepared for competitions in which strong athletes from Sport and Combat SAMBO took part. I know that they approached this tournament responsibly and came to Colombia to win.
When preparing for the competition, did you pay equal attention to Combat, Sports and Beach SAMBO?
– I had a general preparation for the Pan American Championships. Unfortunately, there was no opportunity to prepare purposefully for the Beach SAMBO tournament. First of all, I trained to participate in Sports SAMBO competitions. I also wanted to compete in Combat SAMBO, but for a number of technical reasons I could not do it. But I managed to prove myself 100 percent in Beach SAMBO, which I am immensely happy about.
How do you assess the organization of the Pan American Championships in Colombia?
– In general, everything is good, the organization is at a decent level. Of course, there were some nuances, but they did not have a fundamental impact on the overall impression of the championship.