Just before Asian Championships a seminar for referees was held in Tashkent
Competitions
27 June 2017
Sergei Grishin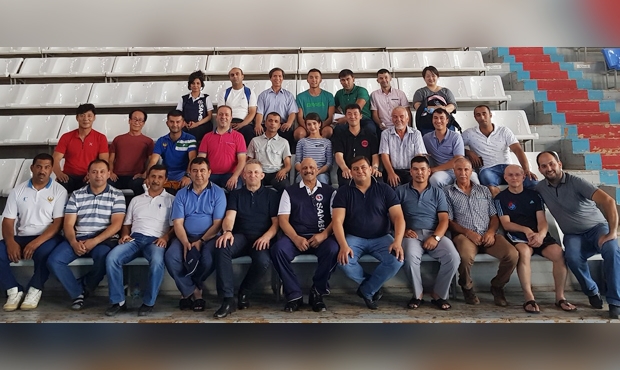 Today, on June 27, Asian SAMBO Union seminar for referees started in Tashkent. This event is held prior to Asian SAMBO Championships, which will take place in Uzbekistan from June 30 to July 2. The referees, who have successfully completed the course, will be allowed to work at this continental tournament.
24 referees, representing India, Iran, Kazakhstan, Kyrgyzstan, Korea, Mongolia, Turkmenistan, Uzbekistan and Japan, take part in the seminar. Within two days they will to delve into peculiarities of refereeing in theory and practice. According to the seminar's supervisor, FIAS managing director Sergey Tabakov, 18 seminar's participants are judges and referees who work directly on mat, while other six are specialists, who work as secretaries and are involved in competitions' technical assistance.
The seminar will end up with final testing, its results will show, who will obtain a license right away and who will still have to learn more about refereeing. Participants and spectators of Asian Championships will see successful "graduates" in the "Uzbekistan" Palace of Sports.