What winners of the Asian SAMBO Championships in Tashkent were talking about (Day 1)
Personalities
1 July 2017
Sergei Grishin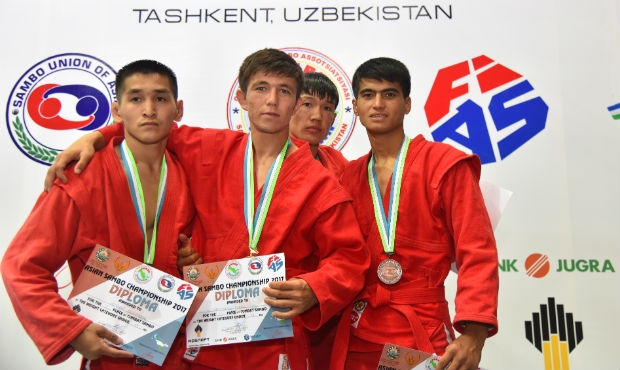 Athletes, who managed to win medals during the first day of the Asian SAMBO Championships in Tashkent, have shared their emotions with the FIAS website correspondents. The general sponsor of this tournament is the Rosneft Oil Company.
Liale Nuryieva (Turkmenistan), winner in the under 72 kgs weight category among women:
«Now I`m getting prepared for the Asian Indoor and Martial Arts Games, it will be the first SAMBO tournament ever held in Turkmenistan, my home country.  At the moment I`m training a lot, hope I can perform well enough. I`ll compete at my home ground, but I feel no pressure. On the contrary, it will boost my morale and I will do everything I can to win».
Chia-Wen Tsou (Chinese Taipei), bronze medalist in the under 48 kgs weight category among women:
«This bronze medal in Uzbekistan has become the first medal, ever won by Chinese Taipei at the Asian Championships. I`m delighted to have won this prize. I want more of my compatriots to go into SAMBO and win medals for themselves and our country. SAMBO is a relatively new sport for Chinese Taipei. And this medal makes me very happy. I hope it also motivates other sportsmen to practice SAMBO and improve their skills in order to represent our country on such a high level».
Saeed Imani (Iran), bronze medalist in the under 68 kgs weight category among men:
«I`ve participated in the Asian SAMBO Championships for the first time in my life and earned a medal right away, so I`m very satisfied. I consider a bronze medal a solid achievement for the first participation. In the future I`ll do my best in order to improve this achievement and fight for gold medals. This time I competed in the under 68 kgs weight category, however next time I won`t lose weight, so I`ll switch to the under 74 kgs weight category and try my hand there. During the ten years SAMBO has been actively developed in Iran. Not only adult athletes practice SAMBO at sports clubs, kids have joined them, they`re the future of our sport.  Besides that, women have also shown interest to SAMBO. We`re developing step by step and every medal, earned by Iranian sambists at international competitions motivate other sportsmen to work even harder. That`s why we participate in as many major international competitions as we can and do everything possible to improve our results.
Gulzada Zhyldyzbekova (Kyrgyzstan), bronze medalist in the under 60 kgs weight category among women:
«The medal I`ve earned means a lot to me. My parents are proud of me and I`ll also gain additional privileges in the college, that`s very important too. I`m so happy! It`s a shame, that I`ve failed to get a gold medal. But it took us 15 hours to get to Tashkent from Kyrgyzstan, we only arrived yesterday and I simply didn`t have enough time to recover. Hope I can strike gold in the future.
Neman Yokubov (Uzbekistan), winner in the under 90 kgs weight category among men:
«Today I`ve won the finals and the semi-finals due to the «Windmill» throw, which is my signature move. I started practicing SAMBO at the age of ten. Other athletes also use this kind of throws, they`re always very spectacular. Some people think, that such techniques are dangerous for your opponent, but it isn`t really so. When your opponent falls, mass energy spread prevents him from getting injured. Despite the fact, that I`ve managed to perform several spectacular moves, the finals were still challenging. It`s the Asian Championships after all, all participants are really strong, especially the ones who make it to the finals. I`ve earned already earned a gold medal at the Asian Championships before, but last time I managed to do it at the Youth Championships. Now I`ve won an adult continental tournament. Now my primary goal is earning a gold medal at the World Championships