Interviews with winners of the 2nd FIAS President's SAMBO Cup
Personalities
1 September 2016
Sergei Grishin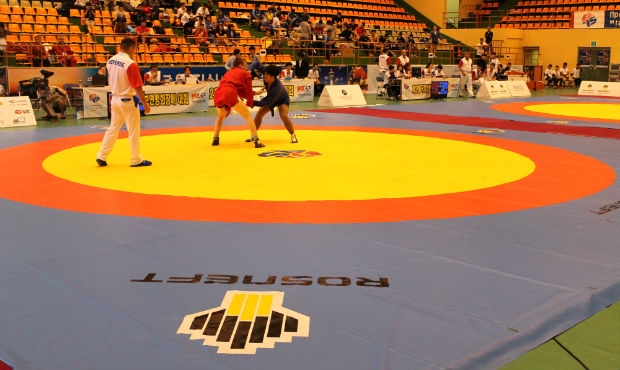 The FIAS President's SAMBO Cup 2016 was held in Donghae, Korea, on August 30 and 31. Rosneft Oil Company was the General Sponsor. For two days, sambists from 10 countries competed for prizes at the sport and combat SAMBO tournament. Read about what the competition winners talked about in our report on the FIAS website.
Korean Song Ha Sung won a gold medal for his country in the weight class up to 62 kg in sport SAMBO. Immediately after he won, he became a target for photo and TV cameras of all media representatives and gave about ten interviews. One of them was for the FIAS website.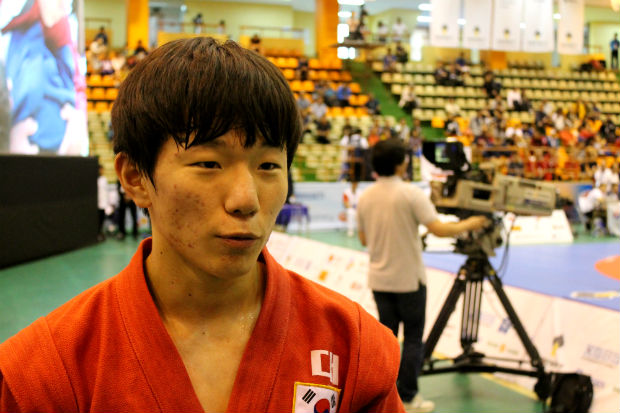 "I recently competed in a SAMBO tournament in Vladivostok, Russia. Of course, it was difficult there, not only because of the opponents, but also because I was in another country. I was much more comfortable competing in the FIAS President's Cup in Korea, because I was at home. I think this was mainly why I was successful. I was hardly worried at all and was able to win a gold medal, so I'm incredibly happy. I'll tell you a little secret: there were special tactics that helped me win - a double leg takedown and an attack on the ground," the Korean sambist confided.
"I practiced judo for 7 years and I started learning SAMBO at the same time. This martial art has a lot of interesting features. It caught my attention, and winning the Cup in Korea has increased my love for SAMBO. I want to take part in various international tournaments, and I dream of winning at them. It's important that people know my name, because I want to become a famous athlete! I'll compete in SAMBO, and when my sports career ends (hopefully, this won't happen soon), I'll definitely become a SAMBO coach," Song said.
Russia's representative Maxim Kirichenko has already achieved what the Korean dreams about. After wining a gold medal in the 100 kg weight class, the athlete admitted that this was his last competition in his sports career.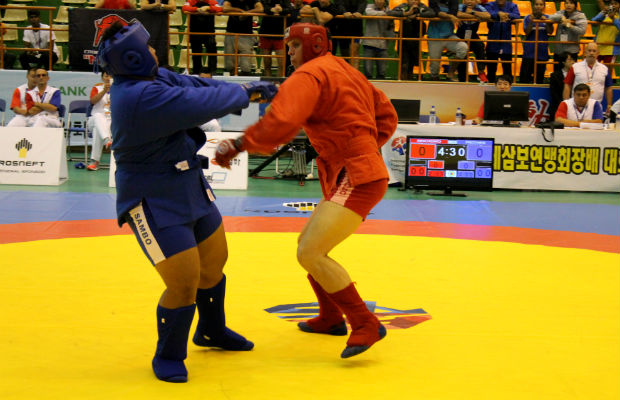 "This is my last competition. I'm not young anymore, but I think I did quite well for a final tournament. I'm glad I was able to add another gold to the Russian team's collection. I train children in SAMBO, but my main job is on the sports committee of the town of Sovetskaya Gavan in Khabarovsk Territory. I'm involved in promoting SAMBO at the administrative level. SAMBO is a fascinating hobby: I compete and train children," Kirichenko said.
"I saw that all my opponents were very heavy, so there was no sense fighting with them. I decided to base my fight tactics on strikes. In last year's FIAS President's Cup I fought in sport SAMBO, because I had to replace a fellow team member who dropped out. I also won then. Now is the time to develop sports and promote a love for it in people at the administrative level," Kirichenko said.
"Confidence" is the best word to describe the performance of Ririkh Sugimoto of Japan. She was very focused on the mat and proved herself as the clear favorite in the weight class up to 68 kg.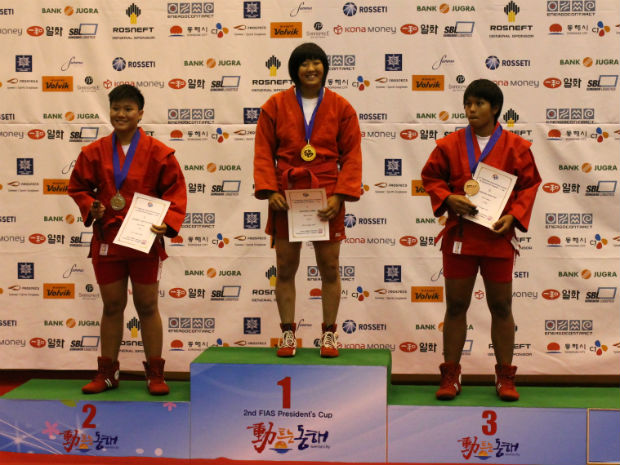 "I trained hard to win a gold medal in this tournament, so I was able to go the distance quite easily and achieve my goal. When I get home, I'll be sure to give all my friends more details about how the SAMBO tournament went, and the atmosphere that prevails at an international competition," she said.
"This is my first SAMBO tournament on this scale, and in the next few days, I have to decide whether I'll be able to participate in the World Championships being held in Bulgaria in November. This year, I started my first year of university, so I don't have much free time. But I think my teachers will accommodate me for such an important event," Sugimoto says.
Uzbek sambist Sherbek Ruziev didn't hide his joy at winning at the FIAS President's SAMBO Cup in the weight class up to 74 kg in sport SAMBO. He joyfully celebrated his victory on the mat right after the match, and was deeply moved as he stood on the podium when his country's national anthem was played.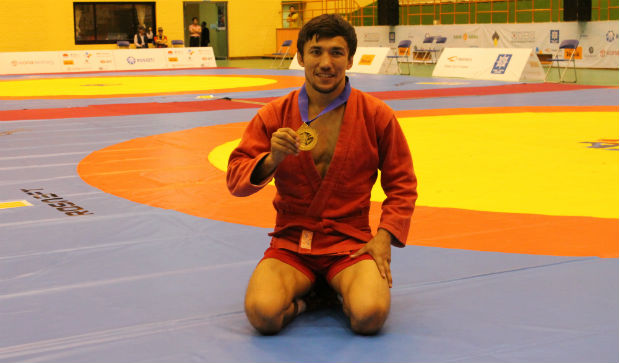 "My coach and I trained for this tournament on Korean time at home. There's a 4-hour difference, so every day we got up at 6 am and trained earlier than usual. As a result, when I arrived in Donghae, I had no problem acclimatizing. I changed to a local routine almost immediately and without any loss. I think this was the main reason I was able to win," Ruziev said.
"I'm very grateful to my mentor, Ravshan Akhmetzhanov, President of the SAMBO Federation of Uzbekistan, for organizing my training system so competently. Words can't express my feelings at the moment I stood on the podium and listened to our country's national anthem being played in honor of my victory. Right now, I have an incredible feeling of pride in myself and my country," Ruziev concluded.