Polina KRUPSKAYA: "There is no room for error in Beach SAMBO"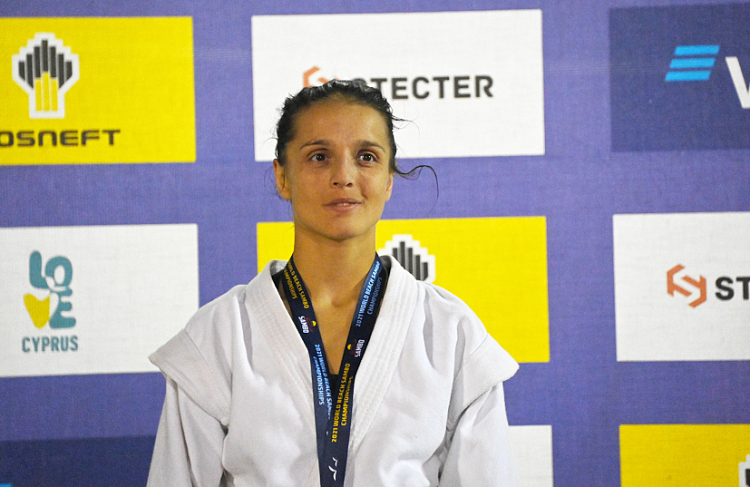 Polina Krupskaya from the RSF national team became the first world champion in Beach SAMBO in history. She was unmatched in the lightest weight category - up to 50 kg among women. In an interview with journalists, the sambist named the main differences between Beach SAMBO and Sports SAMBO and explained why it is especially difficult to fight on the sand.
– How does it feel to be the first world champion in Beach SAMBO in history?
– Honestly, lately this is the third such case, because in another sport I won the first "gold" in the history of the country, then I won the Russian championship in Beach SAMBO in Anapa, now I took the lead here in Larnaca. Therefore, it can be called a very good habit.
– Your fight with Ukrainian Anastasia Bezatosnaya against the background of the other finals turned out to be the most stubborn...
– I think many athletes know me from the distant days of SAMBO. I have always relied on wrestling in which endurance and speed come to the fore.
– Judging by the way you moved even in the third minute, it seemed that you were ready to spend a couple more fights. Is it really so?
– Hope. And it's good that it looked like that.
– But towards the end of the fight you already felt tired?
– No, just the referee raised my hand and awarded me a victory in the first minute of the fight, and then consulted with the referee's table and canceled her decision. This was quite unexpected. I turned out not to be ready for such a turn of events. Unfortunately, I allowed myself to be slack and let my emotions get the better of me, but I pulled myself together in time and continued to fight.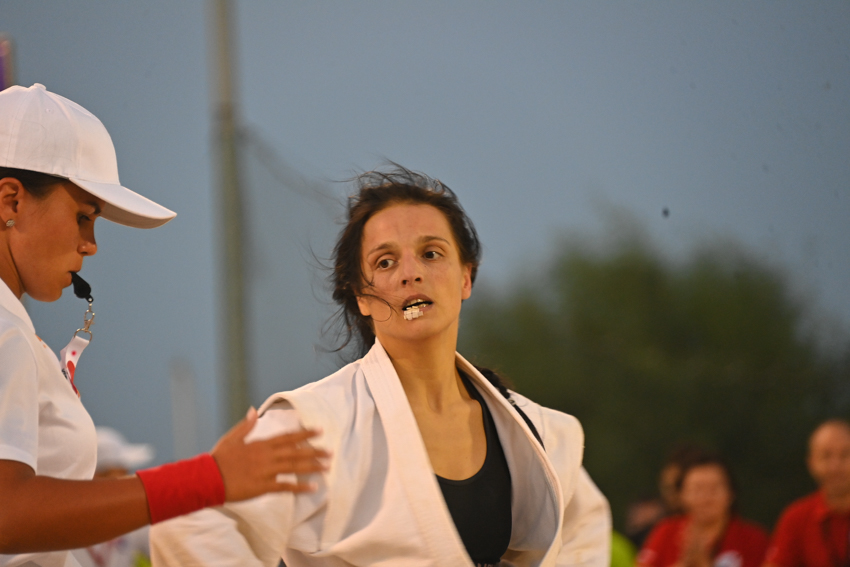 – What are your impressions of the tournament itself? What is it like to perform in the evening under the floodlights on the street?
– I can't say that this is new, because in other disciplines where I fight, competitions are held in a similar format. Each category starts at a specific time. They are "played" in two or three hours without rest, and you go home. It usually starts at night or in the evening. On the one hand, I liked this format, because all of us, athletes, feel fear and anxiety and sometimes sleep badly at night. There is also an opportunity to recover during the day and take a nap. Unfortunately, they delayed the opening a little, I tried to get out for half an hour. Only this confused me. Otherwise, the organizers are great!
– In 2009, you became the world champion in Sports SAMBO. Are the emotions different then and now?
– Since I am fighting in another sport, any victory is an indicator that I was heading for something, struggling with my fears and anxieties. Moreover, I am not just fighting, but working. I have a family, and suffering does not go to waste. This is very pleasant, as it would be in any other area.
– How did your acquaintance with Beach SAMBO come about?
– I can say thank you to Mikhail Martynov. We are colleagues. The performance at the Russian championship in Anapa turned out to be very spontaneous. When the selection for the Moscow championship took place, I was at the European wrestling championship and could not take part. Mikhail Gennadievich said that my weight is small and I can try. For a week and a half decided that I would try. Unfortunately, at that time I had no experience of fighting in a standing position for several years, since I wrestle mainly in grappling, where there is more fuss on the ground. I went to workout, listened to advice. Thanks to Alexander Perepelyuk, Anastasia Kondratyeva and everyone who was with me at the training camp. My work was corrected, and I remembered my old skills.
– Is Beach SAMBO very different from the classic one?
– As Mikhail Gennadievich said: "This is your fight!" That is, you need to turn on the speed and fight. Like in SAMBO, I fought traditionally, so I didn't feel much difference.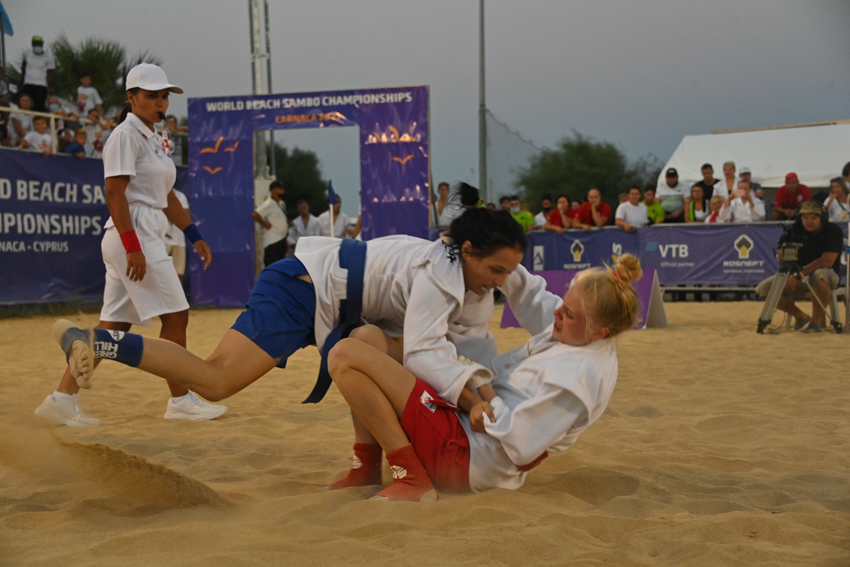 – Where was it more difficult to compete: at the world championship or at the national championship in Anapa?
– Here I felt quite comfortable. In general, I have been struggling for a long time and always strive to do it well. My job is to go out and show my maximum. I'm glad that everything worked out in my favor.
– You said you are working now. That is, sports are not your main occupation?
– I work in national teams, organize SAMBO competitions. I also train children in other sports.
– Before the tournament in Larnaca, did you think about ending your career at a professional level?
– I am still fighting and I am a member of the national grappling team. For example, in a couple of weeks the selection for the world championship starts. I travel periodically. And I stopped competing in SAMBO in 2017. Probably, time will tell. It is difficult to guess, but the struggle does not let go.
– How did the preparation for this championship go – on the mat or on the sand?
– Throughout July we trained in Serebryany Bor at least three times a week. Moreover, classes began at seven in the morning. For a month, Mikhail Gennadievich came and picked me up. There they already fought on the sand, then swam and drove to work. So I give him great respect for the preparation.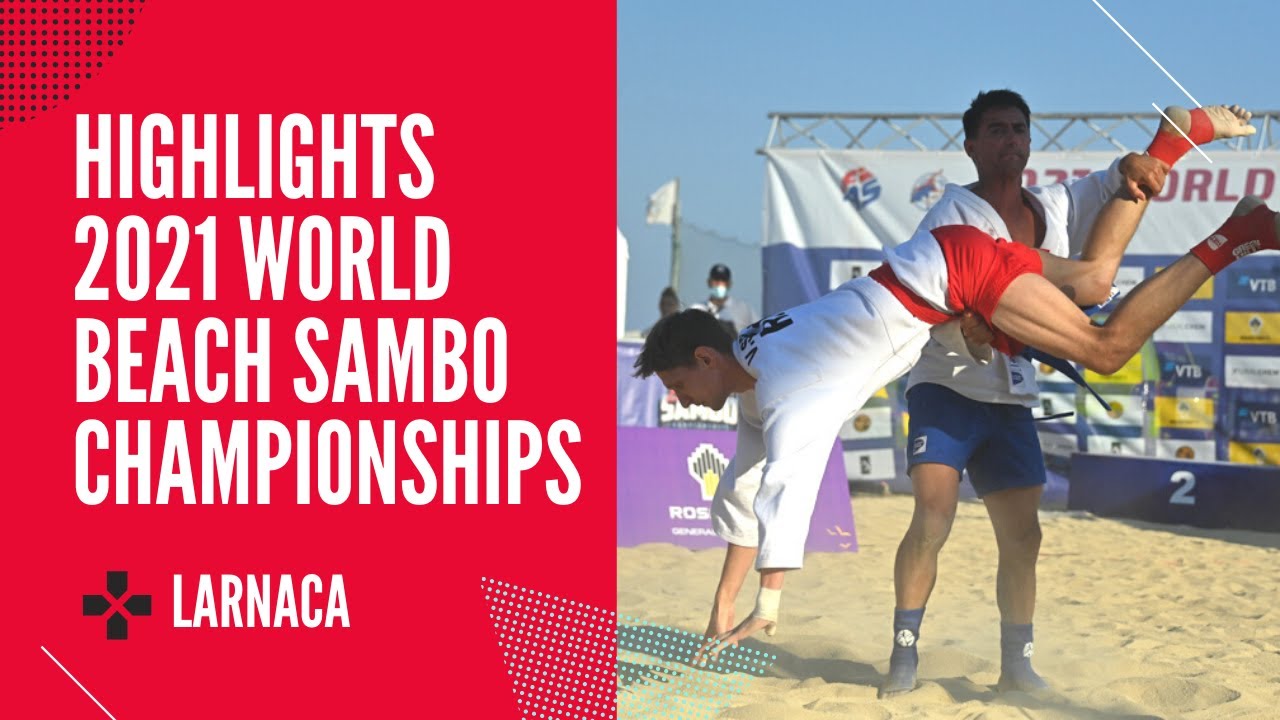 – The main differences between Beach SAMBO and Sports SAMBO are the lack of room for error, a different stance and the presence of sand.
– Yes you are right. There is no room for error. No different anymore. It is clear that the viscosity of the sand is different. For example, in the semi-finals of the category up to 72 kg, Tanya Zenchenko fought with Olga Maleiko. From the side it seemed that the Tanya was marking time, but in fact she was trying to turn around. It's just that there is a different grip on the sand, and it's not so easy to do this, because your feet get bogged down, and you bury yourself.
– Experts predicted a large number of sensations, but the favorites looked more than confident. What is the reason?
– Obviously, the increased responsibility and concentration did their job, no one wanted to give in. Falling on the sand is easy enough, and if you are flying, then there are no options. I repeat, you cannot turn off and relax for a second – otherwise there is a great risk of missing an appointment. There really were no surprises on Saturday.
Source: russian.rt.com