"Simple, Compact and Hospitality" — this is the concept of the 2014 World Sambo Championship in Japan
Official
17 October 2014
Sergei Grishin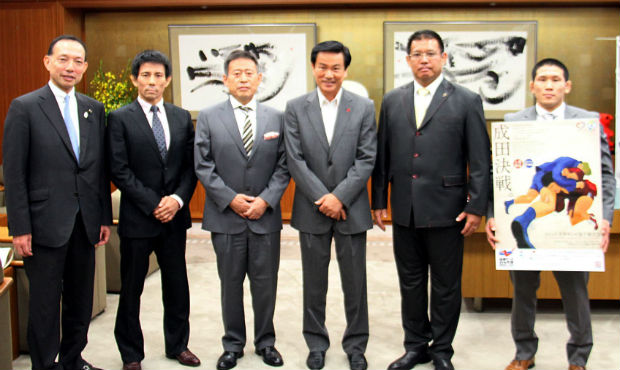 A month before the start of the World Sambo Championship, representatives of the Japan Sambo Federation made a courtesy call on the governor of Chiba Prefecture. The city of Narita where the 2014 World Sambo Championship will be held is in this prefecture, and as the meeting confirmed, the event has the full support of the local government. The concept of the upcoming Championship was presented at the end of the meeting.
Masaaki Kondo, the President of the Japan Sambo Federation, Nobuyuki Asai, the Vice President of the Federation and a member of the FIAS executive committee, Hidehiko Matsumoto, the head of the Japanese delegation to the World Championship, and the legendary Japanese samboist, Kota Eto, were present at the meeting with the Governor of Chiba Prefecture, Kensaku Morita, on October 15.
In his opening speech, Masaaki Kondo spoke about how preparations for the World Championship were going and the progress already achieved. He presented Kensaku Morita with a Championship poster that was still "hot off the press". The President of the Japan Sambo Federation expressed the organizing committee's determination, saying: "We will make every effort to hold the World Sambo Championship successfully at the highest possible level."
In return, Governor Morita said: "I greatly appreciate all the efforts and teamwork of the people involved in preparing for this Championship. When I spoke with the Mayor of Narita, I asked for his support for the upcoming Championship. We would like to thank you for your decision to hold the Championship here in Narita."
At a press conference following the meeting, the representatives of the Japan Sambo Federation presented the concept for the 2014 World Sambo Championship. "Simple, Compact and Hospitality" — these words are the cornerstone of the Championship, which starts on November 21 in Narita. This city could be considered the gateway to Japan, since this is the location of Narita Airport, the country's second largest in terms of passenger traffic and the largest in cargo turnover. Now it will enter history as the site of the World Sambo Championship.
"Sambo as a sport is still developing in Japan, and is still not widely known. But when people learn about sambo, they see a lot of advantages in it, even in comparison to traditional Eastern martial arts. Our Federation expects that sambo's allure and friendliness will increase its popularity in Japan, thanks to the World Championship starting next month," Nobuyuki Asai said.
The World Sambo Championship will be held during Russian-Japanese martial arts exchanges and the celebration of the 60th anniversary of Narita's amalgamation. The organizers invite spectators to Narita's Nakadai Sports Park. Nearly 600 competitors from all continents are expected to take part in the Championship.