Sambists from 10 countries will perform at the World SAMBO Cup in Kyrgyzstan
Competitions
21 August 2023
Anton Orlov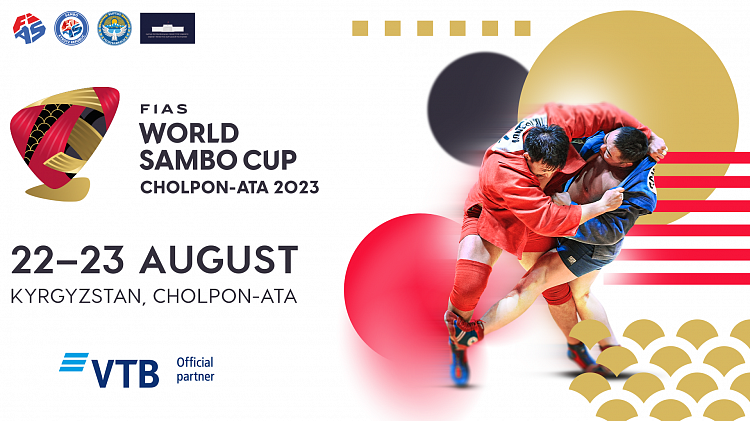 The Kyrgyz city of Cholpon-Ata will host a major sports tournament from August 22 to 23 - the World SAMBO Cup 2023. Men and women in Sport SAMBO and Combat SAMBO will compete for the title of the best athletes in 24 weight categories.
The official partner of the World SAMBO Cup in Kyrgyzstan is VTB Bank.
It is expected that teams from Armenia, Bulgaria, Cameroon, China, Kazakhstan, Kyrgyzstan, Turkmenistan, Uzbekistan, as well as athletes from Russia and Belarus, who, in accordance with the decision of the Executive Committee of the International SAMBO Federation, will compete under the FIAS flag, will take part in the competition.
Competitions will be held in the following weight categories:
Men: 58 kg, 64 kg, 71 kg, 79 kg, 88 kg, 98 kg, +98 kg
Women: 50 kg, 54 kg, 59 kg, 65 kg, 72 kg, 80 kg, +80 kg
Combat SAMBO (men): 58 kg, 64 kg, 71 kg, 79 kg, 88 kg, 98 kg, +98 kg
Combat SAMBO (women): 59 kg, 65 kg, 72 kg
"This year we are resuming the practice of holding World SAMBO Cups on different continents. By increasing the number of international competitions, we help athletes gain new experience and improve their professional skills. This is especially important given the Olympic prospects of our sport, because in 2021 FIAS received full recognition from the IOC.
I am very glad that representatives of three continents – Asia, Europe and Africa – will come to the World Cup in Asia this year. At the same time, the audience will once again see fights in Combat SAMBO among women. This format is becoming more and more popular among fans. I am sure it has a great future," said Vasily Shestakov, President of the International SAMBO Federation.
[VIDEO] Announcement of the World SAMBO Cup 2023 in Kyrgyzstan