Yellow taxis, "all that is mine I carry on my head" and some other peculiarities in 2014 African Sambo Championship's capital
Кaleidoscope
26 September 2014
Sergei Grishin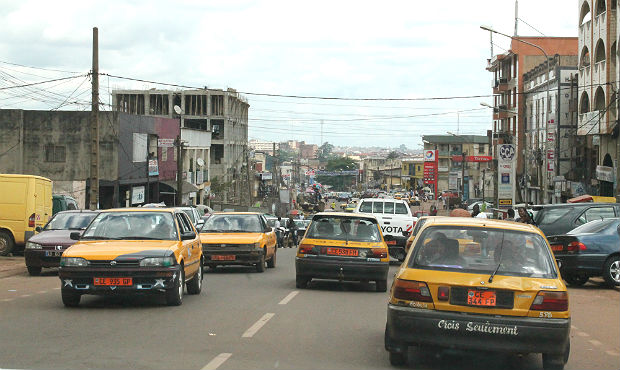 African Sambo Championship starts in Yaoundé, Cameroon, this Saturday, September 27. While the athletes practice in anticipation of important combats and organizing parties are busy with the finishing preparations, we are going to share with you our impressions on Cameroon's capital which hosts the continental sambo championship for the first time ever. How to hold your belongings to keep your hands free? What summons the devil and invokes its wrath? What Yaoundé and New York have in common? The answers to these and other questions you may find right now on FIAS website.
When somebody mentions about many yellow taxis, the first thing that springs to mind is the image of New York and its straight streets jam-packed with these vehicles. However, the legions of taxis can be found not only in America, but in Africa as well. The streets of Cameroon's capital city, Yaoundé, are far from having a regular geometric shape, but the quantity of taxis per capita is relatively similar to New York's.
"We have lots of taxis, and all of them are yellow – it is a compulsory condition. In Yaoundé, this is the principal transport means, however, there are still not enough of them as more than 5 million people live in the city and most of them use taxis," says Magellan, our driver.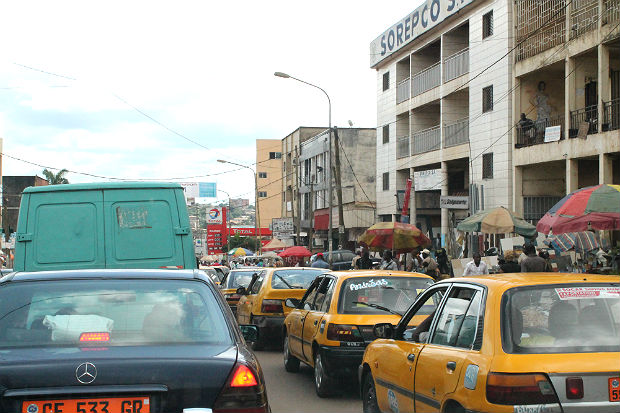 It seems that a high demand for traveling in these yellow cars with chequers lead to a peculiar way of their use. It is difficult to say what you need to do if you want to ride a taxi alone or just with your own company. Most commonly other passengers get in or out of your taxi along the way. Moreover, the taxi is deemed to be full only when there are 6 people in the car, not 5 as it have been intended by the car manufacturer. The same concerns motorcycle taxis: As the experience shows, the driver and two passengers may feel quite comfortable on a single motorcycle. The route is adjusted along the way: Potential passengers standing by the side of the road ask taxi drivers about their destination while those slowly move in traffic jams. If the route is suitable, they negotiate the price and the new passenger joins the others in the taxi.
As for the cars being exploited as taxis, at a glance it is absolutely not clear how they can still move. Patched with tape in different places, dented and scratched, having broken windows and half-open trunk, nevertheless, they confidently move along their vectors. Perhaps, this is just another evidence proving that the appearances are deceptive.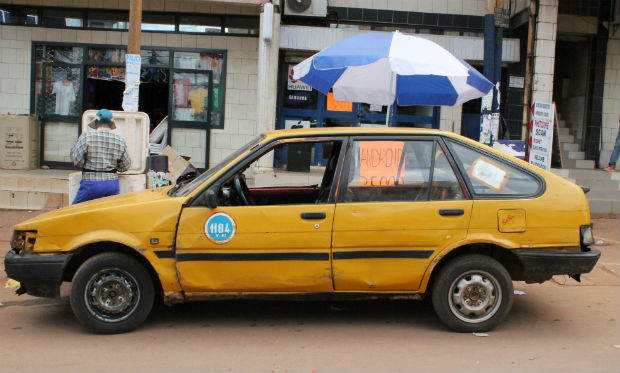 Generally, the cars without dents, scratches and cracks are rarity in Yaoundé. This happens because of the road traffic rules that seem not to exist here, at least not in a written version. The vehicles move chaotically and slowly, and choose to give way to others according to their own kind of logic. We were able to identify only one more or less working pattern: The bigger and the more expensive your car is (and the less scratches it has), the more willingly people give way to you.
Once we doubted the fact that drivers have any licenses in Yaoundé, our driver Magellan proudly demonstrated his license to us. After which he gave an abundant reason for its existence, "The license is necessary because if a person is blind then he cannot drive. So the license will not be granted to blind people."
Magellan decided not to speak about other criteria for giving out driver's licenses having left us wondering whether they even exist.
However, not only the drivers surprise you in Yaoundé, but the pedestrians as well. If you have lots of staff, but no car to transport it, where would you place it? Here's a hint: Your hands should be left free. The correct answer is to hold it on your head. That is exactly what a good quarter of population does in Yaoundé. Men and women, children and elders hold their belongings on their head, and that said they quite skillfully maneuver in traffic flows while crossing the roads with agility of a panther and speed of a cheetah. We were able to notice many of such carriers…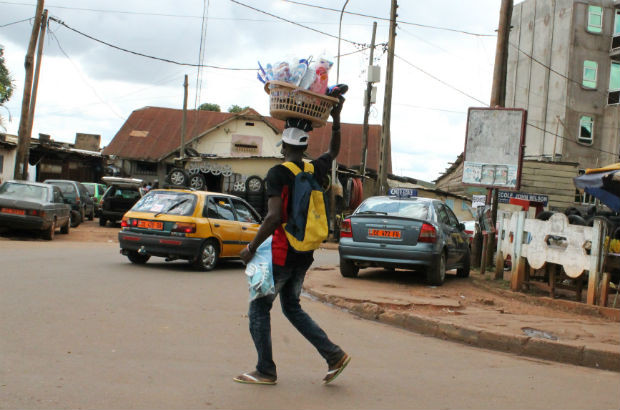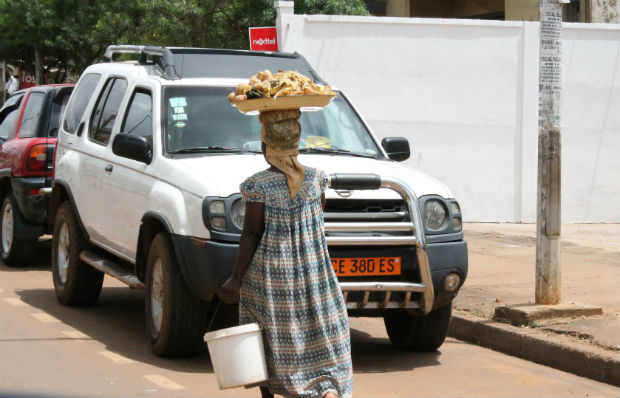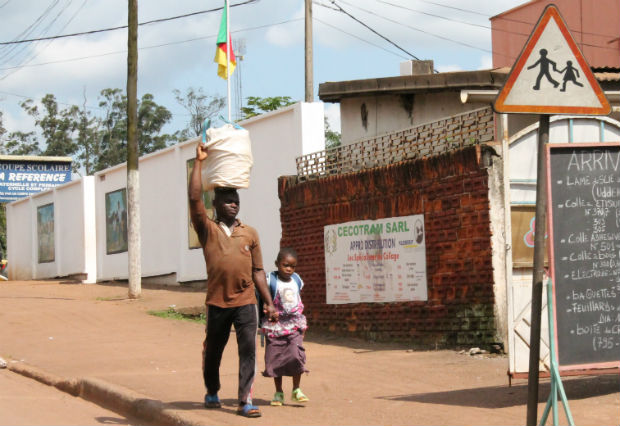 …but the garland of victory should be given to this boy.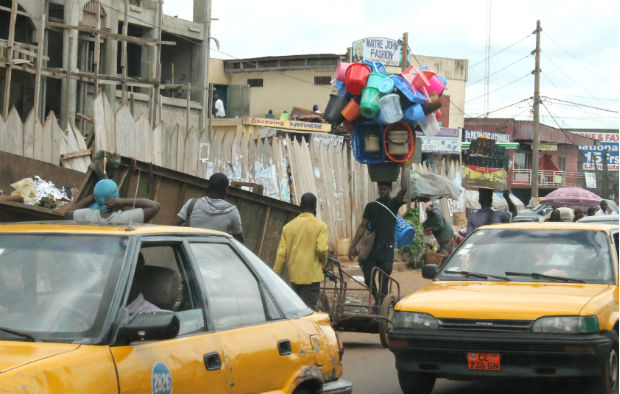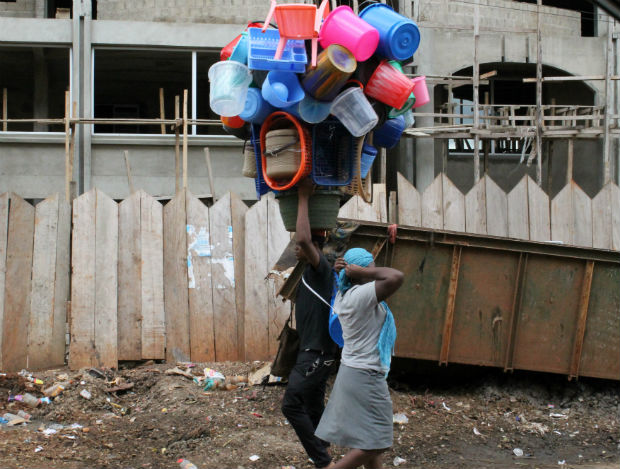 It seems that this skill is impossible to apprehend – it should be learned at mother's knees. However, people start to study here almost from the cradle. As soon as the child starts to speak and walk it may be sent to school; or may not. That is why the first classes in schools unite the children from 3 to 7 years old. When the lessons are over, some pupils may go home by themselves…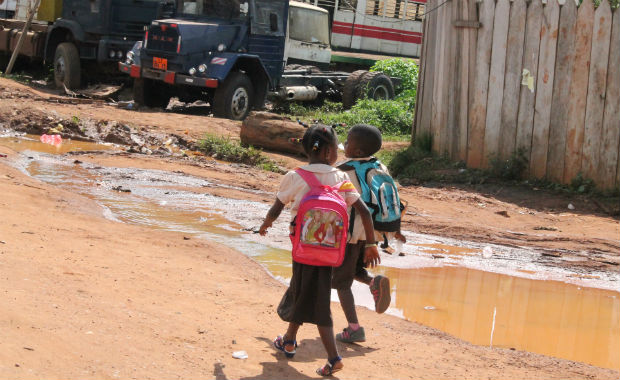 …and some of them are taken and carried away by their parents.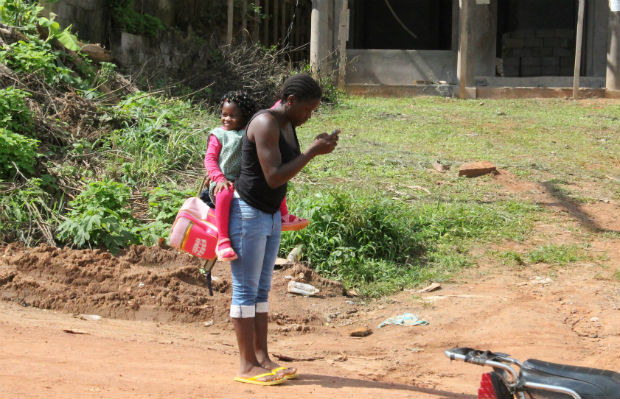 This approach to education seems to be common practice, and at the same time a camera or a recorder cause an emotional storm in Cameroonians. They start to pose and get offended if you don't snap a photo of them or record a video. Others, out of a joke or in good earnest, demand payment for taking photos of them. And some of them earnestly and responsibly claim that your hellish machine (in the form of photo and video equipment) summons the devil and invokes its wrath upon people. It is near to impossible to dissuade such people; you may take our word for it.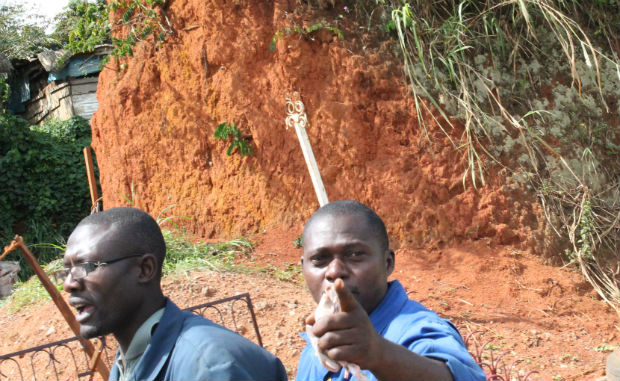 Do you know what the best way is to tell Yaoundé citizens about sambo and the upcoming African Sambo Championship? The most efficient way is to walk down the streets and to call out to the whole neighborhood about the upcoming event. This was done by the competition's organizers who have equipped a volunteer team in a special bus covered in posters presenting the Championship. With the help of a microphone and speakers a cheerful animator was spreading the information to people found in the "hitting range" of this bus…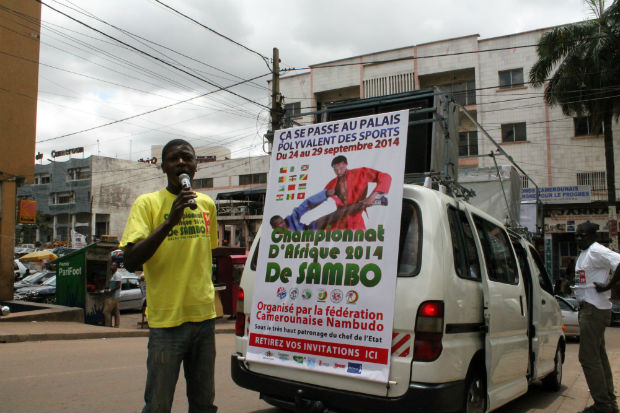 …and lovely girls were reinforcing the learned information by giving out invitations to the competition.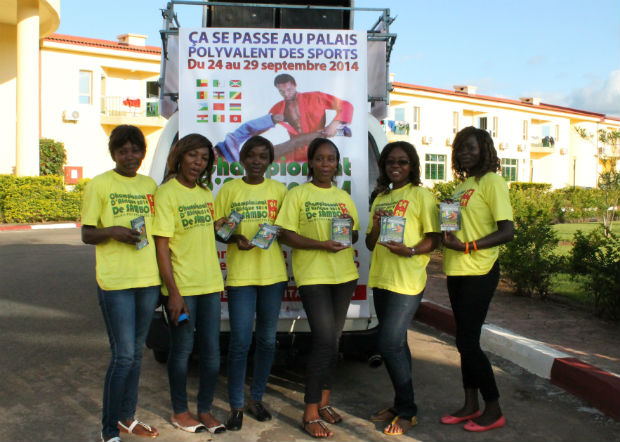 Very soon we will learn to what extent such advertising method can successfully attract the audience. As for the sambo athletes, each of them will try to demonstrate the maximum abilities at the continental championship, not allowing the audience to get bored. Now the sportsmen live and practice in an excellent football center within several dozens of kilometers from Yaoundé and intensely prepare for the competition. About the preparation process and athlete's expectations concerning the upcoming event, read in our next on-the-spot report.