Aida TOISHIBEKOVA: "I am Proud of my Homeland"
Personalities
7 November 2021
Anton Orlov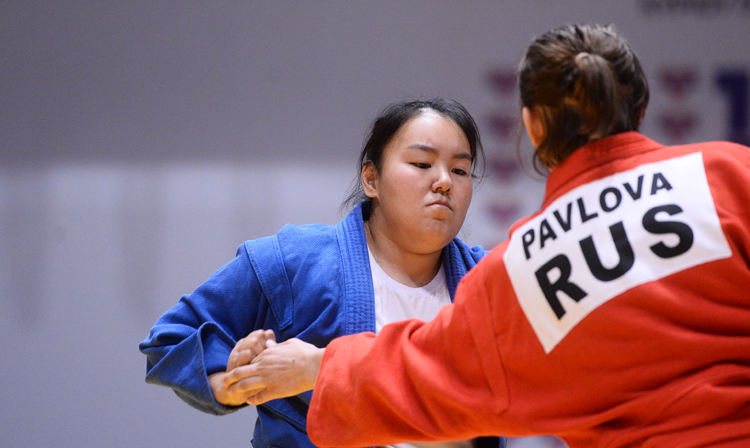 Kazakh athlete Aida Toishibekova became the winner of the World Youth and Junior SAMBO Championships in the over 80 kg weight category among youth. Immediately after the final fight, she talked about how difficult the path to the gold medal was, the role of the coach in her victory and plans for the future.
Aida, how would you rate the competition?
- The competition went very well, I am satisfied with the result and the quality of my struggle. Preparations for the tournament were active, the trainings were diligent, I am glad that all this has borne fruit.
What can you say about your rivals?
- The opponents were strong. But the first fight was especially difficult – with a Ukrainian athlete. Fortunately, I managed to win.
What tactics did you have for the final match with the Russian sambist?
- The task was to take hold and fight in your own way. And so it happened.
Did you prepare in advance for a meeting with a Russian woman?
- In training, we are actively preparing for different rivals, practicing all kinds of tactical schemes. We did not prepare specifically for Alisa Pavlova. This was my first meeting with her, so I had to carefully observe her fights, study the peculiarities of the struggle, and often improvise during the meeting.
To date, winning this tournament is my highest achievement in SAMBO.
Why did you choose SAMBO?
- I came to SAMBO from judo. I like SAMBO, it was my physiology.
How do you assess the coach's contribution to your victory?
- Very high, this is our common victory with the coach.
How do you feel when you stand on the pedestal and the national anthem sounds in your honor?
- I am proud of my Homeland and the fact that I was able to contribute to the collection of medals of our national team.
What are your plans next?
- The highest goal is the Olympic Games. Until then, I will try to win the youth and senior world championships.
[VIDEO] PAVLOVA Alisa (RUS) vs TOISHIBEKOVA Aida (KAZ). Youth W +80 kg. World Youth and Junior Sambo Championships 2021