Iosif SIMIN: "I do not like to wait for a long time"
Personalities
4 November 2021
Anton Orlov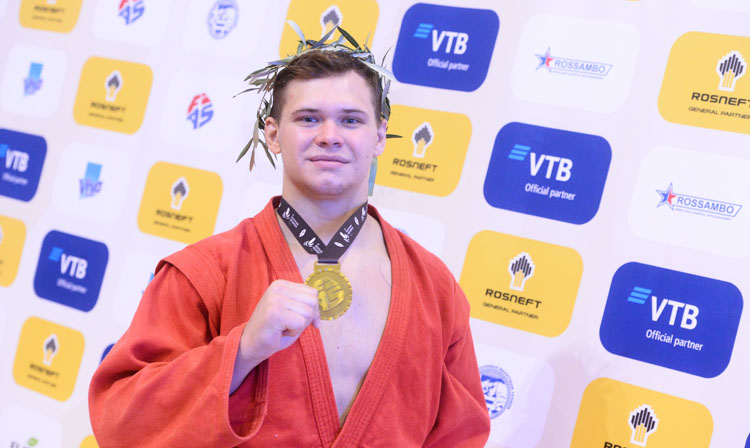 Russian Iosif Simin became the winner of the World Youth and Junior SAMBO Championships, held in Thessaloniki (Greece), in the weight category up to 98 kg among juniors. After winning the final of the tournament, the Russian athlete shared the secrets of success, talked about his coaches and sparring partners and how he had to improvise during the fights.
At the Youth and Junior Championships in Greece, you won several early victories, including in the final...
- Yes, with painful techniques.
How did you manage it?
- I do not like to wait for a long time. Today I was able to quickly see the mistakes of my opponents and successfully took advantage of them, so everything turned out pretty quickly.
The Belarusian athlete showed good physical shape in the final, but this did not stop you from winning an early victory...
- Yes, this is really a physically strong and rather uncomfortable opponent, but I was ready to fight and knew how to act.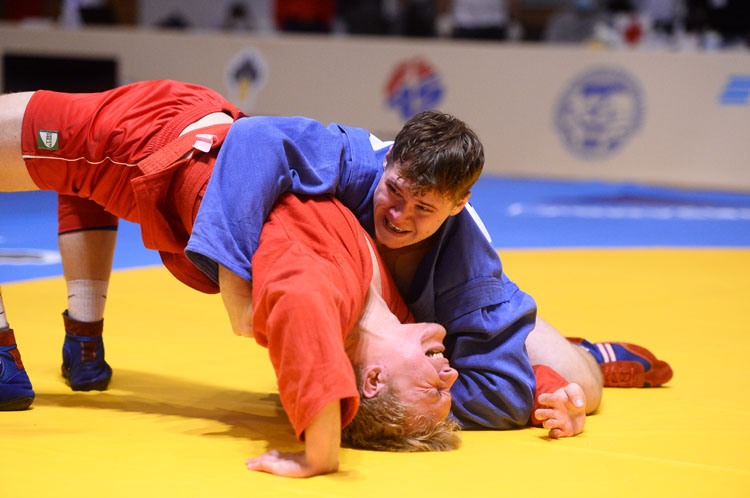 When you went to the final fight, it seemed from the outside that you were not even particularly worried - with a smile on your face...
- Of course, the jitters were, but the jitters were healthy, athletic, motivating. I tuned in for this fight for a long time, I walked for it for a long time, I realized that I was one step away from victory and had to win. And no matter how long the fight lasted, how many points and comments I would get, I knew that I would win the fight, and with it the world championship.
What is the secret of your preparation?
- The secret is that I was very lucky with the team: my coach Dmitry Borisovich Kabanov, coaches Dmitry Viktorovich Bogatyrev, Alexander Borisovich Bobylev, Pavel Nikolaevich Talyzin and Vitaly Viktorovich Salnikov. We have a very large team - the SAMBO-70 team, thanks to which we succeed in developing successfully. I have good opponents and sparring partners, on whom I can work out various schemes. I think my opponents do not have so many sparring partners and such outside help. It is probably due to all these factors that I was able to perform so well today.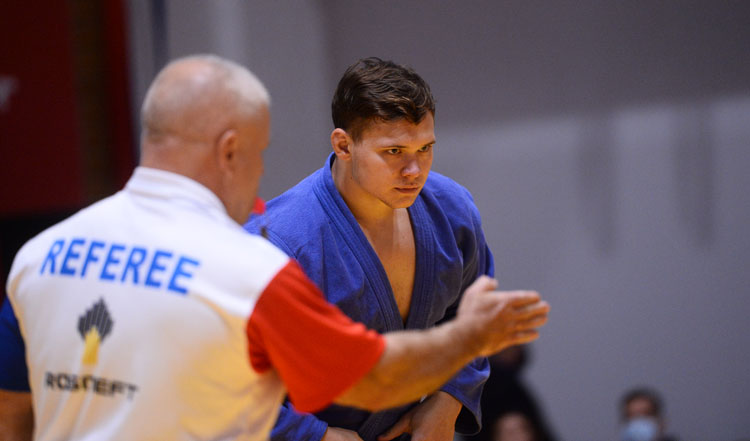 Have you studied your opponents during the fights or have you already had the experience of meeting these guys?
- Honestly, everyone I met before, tuned in to and studied, did not come out against me today. Unfortunately, the Georgian national team did not fight, and I considered their athlete as the main rival. I also tuned in to the winner of the Asian championships, with whom I fought at the CIS games, but he lost to a Belarusian athlete who came out against me in the final. Therefore, there was an improvisation all day.
How are you used to celebrate?
- Usually I come home, my beloved grandmother is making a cake, we are going with the whole family. And the next day we will forget about the victory and go forward - towards new goals.
[VIDEO] BESMAN Mikita (BLR) vs SIMIN Iosif (RUS). Junior M 98 kg. World Youth and Junior Sambo Championships 2021