European games in Baku: just a few hours left till the start of the sambo tournament. Part 2
Competitions
22 June 2015
Sergei Grishin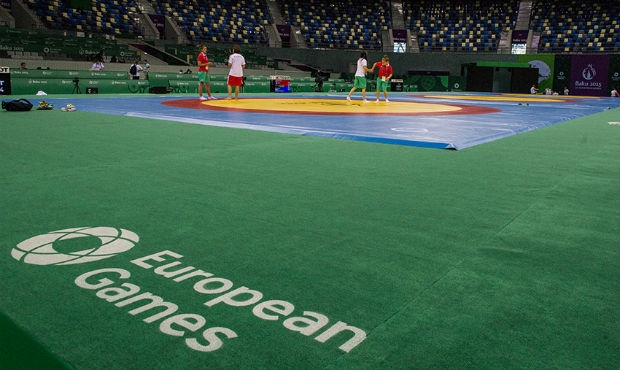 The first European Games in history. Sambo is in the program of the tournament among 20 other sports, 16 of which are Olympic. 8 weight classes, 72 participants, 21 countries. But all those numbers mean nothing without those who will make sambo history of European Games tomorrow. What is happening to our heroes – athletes, coaches and officials – in the arena named after Heydar Aliev a few hours before the sambo debut you can read in today's report.
Romanians: we'll go to the beach only after the tournament
The girls of the national sambo team of Romania talk about their impressions of Baku eagerly because they came here among the first ones, on June 9, and Daniela Hondiu is writing a blog for the FIAS's site: "It's great, we enjoy this wonderful sport feast, we are overwhelmed with many emotions and impressions. We walk and train. We have visited the old town and tried the delicious Azerbaijani cuisine. Thank God no one in the team is watching their weight. We haven't been to the seaside yet, the coach said we are allowed to go only after the tournament as the sun and the water are energy consuming. As for the Games themselves, we have visited the competitions among gymnasts and wrestlers. Unfortunately, our guys were left without medals, but we hope our basketball players will compensate, they are the champions of Europe. And our fans are sure rooting for us."
Bulgarian hopes for a medal from Ivan Netov
"In the category of 57 kg Bulgaria will be represented by a young guy Borislav Yanakov who was third at the European Championship this year in Zagreb. He has good ambitions, and I think he has a good chance to win a medal here in Baku. This would be an excellent result for him and a success for our team. In the 74 kg category we have Martin Ivanov. He usually fights in the category of 68 kg but now he went up to a heavier weight category. He can both win and lose, you can't tell. Moreover, he can take on any leader: it all depends on how he will fight. Maybe he even wins a gold though this is not a familiar category for him.
In the category of 52 kg among women we have a young girl called Magdalena Varbanova who is the world champion among youths. In Zagreb she came third, we hope she will gain a medal here. In the 60 kg category Bulgaria is represented by a three-time world champion Kalina Stefanova. She usually fights in the weight category of 56 kg but for the Games she went up to a heavier weight category. She has experience and ability to win and we believe in her. In the 64 kg we have the world champion Vanya Ivanova, we also hope for a medal for her. In the 68 kg we have a young girl Gabriela Gigova, we'll see how it goes. Here at the games the team of Bulgaria that consists of 120 people as far has taken only 4 medals: one silver and three bronzes won by the fighters. Let's hope that tomorrow we will fix that statistics."
Radvilas Matukas (Lithuania): the wind helps and saves
Radvilas Matukas whose brilliant performance at the European Championship this year in Zagreb (2nd place) remember all professionals and amateur sambists said before weighing: "I'm looking forward to this start, though this is not my category: from 82 kg I had to climb up to 90 kg. Let's see how the fight goes. My memories of Baku as far are the heat and winds which help to survive the heat. Without the wind it would be quite intolerable. During the evening stroll you even have to throw on a warm jacket cause it's rather cool. But in the hall tomorrow it will be very hot, I don't doubt it."
Veronica Kozlovskaya: I expect to be pleased
Head coach of Belarus Veronika Kozlovskaya told FIAS's site that tomorrow she celebrates her birthday. "I've asked all the guys and girls just for one thing: give me a treat, show me beautiful struggle and victory. Tomorrow I will see what fight my wards will show me."
President of the Sambo Federation of Greece Merabi Iliadis will root for his son
At the tournament in the weight category of 74 kg Merabi Iliadis's son Mirman Iliadis will fight. He spoke about his impressions of the European Games: "We arrived in Baku on the 16th. I was very impressed with the arena where we will be fighting tomorrow. It's very beautiful and modern. I'm also impressed by the athletes' village, home to all the athletes. It's very convenient, comfortable and functional."
Merabi Iliadis: "I won't show the results of the draw to my son. What does it matter who he will fight with? He will fight whoever he must and then God decides."
Start lists
Women: 52 kg, 60 kg, 64 kg, 68 kg
Men: 57 kg, 74 kg, 90 kg, +100 kg
Watch Sambo tournament at European Games live at www.baku2015.com and read all the news at FIAS web-site.