FIAS at the eighth International Federations Forum in Lausanne
Official
6 November 2014
Sergei Grishin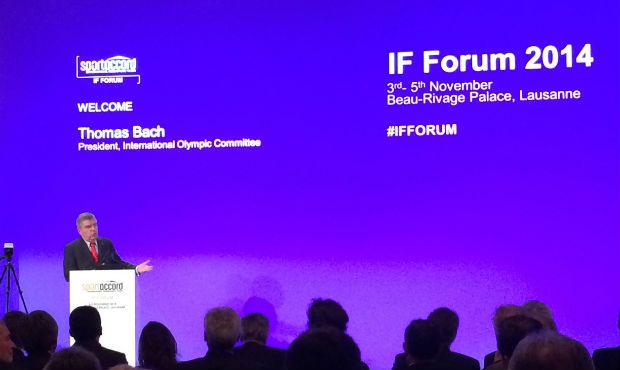 According to tradition, international sports federations have a unique opportunity to meet in early November to establish or strengthen ties and resolve many sports-related issues. They get this chance at the annual International Federations Forum (IF Forum) held by the SportAccord Convention. This year, the eighth IF Forum was held from November 3 to 5 in Lausanne, Switzerland, and the International Sambo Federation was actively involved in it.
President of the International Olympic Committee Thomas Bach and President of SportAccord and SportAccord Convention Marius Vizer opened the event. They warmly welcomed the forum participants and hoped they found the meeting productive. The wide range of activities made for a full program at the IF Forum. Creating TV programs, options for computer systems for events held by sports federations, sports betting and online data transfer and many other questions were discussed during the three days of the forum. A large number of impressive presentations introduced many technical innovations that will soon be available to international sports federations.
Along with the technical component, these forums are very useful for strengthening ties between sports officials.
"Naturally, FIAS representatives take this opportunity to promote our sport and strengthen ties with other international sports federations. These forums are extremely important for reinforcing sambo's image among sports professionals. Taking part in these events helps bring us closer to achieving our dream of having sambo included in the Olympic family," says Michal Buchel, Head of the FIAS office in Lausanne, at the conclusion of the forum.