SportAccord Convention in Lausanne: three main events of day two
Кaleidoscope
20 April 2016
Sergei Grishin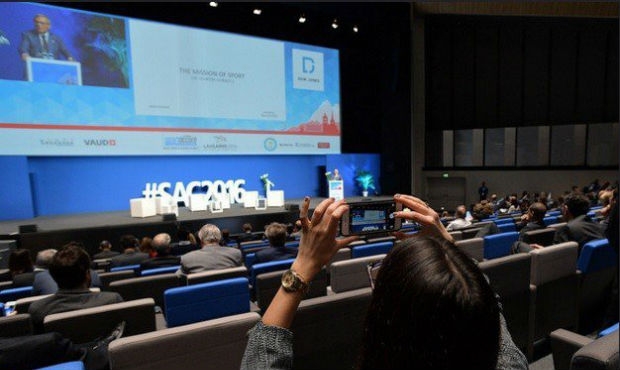 Known, important and famous — in #sambotiger-marathon, the signing of a cooperation agreement between FIAS and AIPS, and a meeting of representatives of international combat sports and martial arts federations — read all about it in our report from Lausanne.
#sambotiger-marathon
As we've already reported, the International SAMBO Federation has a special stand at the exhibition during the SportAccord Convention now taking place in Lausanne. This year, one of the walls is reserved for signatures of everyone who supports FIAS in its project to protect and save the Amur tiger.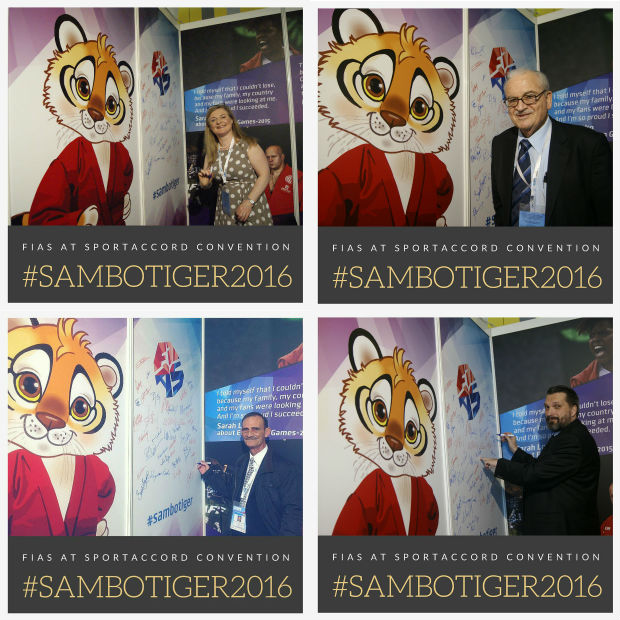 Today, this social event was attended by some of the most influential people from the world of modern sport. They included Joël Bouzou, President of Peace and Sport, Tommy Wiking, President of the International Federation of American Football, Anna Arzhanova, President of the World Underwater Sports Federation (GMAS), Panagiotis Theodoropoulos, President of the Jiu-Jitsu International Federation (JJIF), Gianni Merlo, President of the International Sports Press Association (AIPS), and Antonio Espinoza, President of the World Karate Federation (WKF). See it all in the blog on the FIAS website: link.
Signing of a cooperation agreement between the International SAMBO Federation and the International Sports Press Association
A one-year cooperation agreement between FIAS and AIPS was signed today by Gianni Merlo and Vasily Shestakov, the presidents of the two organizations. FIAS has been cooperating closely and actively with AIPS for the past 4 years, and regularly posts all the most important news from the world of SAMBO on the AIPS website. An AIPS SAMBO committee was formed in 2014.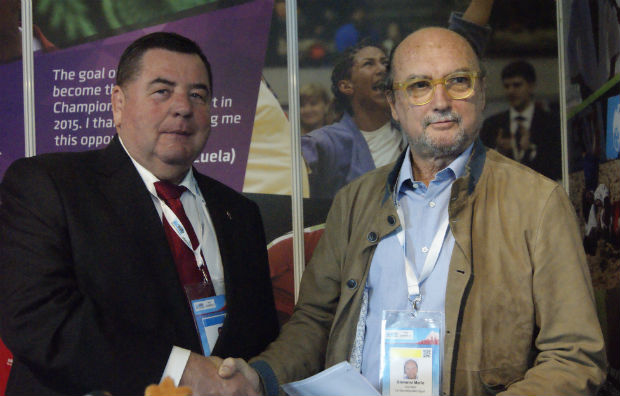 This year's cooperation agreement added a key point for FIAS, which states that AIPS will be the principal information partner for the main FIAS events — the European SAMBO Championships in Kazan (May), the President's Cup in Edinburgh (September) and the World SAMBO Championships in Sofia (November).
This partnership will definitely not only add status to these SAMBO tournaments, but also guarantee more attention to them from the sports media, which is now so important for SAMBO.
Meeting of International Martial Arts Federations
FIAS President Vasily Shestakov took part in this meeting, which brought together 16 international federations promoting and developing martial arts and combat sports in the world. The event was also attended by officials of the International Olympic Committee — IOC Sports Director Kit McConnell and the IOC's Head of Sport Partnerships and Coordination Jenny Mann.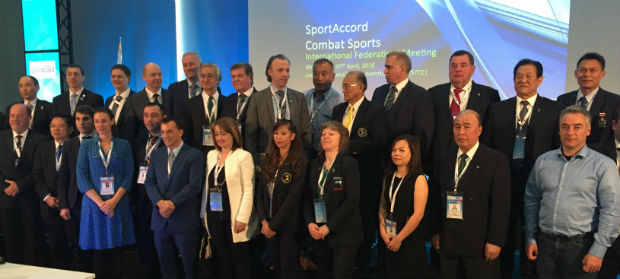 During the meeting, it was decided to set up a working group in the near future to manage a project to resume the SportAccord World Combat Games. This world forum of martial arts and combat sports, which has already included two SAMBO tournaments (Beijing in 2010, St. Petersburg in 2013), is expected to resume in 2018.