PLOTFORMA S-70: fight nights in the city of Sochi
Competitions
7 August 2014
Sergei Grishin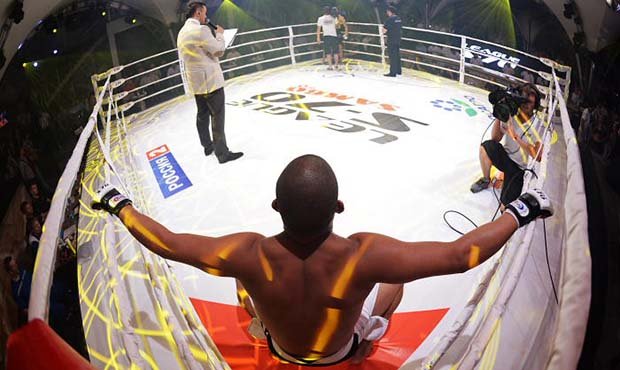 The fifth anniversary international tournament in professional Combat SAMBO PLOTFORMA S-70, organised by SAMBO-70 Educational Centre and LEAGUE S-70, will be held in Sochi on August 9 and will be dedicated to the great Russian commanders. Traditionally, well-known politicians, stars of the world of show business and sports will be guests of the tournament, which will be held at PLOTFORMA Sports and Leisure Complex again. Vladimir Putin, President of Russia, has been the main guest of all previous tournaments.
In 2014, in 10 exciting duel meets the Russian national team in martial arts and strongest athletes from Europe, Asia and America will fight. A rematch between Vyacheslav Vasilevsky, a triple world champion in Combat SAMBO, and Michael Falcao, a renowned Brazilian fighter, champion of the Bellator Grand Prix, will be the culmination of the tournament.
Vasilevsky and Falcao met in 2012 in the semifinals of the prestigious tournament Bellator Grand Prix. By the unanimous decision of the judges Falcao was declared the winner of the duel met. He was qualified for the finals and became the champion. The rematch between Vasilevsky and Falcao has already been announced repeatedly, but will be held in Sochi, in the framework of the PLOTFORMA S-70 tournament.
"This year we carry out the fifth anniversary International Professional Combat SAMBO Tournament PLOTFORMA S-70 in Sochi. It's a big responsibility for all of us, organisers, and of course, it's a great honour and recognition of the work done over the past five years. It is very important for us that this is not just a sports event, but a tournament which has an ideological component, aimed at preserving and increasing national traditions. Last year we touched the officer topic, now our tournament will be dedicated to the great commanders of our country, – says Renat Layshev, General Director of the Sambo-70 Sports and Educational Centre.
It is interesting that for the first time a fan zone at the Letny Theater of the Park named after Frunze will be organised for SAMBO fans on August 9 at the resort. According to the Press Service of the Administrative Authority of Sochi everyone who wishes to get to the site can do it by showing identity document. Combat sports fans will be able to watch all the matches of the PLOTFORMA S-70 tournament on the big screen. Combat SAMBO fans, who this day have no plans to be in Sochi will be able to see the competitions by means of online broadcasting. Visit the FIAS website on August 9 at 19.55 Moscow time and enjoy a spectacular show!
Photo by Ivan Pisarenko (Sambo-70)